Baptism and christening are often used interchangeably as they basically mean the same thing and the differences are just subtle that most people just simply overlook such differences. So, in this article, when we say baptism and christening, we mean the same thing, which refers to any ceremony or experience by which a person is purified or given a name. Because this is an important ceremony, most parents would invite their friends and relatives to attend the baptism ceremony of their child. Not sure how to design your baptism invitation? Below are some baptism invitation templates and examples that you can use or refer to.
Baptism and Christening Invitations Examples and Templates
1. Elegant Baptism Invitation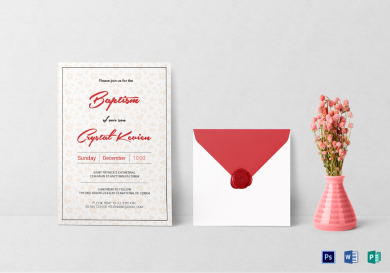 Why settle for a low-quality design when the best ones are just right at your fingertips? With just a few clicks, you can already edit this elegant template to achieve your most preferred style and design for your card. Because we are already living in the digital age, sharing this file can be so easy, which is perfect for social media, email, and other mailing sites. However, you may also opt to print this document in case you want to save a hard copy or you want to send a snail mail invitation.
2. Pastel Baptism Invitation Card
Send your invitations earlier so that your guests can prepare ahead of time the necessary preparation, such as their dresses, and they can file a leave in case the event will be on weekdays. With the help of this baptism invitation card, you can immediately send your invitation both through traditional mail and email. You can edit the information contained in this template and personalize it to tailor your specif needs.
3. Printable Christening Invitation Card
Why start from scratch when you have an easy access to to ready-made templates? No need to worry on the designs and elements for this is print-ready and can be downloaded right away. All you have to do is to replace the pertinent information with the information regarding your christening invitation. You can also move the elements around until you get satisfied with the overall presentation.
4. Floral Baptism Invitation
Who says floral designs are only for girls? This baptism invitation is great for anyone no matter the gender. Skip the hassle of creating from scrap and use this invitation template which is ready to use and easy to customize. You can edit the information on the template and incorporate your own including the basic information that the recipient must know—name of the baby and date, time, and location of the baptism. It is very convenient for any user since it is available in many file formats, such as Illustrator, Photoshop, MS Word, Publisher, and Apple Pages.
5. Baptism Invitation Card
Invite your families and friends to come to the baptism ceremony of your newest family member with the use of this baptism invitation card template. Do not forget to include the important elements that must be present in your invitation, such as the baby's name and pertinent baptism information, including the location, date, and time of the baptism ceremony. You can print a hard copy or a tangible version of the card or you may opt to sent it electronically to your recipient in just a few clicks through the social media and other messaging platforms.
6. Sample Baptism Invitation
Baptism is an important event in a person's life especially for those who believe in the sanctity of baptism. With this, the parents of the child to be baptized would usually plan beforehand on how to invite people and celebrate such an important day. Apart from the save-the-date cards, the menus, and the banners, you must put an extra effort in making a baptism invitation. In order to help you with this, presented above is a sample baptism invitation template that you can edit and customize to fit your preferences. It is easy to use and print-ready, hence perfect for busy people who only have less time to design an invitation.
7. Simple Baptism Invitation Card
This simple invitation for your baby's baptism is enough to catch the attention of your recipient. They will be more interested in coming to the event as your invitation is appealing and attractive. This can also create an impression to your guests that would surely last. This is available in many different file formats, such as MS Word, Publisher, Pages, and Photoshop, hence very easy to use and edit.
8. Blue Christening Baptism Invitation
You do not need to be stressed in order to create an awesome baptism invitation. With the use of the template presented above, you will be able to achieve the style that you want for your invitation since the template is customizable and downloadable. It can also be edited using various applications that can open MS Word, Photoshop, and Publisher file formats.
9. Printable Christening Baptism Invitation Card
With this printable invitation, it would be easier for you to extend your invitation to your friends and families even within a limited period of time. This professionally designed invitation card provides an elegant look to your invitation that is refreshing to the eyes of your recipient. You can edit and replace the name with the name of the baby to be baptized, and you can incorporate the important baptism information—date, time, and venue—as these are the information needed by your guests in order to set their schedules.
10. Blue Cross Baby Boy Christening Invitation Card
Offered by Hallmark, the oldest and largest manufacturer of greeting cards in the USA, this christening invitation card is perfect for baby boy christening or baptism. Its minimal design provides refinement and sophistication to your card, providing it with an artsy and elegant touch.