If you want to deviate from the usual fantasy or cartoon party themes, you may want to look into sports-related themes. Sports has always been a good source of entertainment for centuries. Doing this theme can be very entertaining especially when you are planning a party for a sports buff family or friend. In addition to that, a sports theme can be appropriate for any gender of all ages. You may also see ticket templates.
Blank Baseball Ticket Template Example
Simple Baseball Ticket Template Example
Baseball Ticket Invitation Template Example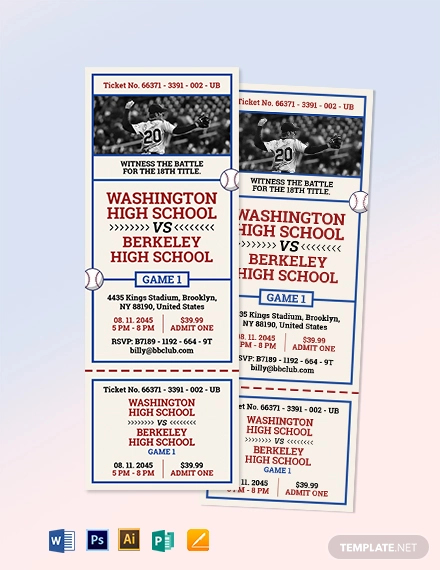 Vintage Baseball Ticket Template Example
Doing a sports theme for a child's birthday party is a no-brainer especially since kids are more inclined to the sports they commonly play. For example, kids of certain ages play group sports for school and it can be a perfect party theme for their birthday party or whatever occasion. In this article, topics about baseball-themed parties will be discussed so you can take inspiration should you decide to use it as your party theme.
Baseball-Themed Party Ideas
Chances are there is a member of your family or a close friend who loves baseball. If that is ever the case, it is only right to give them what they love during their birthday. You can organize and plan a birthday party for them with a baseball theme. To help you with that, here as baseball birthday party ideas you can take inspiration from during your planning process:
Printable Baseball Ticket Template
Save The Date Baseball Ticket Template
1. Planning and Invitations
Anything that you want to look and be perfect needs ample time for planning. With that said, planning for a birthday party does not need be stressful and since you already have theme in place, it will be easier for you. When planning for a baseball theme party make sure you take into consideration the decorations that you want in place since the theme can only be pulled off with the help of baseball-related decorations. With that said, immediately plan out the style or design for you invitations, the venue decorations, food, games, and so on.
For your invitations, make sure you send it two or one week prior to the party date. This will ensure that your guests are prepared to dress up for the theme or have time to prepare gifts. On the design aspect of your invitation should be heavily inspired by baseball of course. Depending on the age and gender of the person celebrating the birthday, make sure that it can somehow embody their personality. There are a couple of baseball birthday invitation template online that you can purchase or take inspiration from.
2. Party Decoration
Since you are going for themed party, you have to make sure your decoration translates your theme during the party. In this case, use decorations that your guests can easily associate with baseball. Here are some decorations you can use for a baseball-themed party:
Baseball scoreboard
Baseball designed food labels
Baseball concession stand
Blue, white, and red banners
DIY baseball cupcake holder
Baseball concession banner
Wooden baseball party sign
You can even go all out an follow a specific team color as the main color palette for all your decorations. But if you want to be eclectic, you can put posters of different baseball teams, hand out different team hats, and so on. There is no right or wrong here, just make sure that your decorations convey you are having a baseball-themed party.
Baseball Party Ticket Template
Baseball Event Ticket Template
Home Run Baseball Ticket Template
 Printable Baseball Ticket
Baseball Raffle Ticket
Baseball Admission Ticket
Baseball Birthday Party Invitation Ticket Example
Baseball Party Invitation Ticket Example
Bridal Shower and Birthday Baseball Invitation Ticket Example
Baseball Ticket Gender Reveal Invitation Ticket Example
Baseball Ticket Baby Shower Invitation Example
3. Party Food
It is not obsessive to coordinate the food that you serve with your party theme as well. Go all out by serving food that are aesthetically related to baseball. It will not only help your guests feel the hype of the theme of the party, it will also make them appreciate your dedication to the stick to the theme. There are quite a few examples and even recipes you can try to make baseball-themed food. Here is a list of party food you can serve on baseball-themed party:
Baseball rice krispie party treats
Edible baseball cupcake toppers
Fruit-doughnut baseball kebabs
Bat and baseball pretzel rods
Baseball carved watermelon punch
Baseball designed cakes and cupcakes
Common baseball concession stand snack

Hot dogs
Hamburgers
French fries
Peanuts
Cracker Jacks
Popcorn in a popcorn snack bag
Nachos
Cotton candy
Big League Chew
Ice cream sandwiches
4. Party Favors
If you are doing a baseball-themed birthday party, you can send your guests out with baseball-inspired party favors. Help them remember the fun time they had at the party by sending them some baseball-related party favors such as a Baseball Plastic Favor Cup, Baseball Glasses, a Slap Bracelet, an Inflatable Bat and a few Mini-Foam Baseballs. You can also go for a snack-filled party bad along with a baseball-inspired thank-you tag. To give you more inspiration, here are some other things you can include in your party favors:
Stickers and temporary tattoos
Fun shaped lollipops
Baseball shaped key chains
Foam baseballs
Small trophies
Baseball notepads and pencils
Baseball stadium cups
5. Activities and Entertainment
You can keep your guests busy with fun games and activities that will surely make them enjoy your party even more. Through fun games and activities, you can make your party more engaging for your guests. Aside from that, it can be a way for them to have more party favors to take home since you can give them prizes. Here are some examples of games and activities you can do on the party you are planning:
Pitch practice
Batting practice
Ring the bat
Pin the ball on the bat
Baseball pass
Home run glory
Baseball pinata
Clean Baseball Invitation Ticket Example
Baseball Baby Shower Invitation Ticket Example
Baseball Gender Reveal Invitation Ticket Example
Tips in Throwing a Baseball Themed Party
You basically have an idea on how you want your party to look like and how it should go, what you should be thinking about is how to execute your plans properly. But before you even start executing your plans make sure that you have finalized your ideas and that you already have the materials that you need, set a schedule, booked the venue, and all others. To help you have successful baseball-themed party, here are some useful tips you can refer to:
1. Choose appropriate venue
Since your theme is a sport done in an open field, it is best to choose the same venue for your party. Choose an open location where your guests can do activities freely and where you can have sort of like a picnic style party. There are countless of open spaces you don't need to pay for like public parks and playgrounds, etc. When you want to keep it simple, doing this party theme on the backyard of your house will still be fun and exciting.
2. Make your theme come to life
Your theme will surely come to life with the help of decorations and design. Make sure you prioritize using baseball-related decorations to make your theme really stand out. You can use baseball-designed banners and posters, use baseball team colors, and so on. Make your guest stare in awe with your baseball decorations.
3. Serve traditional stadium food and drinks
Your party can feel like what it feels watching live baseball game in a stadium if you serve traditional stadium food. You can serve hot dogs, bag of peanuts, popcorn, and so on. But if you want to step up a little bit, you can have a table for make-your-own hot dogs or tacos where your guests can put toppings or sauces that they want; serve baseball-designed food such as cupcakes, cookies, cakes, etc.
4. Do fun games and activities
Since your theme is sports related, it is best to do games that relate to it. You can even play an actual baseball game if your guests are up to it, but if not, you can still play practice pitching or batting. You can also play games that makes use of a baseball like throwing it to a target or rolling it on a hole, etc. You can also make your guests guess baseball players if you have baseball buff guests.
5. Let loose and have fun
Although you have an existing theme you need to follow, it is important to remember that your party is meant to celebrate one's personal milestone. Remember to just have fun and let your guests have a good time while in your party. Themes are just meant to inspire and help you plan out your party, it does not mean you have to be disappointed when you steer a little off it.
Baby Shower Baseball Invitation Ticket Example
Yankees Birthday Invitation Ticket Example
Vintage Baseball Ticket Birthday Invitation Example
Conclusion
Planning for a party can be stressful and overwhelming; however, it is important to remember that what matters most during such time is the celebration of a special milestone of a person's life. Although you have a theme in mind that you want to follow, allow your creativity to flow freely as you continue to plan and execute your plans. Make sure that the person celebrating enjoys the party as well as the guests; themes, decorations, and designs should only come second to everyone's enjoyment. We hope you have found inspiration in the topics discussed in this article.