Whenever there's an event, there's also going to be invitations that have to be made. While there are a ton of Examples of Invitation Designs all over the internet, you need to make use of the ones that actually go well with the kind of event that you want to hold as you want both to match.
So if you were to hold a formal party, then naturally you'd want to create Formal Invitations. So let's say that you're planning on holding a workshop and you want to invite a ton of people to it. This would mean that you'll need to create workshop invitations and this article will teach you how to make them.
Business Workshop Invitation Template
Training Workshop Invitation Template
Workshop Invitation Template
Workshop Invitation Card Template
Parent Workshop Invitation Template
Online Workshop Invitation Template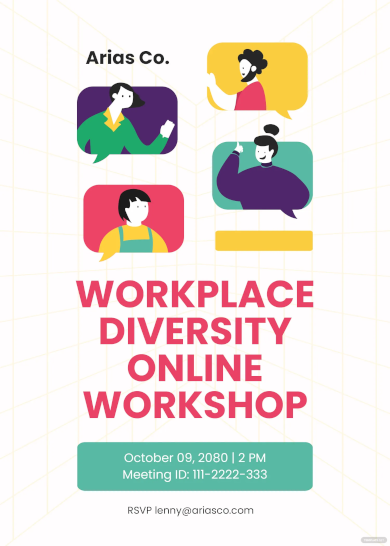 Creative Workshop Invitation Template
Art Workshop Invitation Template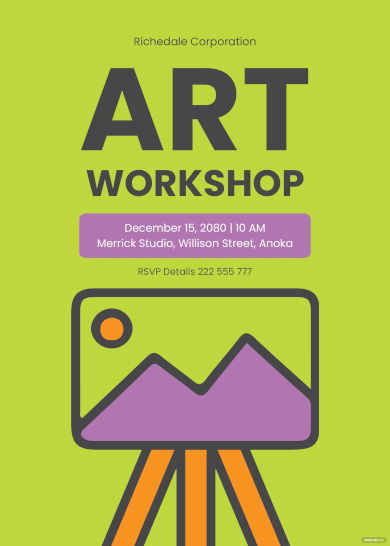 Medical Workshop Invitation Template
Modern Workshop Invitation Template
Partnering Workshop Invitation Template
Workshop Seminar Invitation Template
Workshop Meeting Invitation Template
Workshop Opening Invitation Template
Heritage Barn Workshop Invitation
Fashion Workshop Invitation
Gardening Workshop Invitation
How to Make Workshop Invitations
A workshop is described as a meeting at which a group of people engage in intensive discussion or take part in activities that's related to whatever was discussed during the meeting. So if you plan on holding a workshop, then here are the steps that will help you make the invitations to match:
1. Be Sure Your Clear on the Type of Workshop You're Going to Hold
If you're going to invite people over to a workshop, then they'll definitely want to know just what kind of workshop they're invited to. The reason for this is because it will help them decide as to whether or not they'll want to go as the type of workshop may be what they do or do not need. This means you'll need to provide them with all the details regarding the type of workshop in a concise statement within the invitation.
So let's say that you're holding a corporate workshop for those who wish to move up the corporate ladder. This would mean that you'll need to create Corporate Invitations that contains a short statement regarding the type of workshop and that it's specifically meant to help those in the corporation.
2. Place the Exact Location of the Workshop in the Invitation
If you've seen through Meeting Invitation Examples, then you should have noticed that there should be a setion where you're required to place the location of where the venue is going to be held. If you're holding a workshop, then it's obvious that you want your invitees to know where the workshop is going to take place as you want all of them to take part in the discussions and the activities.
So what you have to do to make sure that this happens is by simply putting in all of the details regarding the event. This would mean that you'll need to write down the name of the establishment, the room number, street name, etc. So long as you do this, then all of the people you've invited should end up in your workshop and not somewhere else. Because you do not want to face a situation where your invitees end up in a different location and miss out on your workshop entirely.
Aesthetic Workshop and Tasting Tour Invitation
Teddy Bear Building Workshop Invitation
3. Write Down the Time and Date of the Workshop
Let's say that you planned on sending out Get together Invitation for a little get-together party you for your friends and family. It should be pretty obvious that the people you've invited would want to know the time and date of when the party is exactly going to start. So it's your responsibility to make sure that you give these people all of the information they need.
So what you'll need to do is to give them the exact date and time of the party on the invitation. This would mean complete details such as the day, month, and year of when the party is going to start and the precise time of when the activities are going to take place. All of this ensures that the people you've invited will arrive at the party on time.
1. Tips for Making Your Workshop Invitations
Now that you've learned the essentials of what your workshop invitations should have, here are a couple of tips that should make it even better for your invitees:
1. Choose the Right Place for the Workshop
You want to make sure that you've chosen the right place for the workshop as you want the place to match with the kind of workshop that you're going to hold. Because let's say that you were to send something like Funeral Invitations to a bunch of people notifying of a loved one's death. You don't want the funeral venue to be somewhere that's so out of place like a restaurant or a random facility now do you?
So you have to choose the best spot for your workshop before you put it on the invitation. For example, if you were to hold a woodwork workshop, then the place you'd want to hold it in would usually be one that contains all the tools needed and a space that can hold the people you've invited like woodshop or anything similar.
Adorable Christmas Workshop Invitation
Workshop Invitation for Cold Storage
Watercolor Workshop Invitation
Santas Workshop Christmas Party Invitation
Simple Workshop Invitation
Essential Oil Workshop Party Invitation
Workshop Series Invitation
3. Go Through the Invitation for Mistakes
The last thing that you want to have happened is to give the people you want to have over at your party any invitations that contain mistakes. This will just lead up to you getting embarrassed and it'll make your invitees feel as if you didn't put the time and effort to make well-made invitations.
So what you're going to need to do is to make sure that the there are no mistakes when it comes to spelling, grammar, or even information in the invitations that you're going to send out. If you want to guarantee that you don't miss any mistakes that you can fix, you'll want to go through the invitation more than once.
This way, you can go over everything and spot mistakes that you may have missed on your first run. Once you're sure that there aren't any mistakes left, you may then proceed to create copies and send the invitations out to the people you want to invite.You may also see business invitations.
If you would like to learn how to create other types of invitations (Rustic Invitations, Elegant Invitations, beach party invitations, anniversary invitations, etc.), then all you have to do is go through our site, find the articles that have the information you need, and utilize what you're able to gather to help you out.