Events can be grand or simple, but what makes them memorable is experiencing it together with the people you love. The invitations you make gives a strong impression to your guest. The way you create them creates a sense of excitement as well as setting up the tone of your upcoming event.
Ticket Invitations Examples & Templates
To keep up with the competition, it is important that you keep your designs interesting. If you need any help with your invitations, we offer you fantastic ways to design your ticket invitations. Just read through the article and see anything that might pique your interest.
1. Ticket Invitation Example
Make unforgettable memories for your bridal shower. Think of beautiful themes for your special event. Start inviting your girlfriends and bridesmaids and celebrate your upcoming marriage. If you are into an all-pink bridal shower theme or a floral themed bridal shower, this ticket invitation design is your best choice. Designed for you to customize easily, this decorative and dainty looking design is suitable for your event.
2. Concert Ticket Invitation Example
Did you know that concerts give you the chance to be truly yourself? Once the wave of excitement hits your listeners, this quickly brings them together to sing your song. Boost your marketing skills in advertising your upcoming concerts and make use of this unique design for your concert ticket invitation. Give your fans the freedom to express themselves with your songs. Call out them out, make strong bonds with your music and give them that exciting moment in your concert!
3. Circus Ticket Invitation Example
Enjoy a special kind of entertainment with the circus! Watch amazing performances that are out of this world made by acrobats, clowns, trained animals, jugglers, tightrope walkers, and other artists who perform stunts. If you are planning on conducting a circus-themed party, this spectacular design on circus ticket invitation is a perfect fit. Filled with high-quality images and original artwork, you will definitely create a unique way to invite your guest over to your event.
4. Blank Ticket Invitation Example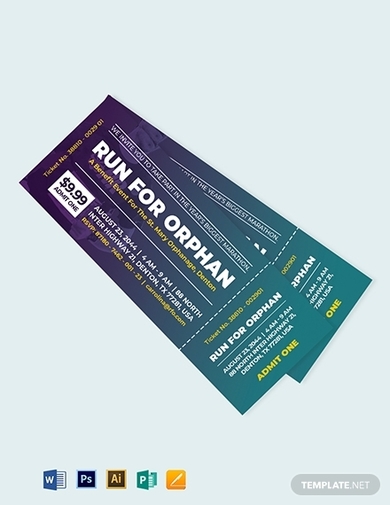 Raising money is a great challenge to non-profiting institutions. But hey! There is a fun solution to that dilemma. Fundraising events are a great way to support non-profitable institutions while having an enjoyable experience. Make use of this beautiful blank ticket invitation and customize it to your preferences. Invite friends and other people to engage with your fundraising event, execute a perfect event that will keep your supporters stay connected.
5. Graduation Ticket Invitation Example
Getting that diploma is every student's dream come true. All those sleepless nights and coffees you drank just to pass the exam is worth the degree. 10 years have passed, and your batch is about to have your reunion. Host a grand reunion where you go back through your college years and experience your graduation day once more. Provide exclusive access to your attendees and invite them over with this nostalgic graduation tickets.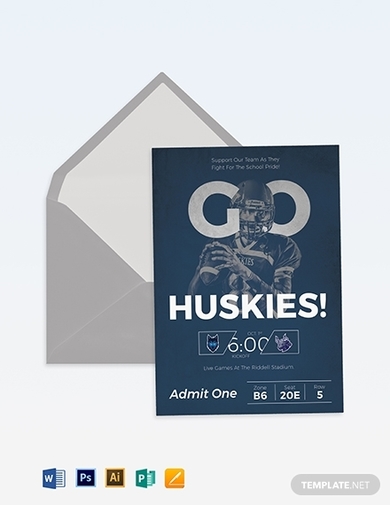 Are you a huge fan of American football? Who are your favorite teams? The Pittsburgh Steelers? Denver Broncos? There are a lot of teams out there playing, and maybe you are supporting someone you like. Planning on inviting your friends, families, or your special someone to come along with you to watch the game? Make your invitation a special one with this fantastic design on football ticket invitation.
7. Example of Baseball Ticket Invitation
Next to basketball and football, people are highly obsessed with the game of baseball. Who wouldn't? It's a fun sport where players where two teams of nine play in a large field that aims for a home run. Want to organize and market the sport to the public? Try making an enticing baseball ticket invitation to encourage them to watch the game. Manage every person entering the venue and ensure that only those who paid can watch the game.
8. Birthday Ticket Invitation
Don't you just love celebrating your birthday? Celebrating the even is a wonderful experience, but what makes it even special is making the preparation process. Can you feel the excitement of baking your cake and decorating for the event? But have you decided on who to invite? Do you have the invitation cards prepared? If not, don't worry, we got you covered! As our special offer, we give you this elegant birthday ticket invitation design for your special event. Ensure yourself a memorable birthday and download this template today!
9. Basketball Ticket Invitation
Who said basketball is limited to throwing balls on hoops? As a die-hard fan on the sport, you can also celebrate a basketball-themed party! Fill your place with the color of your favorite basketball team and bake yourself a tasty basketball-shaped cake. We know how much you loved the sport, so we are also offering you this superb basketball ticket invitation to match your event. Easily to download and 100% customizable, we guarantee you the best output from our product.
10. Travel Ticket Invitation
Travel like there is no tomorrow! Enjoy the sceneries in every place you have been to and create memories with your friends and families. Explore the globe and discover new and exciting places every day. Give your travelers an enjoyable experience with this attractive design on travel ticket invitation. 100% customizable in various file formats, this template is made for the convenience to users like yourself.
11. Soccer Game Ticket Invitation Template
12. Free Wedding Invitation Movie Ticket Template
13. Free Sports Ticket Invitation Template
14. Willy Wonka's Golden Ticket
Get ready to have your golden ticket for Willy Wonka is inviting you to his famous chocolate factory! Make the stories of Roald Dahl come alive and experience a Willy Wonka inspired theme for your party. Hand out this stunning golden tickets to your guests and relive the nostalgic story of Charlie and the Chocolate Factory one more time!