Like any other organization, the teachings and programs of the Church is not something to keep hidden from the rest of the world. This must be discussed and promoted for one's better understanding and knowledge. A flyer is often distributed to educate others about a group's religious practices, beliefs, and projects in the most simplified means possible.
Best Church Flyer Examples & Templates
1. Church Cookout Flyer
A church cookout is always fun for congregations looking to raise funds for organizational activities and other charity-based programs. This is also a great way to bring members of the community together for a gathering that everyone can relate to. To ensure a good turnout for your event, you can build awareness by handing out a few advertising flyers around the area.
2. Church Donation Flyer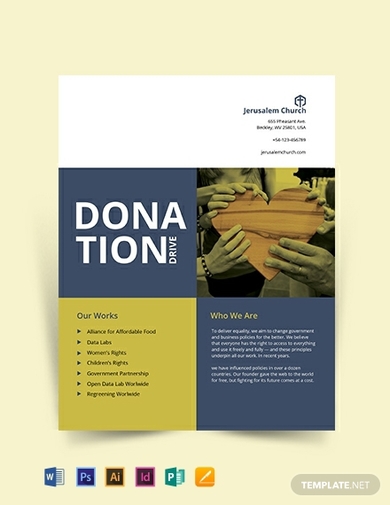 Any nonprofit would know how difficult it is to generate a sufficient amount of funds for an important cause. The lack of awareness and compassion from the community are just some of the reasons why many fund-raisers fail to get the attention that they require from a target audience. Thus, using a donation flyer to drive your campaign is an efficient way to raise funds for your church and its programs.
3. Church Volunteer Flyer
It's a challenge to find volunteers who are willing to participate in church activities without asking for anything in return. But even to those who do want to make a difference in the community, getting involved in charitable programs does come with its own set of terms and conditions. That being said, it's best to address these questions by communicating your qualifications and agreement through a church flyer.
4. Modern Church Flyer
It's common for a church to arrange weekly activities for members of the congregation to enjoy. However, gathering everyone in one venue is not the easiest thing to do, which is why sending your invites must be done ahead of time. Since it's costly and time-consuming to address your recipients individually, the least you can do is design an event flyer to do the work for you.
5. Charity Fundraiser Church Flyer
Collecting money for a charitable cause can be difficult in most instances. Gaining the support of your fellow church members can only be achieved if you can manage to get your message across for the public to grasp. Fortunately, you can easily get the word out by creating a fundraiser flyer that is clear and understandable. This should help readers learn about your charity campaign in a clever attempt to boost funding.
6. Church Picnic Flyer
Similar to a cookout, a picnic is a family-friendly event that attracts hundreds of people in the community every year. Food and beverages are often provided to accommodate attendees as various activities are carried out. If you're looking for a way to advertise your event, consider using the flyer template above for quick and easy design experience.
7. Church Worship Concert Flyer
Worship concerts have become extremely popular in recent years thanks to its high sense of engagement among younger members of the church. These are large events that are often held for special religious celebrations that the church would want to pay tribute to. To relay the details of the party to event-goers, concert flyers are handed out prior to the event for the public to be informed.
8. City Wide Revival Church Flyer
Revival meetings refer to a religious service held to inspire active members of the church in the congregation's efforts to gain new converts. In most cases, these services are conducted for several nights in a row to provide a setting that is comfortable to the non-Christian audience. People come to these events to hear the preachings of a pastor and experience the fellowship that is present during this time. It's always a good idea to promote the event using a church flyer to ensure that participants know when and where to go.
9. Gospel Church Flyer
Given the varying beliefs of Christian assemblies, educating the public about the origin and practices can greatly benefit the future of your congregation. Within the church, you're bound to find a few informative materials that are designed for a member and non-member's reading. Using a brochure, flyer, or program to form a discussion regarding your gospel church may help others gain a better understanding of what you believe in.
10. Heavenly Church Flyer
If designing a flyer isn't one of your specialties, feel free to use this template for your convenience. A simple layout will allow you to carry a clear message across in order to reach your audience. It's creative enough to catch the eye of a passerby and make an impression that will keep your church on top of one's mind for a good amount of time.
11. Risen Church Flyer
With only a few weeks to go before your big event, it's best to build buzz around your event by using a promotional flyer that's worth the read. To do so, download the template provided and customize its content to leave a memorable impression with your target audience.
12. The Power of Prayer Church Flyer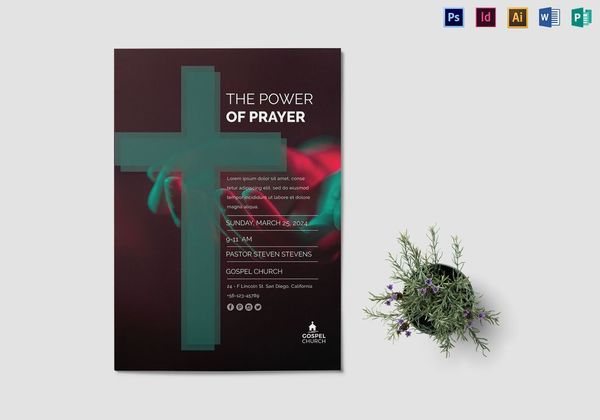 Looking for something modern yet suitable for the identity of your church? Then you might want to use this template to keep your audience fully involved in church activities. You can use the template to talk about an upcoming worship concert, charity mission, fund-raiser campaign, or any other religious gathering that readers might want to know about.
13. Traditional Church Flyer
If your only purpose is to deliver a piece of information to a certain group of readers, this traditional church flyer will be perfect for you! Its conservative yet sleek design will help pique the curiosity of an audience and prompt a response that's in your favor.
14. Church Event Flyer
Hosting a series of religious services in the coming days? Use a flyer to inform others about what you have planned. Members of your congregation will certainly appreciate it if you offer them a heads-up beforehand. Shown above is an example of an event flyer that is designed to communicate the details of the activities organized for the season of Lent.
15. Global Youth Day Church Flyer
Hosting church activities geared toward the discipleship of the youth is something that every congregation must aim for. In this example, the flyer is used to showcase these youth-oriented programs in such a way that entices an audience and leaves them with something to ponder on.