Home is a place where we live comfortably and relax at the end of our hectic day. When it comes to comfort, it needs some preparation and planning, to execute the whole thing so that it can be useful and will result in some savings. A home has the facilities for preparing food, eating, sleeping etc and consists of a big area or a building which needs daily maintenance to keep the surroundings or ambience liveable.
To keep it at that level, careful budgeting is required so proper allocation is done for all important expenses at the right time and in the correct amount. Below we are providing 10+ Home budget Examples and Templates for your benefit in this regard.
Home Budget Examples & Templates
Home Budget Template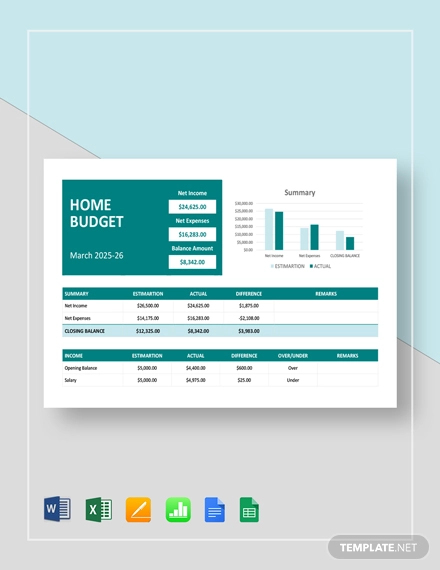 Simple Home Budget Template
Home Budget Worksheet Template
The above example is the home budget worksheet template which depicts that managing a home by setting up a budget planner according to your income can be very easy. The sample document also hits home the point that you can use the rest of the money from your income in a constructive way. Therefore the above template provides all the details to decide the home budget plan systematically. It supports Google Docs and sheets. It is in Excel and word format.
Monthly Home Budget Template
Home Construction Budget Template
The above example is the home construction budget template which describes about the manpower or labour and raw materials that are required for making the home construction budget according to your resources. It acts as a friendly guide in case you wish to construct your dream home in an economical and planned manner. Keeping in sync with the above template will ensure minimum variance and peace of mind. It is easily editable and printable as well.
Home Renovation Budget Template
The above document explains the home renovation budget template that can guide any family to prepare an economic plan for the renovation of their home. The above template highlights the fact that proper planning and budgeting can ensure an uninterrupted flow of work as all potential financial issues have already been addressed in the budgeting process. It can be edited and printed too.
Free Home Renovation Budget Template
The above example is the free home renovation budget template which provides all the necessary details of preparing a guided plan for this activity. The above template can be shared digitally. We all face issues which crop up unexpectedly when undertaking renovation work at our home. In such cases if you have already prepared a budget that includes a contingency amount for such situations, then it will be smooth sailing. You can do that in the above template as it has enough blank space for you to write with freedom and thoughtful considerations.
Home Budget Sample
The above example is the home budget sample guide for software which is specifically designed for home budgeting. All your worries and tensions will be taken care of and you don't have to lift a finger once you have put in the initial data. It focuses mainly on the proper control of your monthly home budget and how you can check your expenses. The above document also points out that you can balance your monthly expenses and income very methodically. It provides certain features such as pie chart of expenses, tracking bill, recurring bill so that you can easily set an affordable home budget for your benefit.
Home Budgeting in PDF
The above document t is all about home budgeting guidelines in PDF. It helps to plan your expenses and income by focusing on the daily expenditure. The above template tracks out how any household can save money and use that extra money in a productive way, such as they can plan a short vacation with that extra money. The above template can be edited and downloaded very easily. It is in PDF format.
Companion Home Client Budget Worksheet
The above example is the companion home client budget worksheet which lists out a chart for home budget in detail. It is designed in a structured manner to prepare the home budget very categorically. The above template is provided by a Nonprofit for the benefit of its patrons and members and they can make a plan within a specific budget with the help of this simple worksheet. It is easily downloadable and printable as well.
Childcare Home Budget
The above sample template is an example of childcare home budget where the childcare providers can calculate the expenses of childcare that parents will have to pay them by dividing it in different categories such as monthly expenses and yearly expenses. It also incorporates social security and medical benefits. It provides all the facilities within the budget. Any childcare provider can follow this template and it will be very helpful for them.
Home Budget Monthly
The above example is of a home budget monthly template which lists out the monthly total expenses and income of a household. The above template also points out how monthly home budget should be prepared according to income, or how it can be made cost effective. And one has to monitor whether it is crossing the budget or it is under the budget.
Home line Budget
The above sample template is an example of a home-telephone line budget which describes how you can control your expenses in terms of telecom services. This template is meant for the potential customers of the telecom company and gives suggestions on the best budget plan for them according to their needs.
Home Ownership Scheme Budget Planner
The above is an example of home ownership scheme budget planner template. Everyone dreams of having their own home. But the dream can be turned into reality only if careful planning and budgeting is done. The above sample template helps you do that.