Starting an ice cream business is challenging, but not difficult to accomplish. Always remember that even though ice cream businesses are profitable, revenue is not always high especially during cold season. But despite that, sales will exponentially increase during the warmer months and will offset any losses incurred during the lean months.
Additionally, we don't only eat ice cream when the sun is about to burn our skin. We eat ice cream when we're hungry, when we're stressed, when there's an occasion, when life brings us down, and when life gives another reason to get up and carry on. Whatever the reason or purpose, ice cream has always been part of our lives and will continue to do so until the end of time. You may also see examples of menu design.
If you are planning to start an ice cream business or just planning to redesign your menu, here are some ice cream menu designs and examples which will let you crave for some cold and sweet ice cream. Check them out below!
Sample Ice Cream Menu
Ice Cream Menu Example
Modern Ice cream Menu Template
Ice Cream Menu and Flyer Template Example
Colorful Ice Cream Shop Rack Card Menu Template Example
Ice Cream Menu Graphics Example
Ice Cream Menu 5 Mini Molds Example
Famous Ice Cream Brochure and Menu Example
Tri-Fold Ice Cream Menu Template Example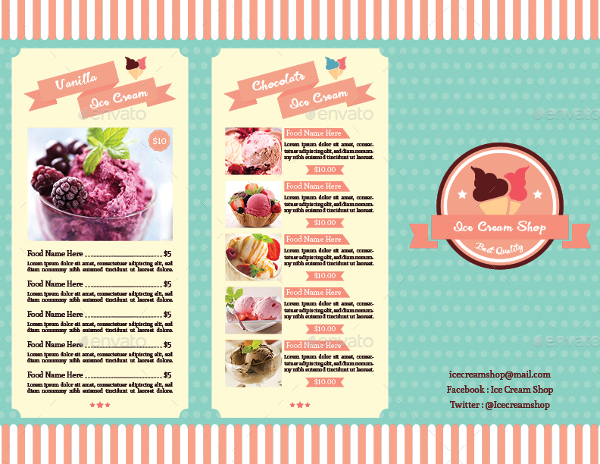 Ice Cream and Smoothie Menu Template Example
Tri-Fold Ice Cream Menu Example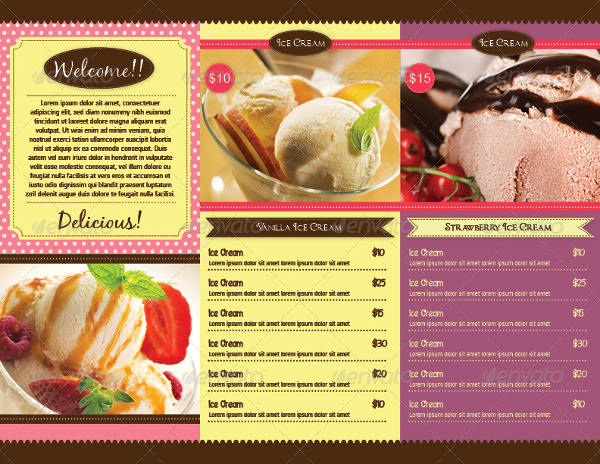 Printable Ice Cream Social Example
Tips for Starting Your Own Ice Cream Business
1. Specify Your Objectives and Goals
Your ice cream business must have a clear and specific set of goals and objectives. In other words, your goals should be SMART (specific, measurable, achievable, realistic, and time-bound).
2. Identify Your Target Market
The next thing that you need to do is identify the target market. Your target market will be your main source of income and you will rely on them for sales even during in lean seasons. Additionally, since an ice cream business is seasonal, you must determine which days production should be increased and which days productions should be lowered. You may also see takeout Menu Designs & Examples.
3. Decide on Your Location
You must choose a location that is accessible to your target market. For example, if your target market is students, place your ice cream shop near schools and universities. Setting up your business within your target market's reach will ensure maximum profit. You must also be mindful if competitors have already set up shop before you open your business– just make sure you have a competitive advantage so that customers will prefer you over your competitors. You may also like salad menu samples.
4. Know Your Competitors
Speaking of competitors, it is ideal to get information about their operations so that you can gain a bigger market share and eventually, bigger income. You don't need to get insider information, just a background on what they are selling and what marketing activities they are deploying. For example, you can get a copy of their brochures and compare it with your own products. With this, you can formulate an analysis to create better products and services.
5. Establish Your Marketing Strategies
Marketing is very important for any business, your budding ice cream shop included. Look for common marketing strategies and find the best one which can apply best to your ice cream business. The most common yet effective marketing strategies you can use are: distribution of flyers/brochures, advertising through social media, and hiring visual merchandisers. You may also check out barbecue menu examples.
Ice Cream Menu Poster Example
Printable Rainbow Ice Cream Party Menu Example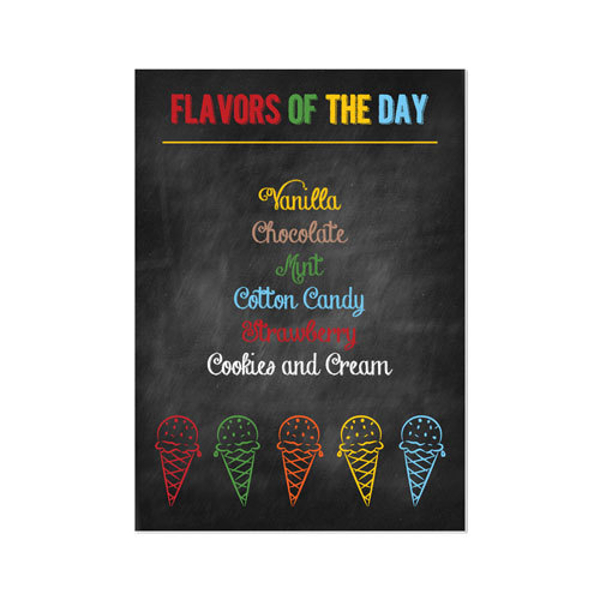 Ice Cream Menu and Poster Example
Ice Cream Social Party Chalkboard Art Menu Example
Ice Cream Menu/Flyer Template Example
Tips for Starting Your Own Ice Cream Business (continuation)
6. Comply With the Necessary Business Requirements and Permits
This is one of the most basic processes you need to comply if you want to start any business. If you don't have any plans to go to jail for illegal selling, then comply with all business requirements and permits as listed in your city and country.
7. Purchase Insurance
Insurance is underrated. Secure one in case of accidents that may occur to your business at any time (i.e. fire, earthquake, flood, robbery, etc.). Accidents, most specifically natural calamities can permanently cripple your business, so purchase insurance wile it is not too late.
8. Purchase Equipment
How can you operate your ice cream business if you don't have the equipment? List down all the equipment, tools, and raw goods you need to sustain your daily operations. You may also see takeaway menu designs and examples.
9. Identify the Ice Cream Flavors You Want to Sell
It is natural for you to sell a variety of ice cream flavors so that your customers can have choices. You can go with the popular vanilla and chocolate flavors and you can mix it up by serving a combination of flavors such as banana-chocolate and mango-strawberry.  But know first the top-selling ice cream in the neighborhood and respond to the demands of the people regarding ice cream flavors. You may also offer them new and novel ideas about ice cream or present them a premium-flavored ice cream that are not yet offered by your competitors. In this way, you gain an edge over your competitors and steal their loyal customers. You may also like examples of bakery menu.
In Brief…
Setting up an ice cream shop is both exciting and challenging. We hope the guide above will help you in avoiding unnecessary technical and financial mistakes when starting an ice cream business. Additionally, purchase from our collection of ice cream menus which you can use for your own ice cream shop.