In need of a marketing material that is geared toward foot traffic? A rack card is what you perfectly need. It commands immediate attention that compels passersby to pick up the rack card and respond to your offer. However, not all rack cards are created equal. While many rack cards have great designs, there are also poorly designed rack cards that only collect dust as it is ineffective. Hence, when you design this card, you must take into consideration the personality of your business entity as well as the message that you want to convey to your target market for it to be effective. Here are examples and templates that you may refer to.
Rack Card Examples and Templates
1. Advertising Agency Rack Card
Advertising agency must prove to their customers that they can be trusted with product and service promotions as reflected in their marketing materials. Hence, if you are one of those that provide advertising services to your customers, it is best that you show them your best design through your rack card. In order to design an attention-worthy and attractive rack card, here is an advertising agency rack card that you can use. Because of its large selection of available colors and its editable feature, it can easily be customized and personalized according to your current needs.
2. Law Firm Rack Card
When you carefully observe your surroundings, there are a large number of competitors when it comes to law firms. In order to help you stay on top of the competition, you must enhance your advertising strategy with the use of a law firm rack card, such as the one presented above. With this template, you are guaranteed an effective content and the best and high-quality designs. You have a lot of options when it comes to available file formats since it is available in Illustrator, Pages, InDesign, Photoshop, MS Word, Publisher.
3. SEO Rack Card
When you are an SEO company, you must seize every opportunity to promote or advertise your company. You must inform the audience what your company offers as a response to their demands and needs. In order to do this, you need to design a marketing material that is effective in broadcasting your offer as well as your brand. This is in the form of a rack card. Rack cards are proven effective throughout these years as they can reach out even to those people who are constantly traveling and moving from one place to another. So, to help you achieve your design, here is an SEO rack card template that you can refer to.
4. Event Planner Rack Card
As an event planner, you need to feature your services not just in one marketing material but in all materials that you think is effective for your company. Apart from flyer, poster, or banner, a rack card is another advertising tool that you can depend on when it comes to encouraging busy people to have a short pause and read your advertisement. It can be placed in areas conducive to people such as an establishment, convenience store, landmark, and all other famous sites. To help you come up with an effective design, you can use this event planner rack card that can easily be customized and edited.
5. Wedding Planner Rack Card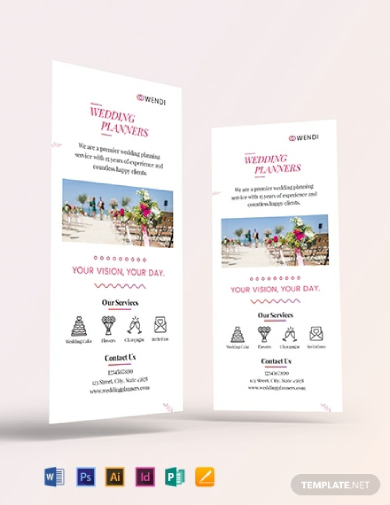 In choosing the perfect marketing material that would cater to your current needs as a wedding planner, you must consider whether or not it is effective in your area. Good thing there is this advertising tool that is proven effective when placed in areas that enjoy significant foot traffic—rack cards. With the use of this wedding rack card, it would be easy for you to reach your target market as you can easily edit this file and incorporate your logo and other branding elements. This is compatible with most editing applications, hence very convenient for every user.
6. Travel Agency Rack Card
Having a travel agency business is really challenging because, although a lot of people want to travel, only a few are willing to pay for the travel expenses. Hence, you really need to have a broad range of target market and an area where you can launch your branding. To connect even to people who are just walking down the streets, a travel agency rack card can surely help. Using this template, you can immediately design your desired rack card as you have the freedom to choose among the available formats that are compatible with the software application that you have in your device.
7. Grand Hotel Rack Card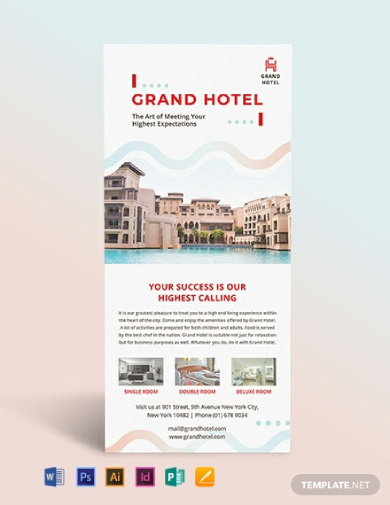 In most hotel businesses, gaining new customers can really be tough especially with the growing competition among stay accommodation. For this reason, you need to have a variety in your advertising tools to capture the interest of your audience. Aside from hotel brochures and flyers, you may also opt to use this grand hotel rack card that can easily be customized depending on your own style or preference. You can showcase photos of your hotel and its interior on your card as well as the other products and services that you are offering.
8. Catering Rack Card
Introduce your catering business to your target market now with the use of this catering rack card. It is created by professional graphic artists; hence, you are guaranteed with high-quality designs and graphics. You can skip the hassle in rack card creation as this template can easily be edited in just a snap. Your dream design is just right at your fingertips. So, seize this opportunity to own an excellent design for your card.
9. Art Studio Rack Card
In this example, an art studio is featured on the rack card. The great deals offered by the business entity are as follows: reserved art studio space; cooperative, unreserved space; workshop room rental; and photography studio rental. A list of amenities is also presented in order for the client to know what are the inclusions in that great offer. A palette design is also incorporated, making it more appealing and easy for the readers to distinguish what kind of service or product is presented on the rack card.
10. Exhibits, Tours, and Events Rack Card
This rack card features exhibits, tours, and events featured by a certain entity. A photo is displayed on the front while a short description of the offer, contact information and map are presented at the back. The overall design of the card is simple yet elegant and very attractive to the audience.