Although birthdays should be celebrated with utmost enthusiasm and joy, you still need to find cost-alternative options to things and materials that you need to use. Thus, in place for an invitation card, gift tags, labels, etc., you can use a ticket instead. A ticket can still be used to provide necessary information about the party as an invitation and convey messages as tags or labels. In this article, various designs for birthday ticket templates and example are available for download.
Birthday Ticket Templates and Examples
1. Simple Birthday Ticket Example
2. Happy Birthday Ticket Example
3. Vintage Birthday Ticket Example
4. 1st Birthday Ticket Example
5. Birthday Surprise Ticket Template
6. Sports Birthday Ticket Template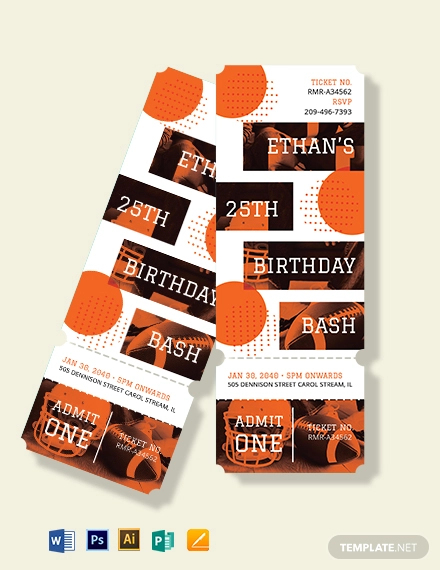 7. Airline Birthday Ticket Example
8. Circus Birthday Ticket Example
10. Basketball Birthday Ticket Template
11. Birthday Raffle Ticket Example
12. Birthday Concert Ticket Example
If you or your child is a big fan of football, it is only fitting to use football-inspired or related materials for the birthday party. One thing you can use is a football ticket birthday invitation instead of a regular invitation card. A ticket format is a cheaper yet effective alternative that will still clearly convey the information about the event. You can use the high-quality features of this template when you download this from this article.
13. Birthday party Ticket Invitation Template
14. Blank Birthday Ticket Template
15. Concert Birthday Ticket Template
16. Birthday Event Ticket Template
17. Elegant Birthday Ticket Template
18. Birthday Ticket Invitation Template
19. Theatre Birthday Ticket Template
20. Birthday Invitation Airline Ticket Template
21. Carnival Ticket Birthday Invitation Template
22. Birthday Boarding Pass Invitation Ticket
Want to have a world traveler theme for a birthday party? You can download and use this birthday boarding pass invitation ticket template to incorporate the colors, designs, illustrations, and details about the birthday party. This will surely impress your invited guests with its original artworks and high-quality layout that you can easily customize. This is available in Adobe Photoshop, MS Word and Publisher, and Apple Pages format.
23. Birthday Invitation Ticket
If you want to stray away from the usual invitation format you can always use a new, unique one. For example, this birthday invitation ticket template uses a classic boarding pass ticket silhouette with excellent layout and simple but beautiful designs. If you want to get a head start, you can download this ticket template and edit this to suit your style and preferences.
24. Birthday Admission Ticket
Want to go for a simple and sweet invitation design for a birthday party? You can totally achieve that with the help of this birthday admission ticket template. It features high-quality original artworks along with captivating designs and illustrations, and unique font styles. You can totally make use of this for your own or a family or friend's birthday party if you download this template from this article.
Sometimes organizations and groups celebrate their founding anniversary in a birthday style party. With that in mind, it is totally acceptable for them to use birthday invitations for the event. Similar to this example, the charity Forever Manchester has celebrated a birthday party and used a vintage ticket layout to invite guests. If you are planning to go for a vintage look, you can take inspiration with how this example has been designed and formatted.
26. Golden Birthday Ticket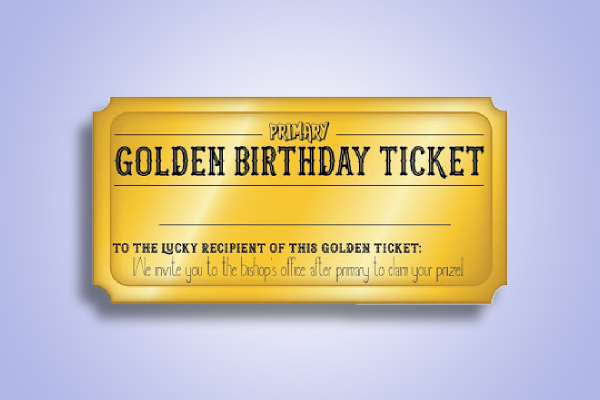 There is nothing wrong with going for a simple but classy design for a birthday invitation. As you can see, this golden birthday ticket invitation example has used the layout of a classic ticket and has used a no-fuss, simple layout. You can totally do this for the party you are hosting too. Aside from being a cheaper alternative, this is totally easy to make; thus, you can make this in the comforts of your own home. You can also use other colors for this, but this one is perfect for families and friends celebrating their golden year.
27. Birthday Raffle Ticket
You need to make sure that you have a good relationship with the people you handle to achieve a harmonious working environment for everyone. One way to do that is through celebrating the birthdays of employees through unique gimmicks like a lottery. Take a look at how this birthday raffle ticket example has been designed, the price presented clearly provided on the top portion of the card along with the usual scratch-off feature of a raffle ticket.
28. Concert Birthday Ticket
With good music, good food, and fun games on deck, it is sure that your guests will enjoy a concert-themed birthday party. But to make sure you convey your theme clearly to the guests you invite, you should definitely use an invitation layout that relates to it. Thus, a concert ticket layout should do the trick; you can incorporate the usual designs of a concert ticket—barcode, concert name, date, location, etc.
29. Happy Birthday One-day Pass Ticket
Businesses also implement promos and packages especially for the birthday month of a client. Just like this birthday one-day pass ticket invitation example, the MTR Hongkong has produced tickets catering especially to birthday celebrants of the day. This is a good way to maintain a good relationship with clients and customers. As a business establishment, you can look into how this ticket is designed and implemented to help you create a long-lasting relationship with your clients.
30. LA Lakers Birthday Ticket  Invitation
birthdaybuzz.org
If you or your family and friends have a favorite basketball team or player, you should definitely use an invitation that reflects that. If you look at this example, the love for LA Lakers and Kobe Bryant is evident with how this sports ticket was designed. It features the team's classic purple and gold colors in its design along with the team's official logo, but the details aren't compromised, it is still clear and complete.
31. Kid's Circus Birthday Ticket
Let your guests know that your birthday party is about to be fun and exciting with the help of a colorful circus birthday ticket. Similar to this ticket example, you can use a simple layout along with colorful and creative illustrations that will convey the exciting games and fun prizes you have in store for the guests. You can use this example as an inspiration on how you can achieve an amazing and captivating circus/carnival ticket.