The use of tickets, such as drink tickets, plays a crucial role in various events and many other instances. It plays a role in the promotion and advertisement of the drinks that you sell in your business. The giving of such tickets is also a good marketing activity where your target customers can purchase them and send them as gifts or tokens. Although it cannot be avoided that it has cons despite the pros, it cannot be denied that the use of drink tickets has made a lot of events and business endeavors successful.
Drink Ticket Examples & Templates
In this article, we provided drink ticket examples and templates that you can readily use for whatever corporate, social, or nonprofit event that you want to organize. You can conveniently download these below and edit these using various editing software application such as Microsoft Office Suite and Adobe Creative Suite.
1. Blank Drink Ticket Template
2. Simple Drink Ticket Template
3. Editable Drink Ticket Template
4. Holiday Drink Ticket Template
5. Beer Fest Drink Ticket Template
6. Bar Drink Ticket Template
7. Pub Drink Ticket Template
8. Complimentary Drink Ticket Template
9. Drink Ticket Voucher
Beer Festival Ticket Template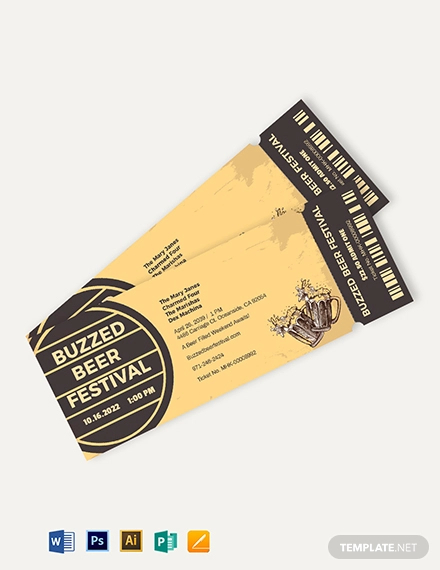 Are you looking for ways to increase your pub, restaurant, club, or cafe's sales? The use of this drink ticket voucher template is highly recommended for you to use. Once you make good use of this template, it is guaranteed that it will help you in serving your customers with reasonable and exciting discounts specifically on your beverages. This template also contains royalty-free images that you can safely use without getting any copyright issues as well customizable layout where you can conveniently add more design elements of your own preference to make this template design more personalized.
10. Complimentary Drink Ticket
Giving out complimentary tickets is a widely known and used promotion method used in events and in businesses. In fact, the use of complimentary tickets can bring in more revenues and drive more customers compared to immediately selling tickets that people would have to pay for. Through complimentary tickets, such as this complimentary drink ticket, you give your guests or customers an opportunity where they can taste the drinks you are serving or selling free of charge.
11. Drink Ticket for Charity Event
Most charity events have one similar goal and that is to raise money. This makes raising revenues as the main priority so the cause will be supported. One best way to do so is to sell tickets and one of the tickets you can sell are drink tickets such as this drink ticket example that is solely designed for a charity event.
12. Food and Drink Ticket
Any kind of food is best paired with drinks. To provide both to your customers as a promotion, why not make your own food and drink ticket? By providing your customers with this kind of promotion, you provide a win-win experience wherein they have the privilege to drink other kinds of drinks and food, and on your end, you will gain new prospective customers especially if those who received the ticket liked the food and drinks you have served under such promotion.
13. Halloween Drink Ticket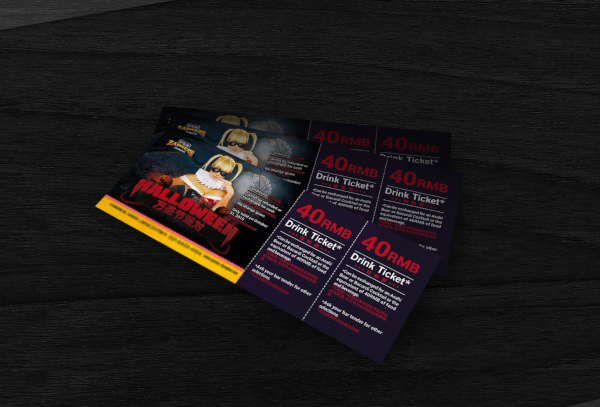 Halloween is not only the day for tricking and treating but it is also the time when people would organize different kinds of parties such as a costume party. So if you are organizing a Halloween event soon, you should consider giving out this Halloween drink ticket to encourage people to attend your upcoming event. It will be even more effective if the drinks that you are going to serve are Halloween-themed such as a blood-colored drink so that if you are going to include it on your drink ticket design, people will get more enticed and excited to attend.
14. Complimentary Wedding Drink Ticket
Who says drink tickets are only for businesses? You can also use tickets during wedding events just like this complimentary wedding drink ticket example. The use of such is very useful especially if you want to regulate and limit alcohol consumption during your wedding day.
15. Party Drink Ticket
Sure, gatherings or parties are fun to experience if you are just the guest but stressful and tedious if you are the one who will be organizing one. It gets especially stressful if you are also assigned to deal with the food and drinks that you will be serving during the party. Lucky you because you can always make use of a drink ticket to lessen all the possible stress that will arise from the event that is related to food and drinks that you will be serving.
16. Printable Free Drink Ticket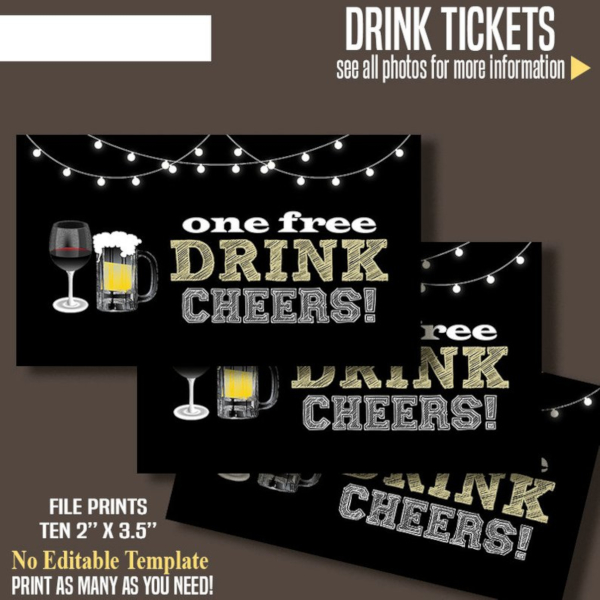 Are you looking for a simple drink ticket design that you can use for your upcoming event or business promotion? Then get inspiration from this drink ticket design that consists of really simple but efficient ticket design that you can use for whatever purpose you may want to use it for without compromising the important details of the drink promotion that you will be having.
17. Rustic Drink Ticket
If you are currently looking for a minimalist drink ticket design, then look no further because we provide you with this drink ticket with a rustic design. Its design simply comes with a plain wooden background that comes with a really simple text where you can indicate the details of your promotion using simple but effective typography.
18. Beer and Wine Drink Raffle Ticket
Should you want to raise funds for a certain cause, you may want to hold a fundraising event that involves raffle tickets. Since most people love to drink, you can take advantage of this and hold a fundraising event that would allow you to raise funds through having a raffle event that involves drinks as a prize. For sure, people would be willing to participate.
We hope that this article has been a great source of inspiration for design ideas for when you will finally be designing a drink ticket of your own. We also hope that you will make use of the drink ticket templates provided here and customize it using editing software programs such as Adobe Photoshop, Adobe Illustrator, MS Word, MS Publisher, or Pages.