Even if postcards have been usurped by the ease of communication brought about by social media, postcards are still timeless and you can definitely send one to your loved ones—or even just to yourself—when you are traveling.
Compared to this generation's innovations, sending travel postcards does not provide momentary gratification, rather, it provides a long-lasting memorabilia that can be cherished for the generations to come. You may also see superb postcard design samples.
Holiday Travel Postcard Example
Like journals, travel postcards can remind you of the time and place where you have traveled, plus, you can easily include handwritten quotes and notes where you can narrate where you are and how much you have enjoyed your travels. You may also like address postcard designs and examples.
We have uploaded fifteen travel postcard design examples that you can download and personalize for one of your travels. These printable and beautiful travel postcards come at a PSD and AI formats that enables for you to edit it according to your personal taste. You may see simple postcards
Reasons to Send Postcards When You Travel
1. Travel Postcards Make the Best Souvenirs
Aside from the typical souvenirs like key chains, pens, and refrigerator magnets, you can also make use of travel postcards as a souvenir from the places you have traveled. In fact, postcards are one-of-a-kind since nothing can really beat a photo from where you have traveled. Sure, it is more preferable to just upload your travel photos on your Instagram because it's free, hassle-free, and you do not need to pay any shipping fee. You may also see wedding postcard.
2. Travel Postcards: Mail > E-mail
These days, we get more excited when you receive a tangible mail rather than receiving e-mails. There is a certain thrill that we feel whenever we receive something that is unusual and receiving travel postcards is now one of the unusual things nowadays. Tangible mails are more special especially when we find a attractive postcard, that was sent by someone who is traveling, in your mailbox.
Plus, it includes a personal handwritten note and it the image you find on the front part of the travel postcard is obviously hand-selected. If you come to think of it, postcards and pen pals were the kind social networking before. Amazing, right? You may also see corporate postcard designs.
3. Travel Postcards Are the Easiest Souvenir to Buy
Speaking again of souvenirs, travel postcards are the easiest to buy if you are looking for something unusual compared to the typical refrigerator magnets, keychains, and the like. There are some cities around the world that offers free postcards that depict the city or place where you have visited and it often includes some fun travel quotes and messages as well as some philosophical thoughts. You may also see restaurant postcard samples.
4. Travel Postcards Are Cheap
Postcards are cheap, price-wise. If you are on a budget and you would still love to give something to your loved ones back at home, you can always opt for travel postcards since, aside from the fact that these come at a cheap price, some of these are also given for free at some cities around the world. You may also see vintage postcards.
Even if you would have to add the price of the stamp if you want to have it delivered to your loved ones back at home right on the spot, it would still come at a cheaper price compared to buying them overpriced souvenir items.
5. Travel Postcards Do Not Take Up Space
The thing about buying souvenirs for every country and city that you travel to is that it accumulates and it will soon take so much space on your luggage that for some, it would come to a point wherein they would have to buy a new suitcase just to fit in the souvenirs they have accumulated. What's worse is that those souvenirs might not get appreciated and will be left unused by the receiver. You may also check out examples of church postcards.
It is encouraged that you should give travel postcards as souvenirs to your loved ones since buying and bringing one is not really much of a hassle for you while traveling. Travel postcards barely take any space at all, plus, they are portable and you do not have to worry carrying it around because these are not heavy at all. You may also check out great tips for postcard marketing.
London Travel Postcard Example
Nature Travel Postcard Example
Oregon Travel Postcard Example
Summer Vacation Travel Postcard Example
Tokyo Travel Postcard Example
Travel Postcard Example
6. These are the Best Way to Keep in Touch
Again it will be way easier if we would catch up our loved ones through social media when we travel. It's basically free as long as you have an access to the Internet and your messages are easily sent. However, nothing beats sending and receiving postcard. You may also like business postcard examples.
Sure, sending your messages via Facebook and iMessage are the easiest way to stay in touch but travel postcards are simply the best way to do so. Travel postcards hold so much value and meaning especially that it is tangible and that makes it more memorable to the person who receives it. You might be interested in cute postcard designs and examples.
7. Travel Postcards Inspire us to Travel More
While travel postcards also help in fostering relationships that transcends distance, it also helps in inspiring people to travel more especially if they will be able to receive a travel postcard themselves. Imagine receiving a postcard from a place you have never been to and the image on that postcard is attractive and appealing enough that it also makes you want to travel to that place. You may also check out inspirational postcard designs and examples.
That's the power and magic that travel postcards bring– once you receive one, it will be difficult not to want to share the same experience with the one who just sends you the travel postcard. Travel postcards simply inspire us to do, see, and travel more in our lives.
8. Travel Postcards Are Worth a Thousand Words
If you want to describe the places you have traveled to, it might take a lot of time and effort especially if you do are not a skillful writer. However, with a travel postcard, you will be able to describe the places you have been to without struggling to convey the words that could match the beauty of the places you have been to. You may also want to see small business postcard examples.
The visual representation brought about the image we see on postcards speak in a lot of ways that words can fail to bring.
9. Travel Postcard Can Be a Room Decoration
Since travel postcards serve as a souvenir from the places you have traveled to, what's the point of it if you would not display it? Your travel postcard can serve as a room decoration that you can hang just anywhere in your living space. You could stick it on your refrigerator door, you can use it as an adornment on your desk, and you can even put it on frames and hang it on your walls. You may also check out funny postcard designs and examples.
Postcards are the best and excellent reminders of your great travels. Rather than just posting photos of the sceneries you have witnessed on your social media accounts and just get appreciated for a brief moment, having travel postcards are way better at making you remember of the good times.
10.  Travel Postcards Won't Fail to Make You Smile
As soon as you will receive a travel postcard from someone who is traveling, it can already change your mood. Receiving one will definitely not fail to make you smile and it has a lasting effect because travel postcards are a long-lasting memory that you can keep all throughout your lifetime. It is like a dream that you can keep on replaying on and on. You won't help but smile every time you would take a look at a travel postcard. You may also like event postcard designs.
Various Destinations Travel Postcard Example
Vintage Travel Postcard Example

Vintage Baby Shower Postcard Example
Vintage Camping Travel Postcard Example
Wanderlust Travel Postcard Example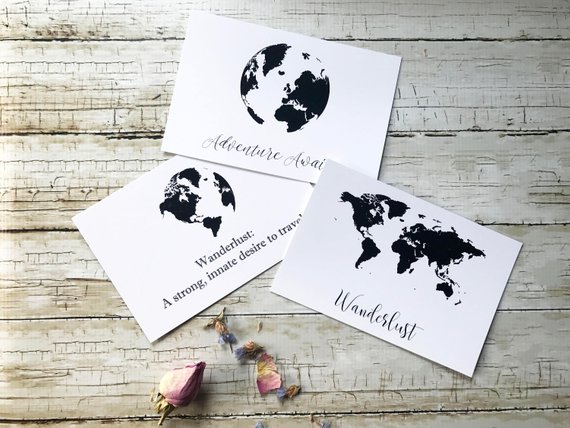 Reasons Why You Should Still Send Postcards
Sure, it is easier to communicate using your social media accounts but sending travel postcards instead will make your message and intention mean so much better to the receiver.
With that, here are some reasons why you should be sending postcards even up until this day and age:
1. Travel postcards make you stand out
In this age wherein social media is the easiest way to communicate, sending travel postcards will definitely make you stand out from the rest. It brings nostalgia to the old ones and it offers a fresh vibe if you are to send one to the younger ones. You may also see graduation postcard designs and examples.
2. Travel postcards won't get erased or hacked
If you are to send your special message to your loved ones via email or your social media account, you are actually running on two risks which includes the possibility of having it deleted when you are to sort your formal emails and your files or computer might get hacked to the point that it will already be impossible for you to retrieve it back.
Whereas sending tangible travel postcards, you will be able to keep the memory and the message longer compared to the ones sent via email or social media.
3. Travel postcards are perfect room decorations
Depending on the dominant colors of the travel postcards you receive, you may be able to use your travel postcards as a room decoration that you can have it hanged or pinned on the walls of your rooms. Travel postcards are basically masterpieces so why not show it off? You may also like baby announcement postcard designs and examples.
Sending travel postcards while traveling is easy and it makes every moment memorable for you. Plus, it is fun and friendly. You can also easily print it if you want to have it personalized given that there are already a lot of templates that you can find across the internet and we even have collected fifteen of it here in this article. You may also check out examples of real estate postcard.