Event ID cards and badges have become a crucial part of any event these days because of them, it is possible to simplify visitor and staff identification. This enhances the management's security and integrity as well. ID cards or badges usually have an employee's name, picture, job title and department with an RFID – all of which makes identification very easy and quick. There are several reasons why businesses or event management will use badges or IDs.
The foremost reason is the increased security. The picture on the badge makes it easy for the security staff to identify each employee or visitor and minimize the risk of impersonation. Wearing ID badges also leads to better customer and employee relationship as customers can approach the staff for questions or help and the staff can help them instantly. It also builds a level of trust in the customers. Wearing ID badges can improve the morale of the staff and they may even take pride in it as they will feel more part of the team.  The companies can also keep a tab on all its employees at an event through the badge IDs which leads to better employee accountability. If you're looking for event ID card examples and templates, here are the top ones that you can download and edit right now.
Event ID Card Examples & Templates
1. Sample Event ID Card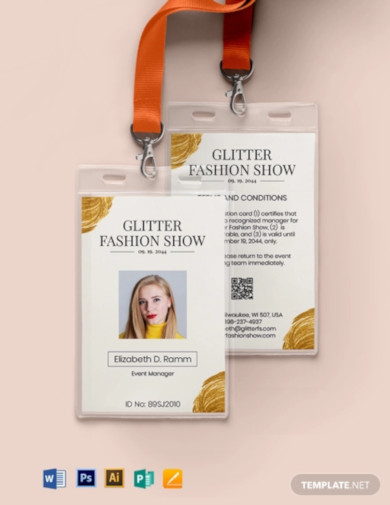 Here is a sample event ID card design for a fashion show. It is chic and simple with minimal design elements. It focuses on the picture of the employee and at the back is an RFID with terms and conditions.
2. Professional Event ID Card Template
A professional event ID card such as this one is excellent for a conference or when hosting a convention. There are a barcode upfront and picture space with terms and conditions at the back. Wearing this badge would look great!
3. Unique Event ID Card Template
If you are looking for a unique event ID card, this badge design will work. It uses a script font with a colorful picture background in the front and there is space for terms and conditions at the back.
4. Printable event ID Card
If you are hosting a Cook and Taste expo or event, this printable event ID card will be perfect! With cooking design elements and bold color, this badge is of a standard size and displays the picture of the wearer in the front.
5. Event Photographer ID Card
Photography events are really interesting and everything about the event must have an element of creativity in it. Here is a photography event badge ID design that shows a picture in the background, a bar code and a picture of the holder in the front.
6. Event Staff or VIP Pass ID Card
Sometimes you might have to give VIP passes on certain events to individuals. Here is a design template for event staff or VIP pass ID card that you can download and instantly use by just changing the basic information.
7. Company Employee Event ID Badge Card
If you are looking for a smart design for a badge ID to give away to your employees at your company, then this template will impress you. It states the name and displays the picture of the wearer in the front with details of the employee at the back. You can add RFID if you wish to this design as well.
8. Event Staff ID Card Template
Here is a simple event staff ID card that doesn't require you to add pictures of your staff. It is minimalist and can come in handy for regular events that don't require the staff to face the customers.
9. Corporate Event ID Card Design
An event ID card template like this one can work for any tech event. It has a modern design with a blue theme which you can change in Illustrator or Photoshop.
10. Event Conference VIP Pass ID
Hosting a conference at a large scale? Your badge IDs and VIP passes should reflect that. Here is a beautiful event conference VIP pass ID design that will impress everyone. You can add the name of the event and your logo with the picture of the VIP.
Here is an event plastic photo ID card template to use in company events on a regular basis. This template can be printed on a plastic sheet for durability so that it can be reused several times.
12. Event Volunteer ID Card
Looking for an event volunteer ID card design that is simple yet very cool to look at? Here is one for you! This simple design offers a creative element and is easily editable.
13. Business Event ID Card
A wooden business ID card is a great way to impress another person who will always remember the unique and creative way of presenting the business ID card. Wood is a great medium design your business ID on because nobody does it anymore. It is a sturdy and durable material and if you are looking for an ID card to last a year or so, then you can go with a wooden business ID card.
14. Event Press ID Card
An event press ID card design like this one can come in handy for a number of events. Download and use right away.
15. Modern ID Card for Event
A simple ID card design like this will work for any regular event. Change the text in Photoshop after downloading. This type of simple ID card can be used in a number of events. These are not expensive to produce and you can always make some changes in the design according to the event you are hosting.