The cost of repainting a structure or for a fresh painting is calculated on per square feet of the total the area. Surface conditions of the wall and the number of labors working in a project cover a major portion of the painting estimate document. The estimate can include a comparison of the price of color manufacturing brands. Pay per hour or pay per day can be also included in the detailed breakup section of an estimate. The estimate helps individuals in calculating the total painting cost. The estimate can vary depending upon the style of the project. A comprehensive estimate can help contractors in explaining to the clients about the scope of work and duration.
This article covers samples, examples, and templates related to painting estimate for understanding and reference purpose.
Painting Estimate Examples & Templates
1. Painting Estimate Template
Generating an estimate for painting any structure requires exact measurements. Professionals usually carry measuring instruments and cameras to capture or record video of the structure to provide an accurate estimate to the client. Paint products vary in type, grade, finishing, and brands. Hence all these variables directly affect the cost of the painting and play an important role in preparing an estimate. Therefore it is necessary to know all the requirements and preference of a client before working on the final cost. The above file is a one-page painting estimate template which is editable and is divided into two sections viz. interior and exterior. It is a fully customizable file with the preference of downloading in six file formats. One can easily add the company logo and details along with relevant data to make the file print ready.
2. Free Painting Estimate Form Template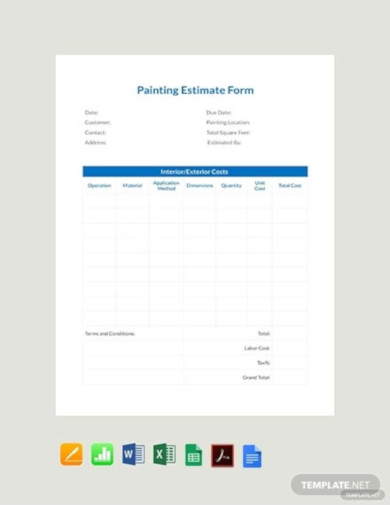 People always choose to assign projects to companies who are professional and personable. Companies that can make the client feel confident about their abilities and at the same time provide the best estimate are preferred for the work. Painting is usually a project that offers durability which means one only opts for it after several years and hence people always ends up choosing good quality of work even if it means spending a little extra. Estimates help companies in explaining clients about different costs associated with the project and promotes professionalism. This file is a free one-page painting estimate template form available for download in seven file formats. It can include basic details about the client and the project. The format includes a table that can capture information on different areas of painting operation and the cost associated with it. The format also enables companies to add terms & conditions.
3. Cost of Painting Estimate
Preparing a painting estimate requires skills. If one misses out adding crucial expenses in the estimate sheet then it can lead the company to suffer from heavy losses. The above file is seventeen-page technical paper titled How to Estimate the Cost of Painting an Exterior Masonry Wall. It provides the readers with general information on different aspects which must be considered during preparing an estimate. It must be noted that the paper will only focus on the application of a primer and top coating to a new exterior wall surface. The study of this paper can be beneficial to aspiring painting subcontractors. The file is divided into eleven sections and is available for download in PDF format for free.
4. Painting Work Estimate
A painting estimate comprises of three main components i.e. cost of paint, cost of material, and cost of labor. These three components must be presented with accurate costing and a detailed breakup if demanded by the client. The cost of labors can increase if the project needs to complete in a short period of time. One can download the above file as an example of a painting work estimate. It is a one-page document titled Detailed Estimate of for Painting Work Of Existing NIT Building. The estimate includes details about three particulates of items and cost related to it for convenience in understanding. It also includes the area in sqm and rates corresponding to the same. It is published by the NIT Campus, Raipur for reference and learning purpose.
5. National Painting Estimate
This file is a seventy-two-page book titled National Painting Cost Estimator. It includes specifics about cost estimates and bid prices for surface preparation on any job i.e. brushes, rolls or spray. This book is an authoritative and most reliable unit cost guide for paint estimators.  It includes techniques and fundamentals which must be considered for preparing an estimate. It provides information on topics like sandblasting price, pavement marking, equipment purchase, rental prices, structural steel conversion table, production time & rates form, material coverage, material discount, and others. One can download this file for exploring, learning, and understanding all factors of painting estimate in detail.
6. Painting Estimate Example
This file is an ideal example of a painting estimate published by Martinson Painting. It includes details about the company in the initial section of the document. The estimate is not in a tabular form and is placed in simple formatting under the headers of description and total cost. Immediately after the estimate, the format contains contact information for any queries on the estimate. The estimate also includes eight terms and conditions viz. acceptance of the proposal, disclosure, extra work, before job starts, clean up, conditions, exclusions, and payment terms. The file is available for download in PDF format and can be used as a reference before preparing a painting estimate.
7. Sample Painting Estimate
If an estimate is clubbed with marketing strategies there are high chances that a customer will opt for it. Providing discounts to customers or a free service in the project makes them choose a contractor easily. Clients also prefer to choose contractors who can educate them on the issues with other sections of the structure except painting and agrees to help them with solutions on the same. Finally, if an estimate has the best rates and proper description of all costs, it is bound to be approved by the client. This file is a two-page example of a painting estimate by All Painting & Framing Company. One can download this file for reference and understanding purpose.