If you are in the painting industry, you will be called to write a quote for your services from one time to the other. A quote shows the services that you offer, as well as your rates. With a well-written quote, you can stand out from the crowd and win the business. But writing painting quotes, especially if you have to send multiple number of them, isn't the most attractive of jobs. Not only do you need to get the format right, but it's also very important that you capture every single element of the cost.
In this article, we tell you 10 painting quote examples and templates that you can use as a guide to creating your own document.
Painting Quote Examples & Templates
1. Painting Quote Template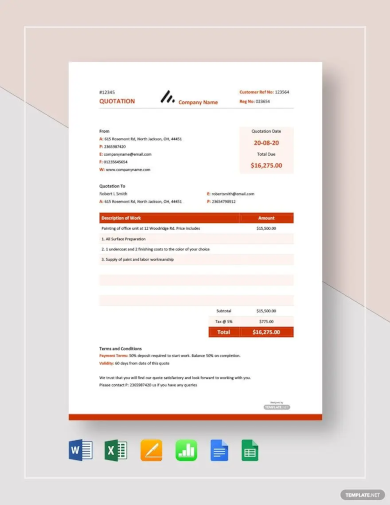 2. Quote For Painting Sample
This simple painting quote example from Resene shows how simple creating your own document can be. It has prefilled information, so you only need to add your details and you are good to go. It starts with a heading, and then has a space where you enter the customer name and client names and photon contacts.
The main part of the quote is the description section where you enter the nature of individual jobs involved and the costs per each. At the end of it, you include the total figure and that's that. Download this document next time you want to create your painting quote quickly and efficiently.
3. Quotation for External Painting & Plastering Works
As the name suggests, this is a quote to paint the external walls of a primary school. If you are ever asked to write a quote like this, you don't need to start from the grounds up. It contains a quotation form that you just fill by providing information about your company, the specific tasks you will and their individual prices. Also, it has terms and conditions that you can borrow to include in your quotation.
The template makes it a lot easier and less stressful to create your own quote. The form is available on the internet so you just need to download it and fill in your information.
4. Quotation for Re-Painting
This is an RQF or a request for quotation. It is an invitation to the public to submit quotes for the purposes of repainting a residential building. As is clearly stipulated in the RQF, you are supposed to submit a closed quote by a specific date.
The quote not only mentions the extent of the work involved, but also the different conditions and qualifications that a successful applicant will have to meet. It lists the areas that will need to be repainted, and ask you to state the labor required, labor cost per square feet and the total amount for painting a specific area of the residential building. You are supposed to fill in this itemized information to the end and provide a grand total figure. That's about all that you need to write the request for quotation.
5. Traffic Line Painting Quotation
This is a quotation for paining traffic lines and other markings. The company submitting the painting quote example is called Gananoque. It lists in details the different jobs it will accomplish, as well as the prices for the individual jobs. Also, it lists down the materials and tools that will be needed, as well as what their costs are. The quotation is detailed and covers all the aspects and costs of doing this work. The point is that you should include even he minutest cost so that your quote is as accurate as possible.
6. Written Painting Quotation
This written quote from Sterling Painters is the perfect way to quickly and professionally write your own painting quotation. The quote contains place where you enter your contact details, the customer's details, a scope of work, the type of painting products that you will use, clear description of the areas to be painted, colors you have chosen and the price.
The quote is very detailed and covers all the aspects that are supposed to be in a painting quote. It makes preparing your own quote very easy indeed. Next time you have to write a painting quote, this might be as good a place to start as any.
7. Painting & Maintenance Services Quote
This quote from Torelli Painters is in the form of a questionnaire. It asks questions that the client is supposed to respond to. It introduces a new concept of writing a quotation, where the total price is arrived at after the client has filled in the form about what they want. You will send this questionnaire to the customer, and once they are done filling it, they email it back to you at an address that you shall provide.
8. Hydrant Painting Services Quote
This document contains multiple quotes for the provision of painting services of fire hydrants. It shows different companies submitting quotes and their prices which you can copy. The quotes are pretty simple, describing the job to be done and the cost for it. This way, the company can choose the best painting firm based on the information that the client has shared. It presents an opportunity for you to quickly prepare your quote. It is downloadable, and you can fill your information easily using local programs.
9. Request for Quote to Paint Red Curbs
This is a request for quotes by the City of Morgan inviting professional contractors to paint red curbs. It is divided into different sections that include instructions, technical specifications and bid schedule. This is quite a detailed proposal and would be more suited to more established companies as opposed to small time painters. To respond to the proposal, you will have to write a detailed proposal containing your prices and what makes you stand out. Because the RQF is so detailed, it means you also must go to great lengths to make sure that you provide a comprehensive quote that can win you the business.
10. Street Light Painting Quote
This is an invitation to qualified painting contractors to submit bids for the painting of street light in the district of Summerland. This 20-page document starts with an elaborate table of content section that is then followed by a brief introduction and instructions that every submitting firm should abide by.
The main part of the contract is definitely the Contract section. Here is where you will get all the details about the job you are applying for. The contract will be signed between the Summerland District and your company. Next up is the General Conditions section. This is then followed by the scope of work.
11. Quotation for Painting the Roof
This request for quotation by the Municipality of Whitestone is an invitation to qualified painting contractors to submit sealed and properly marked bids at a designated place by a specific date and time. It is a quotation for paining the grange roof. It lists the deadline to submit the quotation, the date of opening and the venue. It even lists project completion date.
While some request for quotations are quite detailed, this one-page document proves that indeed you can write your document easily and fast. It doesn't have those so many aspects, but carries important ones that get the job still done.