Baptism is the first sacrament a person has to receive to be initiated into the Catholic Church or Christian family. Baptism came from the Greek word bapto or baptizo that means to wash or immerse. It is a sacrament that symbolizes the washing away of sins and cleansing of the soul through immersing it in water. As a Christian family, you will have to have your child baptized; some congregations encourage parents to have their child baptized a couple of weeks or months after birth and some on the child's teen years.
In relation to this, having your child baptized is a big celebration. It means that he or she has been blessed; such milestone should be celebrated with family and friends. And just like in any reception, there should be a menu that lists down all the dishes that will be served to the guests. In this article, various baptism menu templates and examples are provided for your perusal.

Baptism Menu Templates and Examples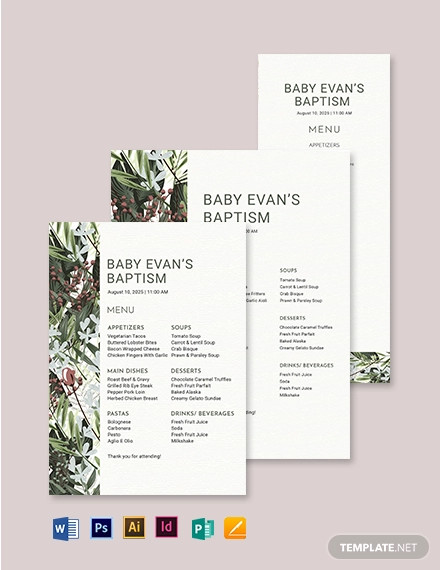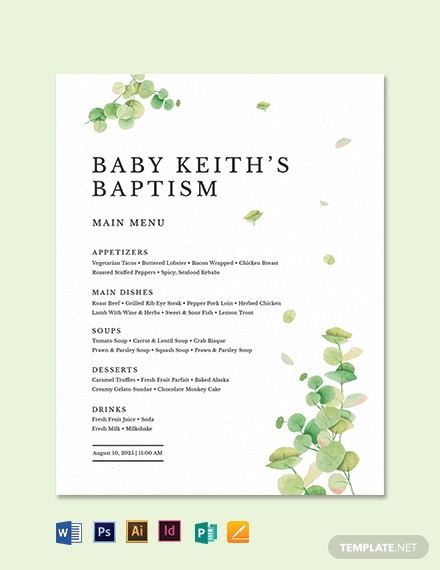 For such a holy event, it is best to stick to simple yet classy designs for the materials that you use for the reception. You can always use a vintage, classy silhouette even for your baptism menu. Looking at this example, you can see how elegant the menu example looks with the baby blue stripes on the border and gold accent colors used on the cross and fonts.
Since you are already going for a classy vintage look, you should also choose an intricate font style that is still easily readable for your guests. Furthermore, you should make sure that the layout and structure of the menu itself are clear and clean to ensure a sleek finish. If you want to DIY the baptism menu that you use, you can take inspiration from this example.
If you don't want to have an over-the-top design on the baptism menu, that's totally fine. The design on the menu should be a secondary factor; you need to prioritize the food you are about to serve to your guests. Like in this example, the design or illustrations used in this menu design is only the one-side floral border and floral cross.
Having minimal designs in the menu help to make it more attractive and aesthetically pleasing. Moreover, making sure that you serve food that caters to people on various diets and allergies can be quite difficult, but with the help of an accommodating caterer, it can be achieved. It is best to serve basic or common dishes with exciting twists than to serve unique dishes that the majority will not enjoy.
All the materials you use for your event should be consistent with the theme you have decided to use. Consistency with the decorations, designs, illustration, etc. on the venue will help make the event more aesthetically pleasing. This baptism menu example is perfect to use when you want to go for a sailor or nautical theme for the baptism of your child.
It has a high-quality design and layout that will surely impress your guests. If you want a good-quality menu for a baptism reception, you can use this example as your guide and basis. You can tailor your menu to the layout and designs of this menu example to ensure an amazing output.
Any event menu should be well-designed in order to comprehensively present the list of dishes in an aesthetically pleasing manner. Looking at this pink floral baptism menu, you can see how chic and classy its designs and layout are the pink roses border, circular border for the cross and gold accent cross.
It is a stylish menu perfect for a garden fresh theme or reception venue. The considerate number of design elements helps to ensure that the text contexts are clearly emphasized since it is the main purpose of a menu. Aside from the design, you should also ensure that the dishes you serve for the reception are inclusive, meaning it caters to other diets and allergies to help people really enjoy the celebration.
18. Gray and Gold Baptism Menu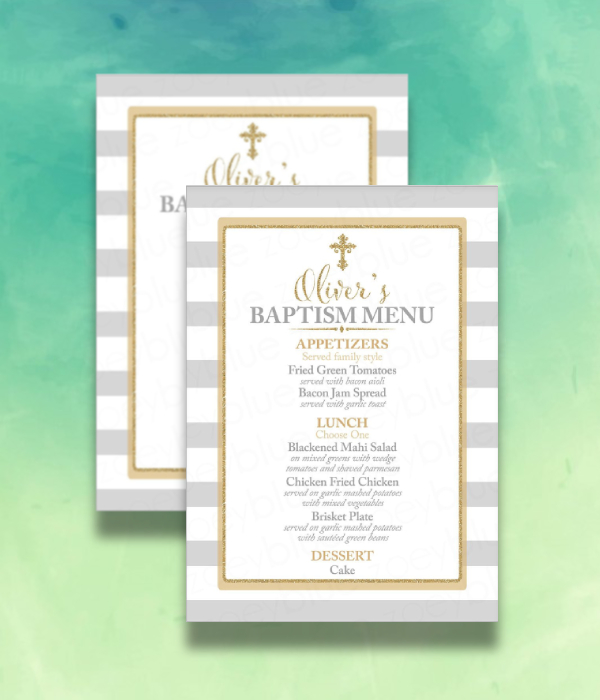 Using a minimalist layout and design for the baptism menu that you use means that you use accent designs that will make the menu look more attractive. Pastel colors symbolize neutrality and can set a tranquil vibe; thus, it is an appropriate color scheme to use for a baptism.
If you are looking for a minimalist pastel-colored baptism menu, you can use this example as your guide. You can imitate the pastel lavender-and-white stripe background, gold accent border, and consistent colors of the fonts. Looking at this example, you can easily see how beautiful and sleek the menu looks with its minimalistic designs, and since it is minimalist, you can easily DIY this baptism food menu.
If you are want to have a simple yet beautiful baptism menu, it is best to stick to one color palette. Similar to this baptism menu example, you can see how basic yet chic the menu looks. It has a one-colored background and one main design element which will allow for the emphasis of the text elements.
This is the type of menu that has a front and back portion—the front cover has a minimalist pink background while the back contains the list of dishes. Doing this will allow you to have an organized menu that will surely be easy for your guests to read and understand.
We hope we have provided insightful and inspirational baptism menu examples that you can use either as a guide or template when you create a menu for your own purpose.