Surely you have heard of the saying, "Don't judge a book by its cover." Well, in the publishing industry, a book is most definitely judged by its cover. Think about it. You're walking through a bookstore and right in front of you, you see featured books strategically placed on tables, book covers facing outward, drawing your attention. That's because the bookstore owner knows the power the cover has to convert a shopper to a buyer.
So if you want your next, or first, published book to become a bestseller, keep reading on for several helpful tips on how you can attract customers with your book cover.
Elements of a Good Business Book Cover
Before creating your business book cover, it is important to have a basic knowledge of the elements that must be present in your book cover. As a minimum, here are the elements comprising a book cover.
1. Eye-catching title: Bookworms perfectly know the importance of a book title, but even a mere passerby without interest in reading a book would get caught through a striking title. The title presents an overall context of the book and its genre. It gives the reader a brief impression and what they are going to expect from the book.
2. Subtitle: The subtitle is important in a book cover to elaborate, explain, and support the main title. It acts as a complementary to the title and is usually a single sentence, providing additional details to the title. Note that it must not outstrip the main title, hence only rendered in fonts smaller than the title.
3. Design: The main aspect of a book that sets it apart from all the other books laid on the same shelf is its design. This does not mean to go overboard; instead, this encourages designers to be appropriately minimal with a design that fits the theme of the book. A well-designed book cover can guarantee to draw attention of the readers and even those who are not fond of reading.
4. Back cover: Book covers are usually underrated due to the fact that when a book is laid on top of the table, the back cover is usually neglected. However, the back cover is something that must be taken into account as it provides further details about the book such as information about the publication or a preview or short summary of what readers can expect from the book.
5. Reviews: Reviews or endorsements from renowned authors and influential individuals or groups can add credibility to your book. Their positive feedback and testimonies are some kind of subtle promotion, encouraging people to try reading your book. Hence, it is an important element that must be added in your book cover.
6. Spine: When books are stored in a shelf such as in a bookstore or library, only the spines of the book can be visible. Hence, people who are looking for a specific book would just refer immediately to the spine. So, it is important that the spine of your book must contain the title, author number, and publisher so that your book can easily be distinguished and recognized from a glance.You may also see notebook cover designs.
7. Author bio: The author bio is also an integral part of your book cover because through adding a brief and concise description about yourself as well as your credentials, readers would feel a special connection to the author, making them more at ease in reading your book. It is like you are sharing a portion of your life for your reader so they can relate and connect with you, which would increase their interest in reading your book.
10+ Business Book Cover Templates
Small Business Book Cover
Template Details
Available File Formats
&nbsp
&nbsp
&nbsp
&nbsp
&nbsp
Size: (US) 8.5×11 inches
Blue Business Book Cover
Template Details
Available File Formats
&nbsp
&nbsp
&nbsp
&nbsp
&nbsp
Size: (US) 8.5×11 inches
Business Management Book Cover
Template Details
Available File Formats
&nbsp
&nbsp
&nbsp
&nbsp
&nbsp
Size: (US) 8.5×11 inches
Business Book Cover Template
Template Details
Size: 6×9 inches + Bleed
Architecture eBook Cover Template
Template Details
Size: 6×9 inches + Bleed
Entrepreneur Book Cover Template
Marketing Book Cover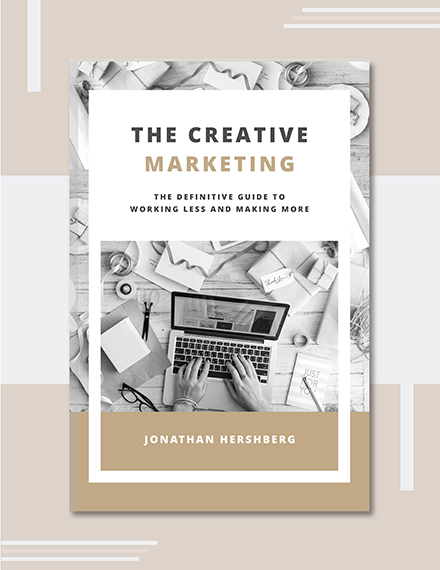 Template Details
Size: 6×9 inches + Bleed
Accounting Book Cover
Template Details
Size: 6×9 inches + Bleed
Social Media Book Cover
Professional Book Cover Template
10+ Business Book Cover Examples
Business Book Cover Design
Business Work Ethics Book Cover
Business Adventures Book Cover
Branding Business Book Cover
Creative Business Book Cover
Red Business Book Cover
Financial Education Business Book Cover
Secrets to Success Business Book Cover
How to Create a Business Book Cover
For your book to be picked up from the shelf and its pages turned, you must create an appropriate book cover that would give the reader an overview of the content of your book. Here is how you can create a well-designed book cover:
1. Select an appropriate format. Choose the most appropriate format and size for your book. It is important to think well and decide on your format for this would be the blank canvas for your whole book. Consider the graphics that you would be incorporating as well as the font size of the text that you are planning to use for you book. Commonly, portrait is the typical orientation for a book, but this does not limit you to stick to that orientation. You may opt to use a custom size to be set apart and stand out from the rest.
2. Work within your genre. A book may contain several genres, so it is best that you determine first the main genre that you are working on, for example, business, and from there, the design of your book cover must revolve on the genre of your book.
3. Incorporate visuals. Visuals are of great aid so that people would get a grip on the whole context of your book. Even at a glance, they can easily get a bit of idea if there are visuals that would help them understand what your book is all about. Incorporate high-quality photos or graphics in your front cover, but make sure you are not overdecorating it. As an alternative, you may also opt for a pure-text book cover, but ensure that the title or font is interesting enough to snatch people's attention.
4. Set the mood through your text. Before the reader flips a page in your book, your book cover must first set the mood that you would like to convey to your readers. Choosing appropriate fonts and adjusting the font size so it would perfectly complement with your design and layout can be the key in setting the mood that you would want for your readers to feel.
5. Publish your book cover. Lastly, publish your book cover by printing it so you can attach it to your book or you can post it as a book cover of your e-book in your site, across social media, or any other platforms where you can advertise your book.
Quick Tips for an Excellent Book Cover
Want your book to be easily recognized and picked up by readers? Here are some effective tips on how you can create an excellent book cover:
An effective book cover makes the reader feel something instead of telling them something. In designing your book cover, put yourself in the reader's shoes and view your design from their perspective. Sometimes, viewing from a different lens would give you an idea on how to reach and communicate with your audience.
You cannot create a excellent book cover if you do not know and understand first your audience. Hence, think about your audience in order to achieve a book cover that would please them and ignite their interest.
When letting graphic designers to work on your book cover, provide them the key information regarding your book such as your target audience, style and mood of the book, and key characters or unforgettable moments.
If you cannot immediately decide on what design to incorporate in your book cover, you may ask input from fans and avid readers and listen to their advice or comments.
Types of Book Covers
Would you like to publish your book in softcover or hardcover? In deciding for the appropriate type of book cover for your book, you must consider the book size, number of pages, as well as your target readers. Think of this. Is your book meant to be placed inside a school bag? Is it something that the readers can conveniently carry around and read in buses and other utility vehicles? Or is it meant to be read only on top of a table or in a library? These are just few of the many questions that you can ask if you are going to decide for the type of book cover you are going to use. The discussion below might also help enlighten you regarding the types of book covers.
Paperback: A paperback's distinctive feature is that it is made of a thick paper or paperboard and the pages are held together with a glue instead of stitches or staples. This is also known as a softcover or a softback.
Hardcover Casewrap. Casewrap hardcovers are wrapped in white stock which may be printed in full color and can be laminated with a glossy finish. Its casewrap may be fully attached to the book cover or can be designed as a removable component.
Hardcover Dust Jacket. This type of book cover is covered with cloth or partly cloth and partly paper. Stamped on its spine is the title of the book, author, and publisher imprints. These information may also be printed on the front of the book.
Book Cover Sizes
Previously, it has been discussed that choosing an appropriate format and size for your book cover is important to accommodate the text and graphics that you are planning to include in your book. Here are some book cover size guides that may help you in determining the appropriate size for your book cover.
Mass market books (4 1/4 × 7 inches): The point of purchase sites for these books are supermarkets, airports, drugstores, and other similar areas. Because of its small size, they are generally distributed in bulk. These books are usually those that are self-publish books, so if you are planning to publish one, this size might be the best fit.
Trade paperbacks (5 1/2 × 8 1/2 inches to 6 × 9 inches): Considered as the ideal proportion of books, this 2:3 proportion can achieve a good-looking book that can be used in a wide variety of genres and categories of books. Since this proportion is an ideal one, creating different sizes but retaining the same book proportion can still result to a canvas with an appropriate size that can easily be designed.
Manuals and workbooks (8 × 10 inches to 8 1/2 × 11 inches): Books on this category are typically large which can be used to contain a huge amount of information and graphics. Examples of books with this size are those that are for directories as well as instructional books, even magazines. The inside pages of the book can be divided into two columns to efficiently use the space.
Novels (5 1/2 × 8 1/2 inches, 5 1/4 × 8 inches, 6 × 9 inches): You can expect that novels have a very wide market, hence come in different sizes. For an intimate reading experience, the commonly used book cover size is 5 1/2 × 8 1/2 inches; this size is also among the most popular and commonly used size for novel book covers. Short novels may appear in 5 1/4 × 8 inches while longer novels move to 6 × 9 inches. You may also see journal examples.
Short story collections or collections of essays (5 1/2 × 8 1/2 inches, 5 1/4 × 8 inches, 6 × 9 inches): Generally, this size of book cover is similar to the size of the novel book covers.
General nonfiction (6 × 9 inches, 7 × 10 inches): For general nonfiction books, the commonly used book cover size is 6 × 9 inches. Note that this size falls into the ideal book size proportion which is 2:3. If you want to include more information, text, and graphics in your book, you can opt for a larger one which is 7 × 10 inches.
Photography or art books: Books falling into this category are usually published in custom sizes. They do not adhere to standard sizes, so authors have the freedom to choose their preferred size. For photography and children's books, a square or nearly square format is preferred, which allows both horizontal and vertical graphics and images to have about the same amount of white space or empty space on the page.