The world of fashion is a fast-growing industry that changes a lot. With trends coming in and out at a quick pace, businesses scramble to come up with the best marketing plans to draw consumers in. Fortunately, with the help of a well-crafted fashion catalog, it's easier for customers to identify a particular brand in store. This article will show you how to create one and boost your brand.
21+ Fashion Catalog Examples
1. Fashion Catalog Template
2. Fashion Product Catalogue Template
3. Fashion Photographic Catalog Template
4. Fashion Lookbook Catalog Template
5. Fashion Jewelry Catalog Template
6. Free Fashion Catalog Template
7. Fashion Product Catalog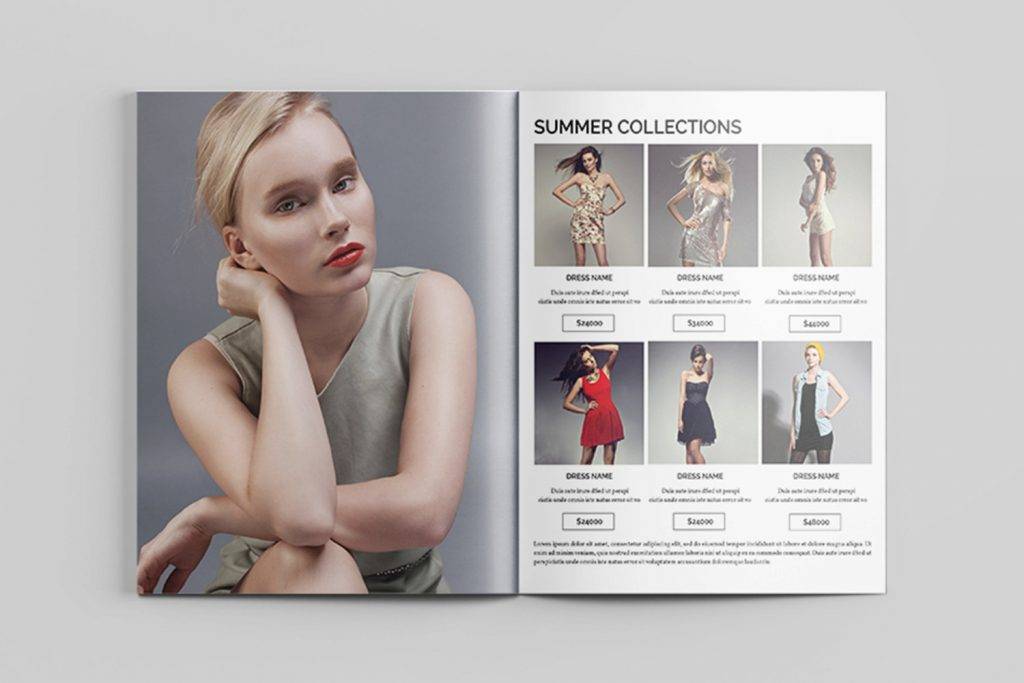 8. Minimalist Fashion Catalog
9. High Fashion Catalog
10. Rally Catalog Layout
11. Creative Fashion Lookbook Catalog
12. Hair Fashion Catalog
13. Simple Fashion Portrait Catalog
14. Fashion Catalog Template
15. Simple Fashion Catalog Design
17. Fashion Print Catalog
18. Fashion Product Catalog Brochure
19. Fashion Collection Catalog
20. Fashion Brochure Catalog
What Is a Fashion Catalog?
A fashion catalog, also referred to as a fashion lookbook, is a collection of well-styled images used to sell a particular brand of clothing. It is a creative way to showcase the essence of a given product by conveying a message for a specific audience. These are typically showcased through images of models wearing the fashion pieces, to give prospects an idea of how it looks when worn.
How To Design a Fashion Catalog
According to Statista research, the fashion industry market has reached up to $1.9 trillion with expectations that it will rise. Countless of wonderfully designed fashion catalogs have certainly contributed to that number by enticing customers to purchase what they see. If you want to make your catalog a marvel to look through, then check out these tips.
1. Think of Your Audience
Before you start creating your fashion catalog, think about who your target is. Are you going for a casual audience or people who are genuinely interested in fashion? Once you figure out you are demographic, you will have an easy time creating your fashion catalog.
2. Select a Size and Format
Believe it or not, but the size and format of your catalog can make a difference. From the cover to the pages, every aspect of your catalog design plays an essential role in its general purpose. Choose a format that will help you organize your content and is visually appealing to your audience.
3. Incorporate a Theme
To make your catalog fun and relevant, you can incorporate a theme to make it resonate well with your readers. For example, if it is the holiday winter season, you can incorporate winter aesthetics and colors into the design of your catalog. Consider this tip, and you will never run out of ideas on how to design your fashion catalog.
4. Use High-Quality Photos
The clothing offered by a brand is the centerpiece of a fashion catalog. Because of this, it is using high-quality images is essential to portraying its value. This can help make apparel appear even more enticing, leading to an increase in sales. Make good use of photography techniques when incorporating images for your content.
FAQs
What makes a fashion catalog different from a fashion magazine?
While they both showcase lovely fashion images in their pages, a fashion catalog is more focused on imagery. Fashion magazines, on the other hand, contain written articles and different sorts of content besides focusing only on photography.
What is a brand lookbook?
A brand lookbook is a type of fashion catalog focused on the products and designs from a particular brand. It may focus on one kind of brand or organized into categories.
What is a digital catalog?
A digital catalog is a type of catalog that you can access online through an electronic device. They are not like a physical catalog but encoded and read through modern gadgets like smartphones and laptops.
What makes a fashion design portfolio different from a fashion catalog?
A fashion design portfolio is a fashion designer's collection of art and designs put together to show their skills and style to a potential employer or fashion school. A fashion catalog on the other hand is a collection of finished products by fashion designers for consumers to view and purchase.
Whether you are working on the next summer issue or a regular one, the tips mentioned above should give you an idea of how to design a fashion catalog. Readers will feel interested in what they see and help promote your brand to a bigger audience. For more ideas on designing catalogs, take a look at our brochure and portfolio examples for more inspiration.