Aside from being one of the most popular photo- and video-sharing social networking services, Instagram has unlimited marketing potential that various brands or business organizations have already tapped. With its huge and diverse online community, any business organization who ventures in this social media platform has the access to Instagram's incredible marketing opportunities.
If ever you are planning to join, you have to accept the fact that you will have a lot of competitors that you must stand out from. As of June 2018, there are already 1 billion monthly active Instagram users—just imagine trying to stand out from that number. However, with the right Instagram ad template, you will have no problems standing out from the sea of competitors.
Elements of an Instagram Ad
Creating an Instagram ad is not rocket science. All you need to secure is your knowledge of what are the elements that make up even the most basic Instagram ad you can find in this photo/video-sharing social networking service.
1. Visual: Since Instagram is basically a social network that is based on mobile visual content, this means that the image of your Instagram ad is one of the major elements of an Instagram ad because you cannot publish any content on your Instagram account. Unlike other social media sites such as Facebook and Twitter, you cannot post with texts alone in Instagram—you need to post a photo first.
Here are some things you should consider following for the visual aspect of your Instagram ad:
And since the image you upload is important, you have to ensure that you will be posting quality images that will help you in effectively engaging with your target market on Instagram.
It is suggested that you should post images that can drive emotional interaction because images with this feature can generate the most engagement for your Instagram account.
As mentioned, post visuals with quality, and in addition, make sure that these images are close to your brand style so your target market and existing customers can easily identify your brand.
2. Caption: Even if you cannot post on Instagram without the visual element, you still need to add words or captions that will give the visuals more value. The captions you include on your Instagram ad are considered as a very powerful instrument since this is how you will be directly communicating with your target audience.
Here are some things you should consider following for the written aspect of your Instagram ad:
You have to understand first where your target audience is coming from. It is in understanding them that you can come up with a caption that will surely attract and click to them along with the possibility that they will respond to your call to action and eventually engage through the comment sections.
Now that you already know about your audience, it is suggested that you should have a caption that is written in the "language" of your target market so that they may be able to easily understand the message you are trying to convey.
Know the power of hashtags (#). Through hashtags, users can generate more photos related to the one you have posted. And if you follow a consistent hashtag all throughout your Instagram posts, you can lead or direct your target market toward those other posts through the hashtag you use.
3. Call to Action (CTAs): How can you expect engagement without this element? CTAs usually contain a verb that aims to give a sense of urgency to your target market where you can direct them to do what you action you want them to do. You have to use CTAs to make your target market to click on your ad because you just don't want your target market to like and comment on your ad but you will surely want to make them buy what you are selling.
10+ Instagram Ad Templates
Beauty Instagram Ad
Education Instagram Ad
Pets Instagram Ad
Real Estate Instagram Ad
Restaurant Instagram Ad
Sports Instagram Ad
Travel Instagram Ad
Web Design Instagram Ad
Wedding Instagram Ad
Yoga Instagram Ad
10+ Instagram Ad Famous Examples
Adidas Instagram Ad
Apple Music Instagram Ad
Barbie Instagram Ad
Casio Instagram Ad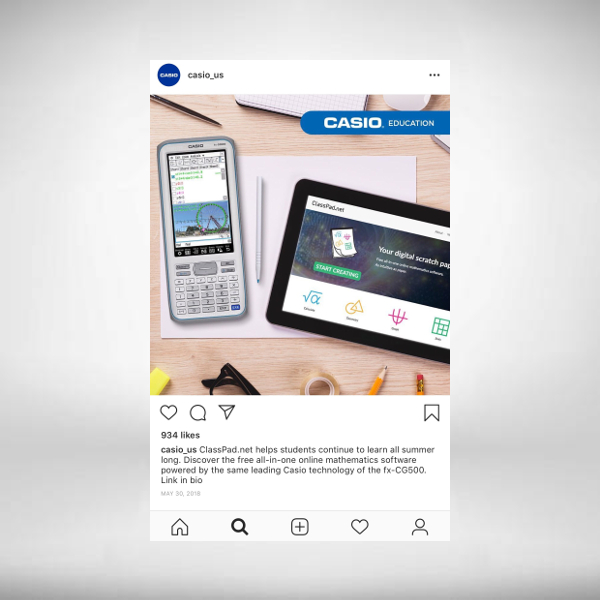 Fujifilm Instagram Ad
Marks and Spencer Instagram Ad
McDonald's Instagram Ad
Subaru Instagram Ad
Urban Decay Cosmetics Instagram Ad
How to Create an Instagram Ad
If you glance at an Instagram ad, you might think that it is easy to make. While creating one is definitely not rocket science, this does not mean that it should not take an extra effort to develop one. Behind every simple-looking Instagram ad may be an extensive development process. Should you create one, here are the steps you need to follow:
1. Define your objectives: Before anything else, you have to know first your goal or your objectives in order to achieve a successful Instagram ad. You may consider asking yourself questions that can help you determine your objectives such as "Do you want to boost your brand's engagements?" and "Do you want to make your target audience to be aware of your brand?" Whatever objectives you have, make sure that it will help you achieve perhaps the overall marketing goal of your business.
2. Develop a marketing campaign: With clear objectives in mind, you can now develop a marketing campaign that will further develop your objectives. Since marketing campaigns can be designed with different objectives in mind, you can already determine how to build a brand image, how you can introduce a new product or service, and how you can increase the sales of your products and services.
What will follow is the information regarding your ad dimensions, the text limitations, the brand colors to be used, the logos to be added, and a whole lot more. Once you have already figured out all of these factors, you can already build up your Instagram ad.
3. Create a call-to-action: As mentioned above, how can you possibly generate engagement without a call to action? CTAs or call to actions are a vital element of every advertisement, be it an Instagram ad or not. Without CTAs, your target users may not be able to know they can actually engage with your ad. With CTAs, you can easily and clearly direct your audience to do what you want them to do.
Here are the common words that are used as call to actions:
Apply Now
Book Now
Buy Now
Buy Tickets
Contact Us
Download
Install Now
Learn More
Learn More
Listen Now
Play Game
Request Time
See Menu
Shop Now
Sign Up
Use App
Watch More
Tips for Instagram Ad Users
If you have successfully created an Instagram ad by following the steps above, here are some guidelines you should consider:
1. Stand out—but not too much: With the sea of competitors you have to face, it is important to stand out; however, you should not only think about your competitors but you should also think of the interest of your target audience. In your quest of standing out, you may create and post content that your target audience could not relate. If you want to encourage clicks on your ads, ensure that your ads look like an organic content.
2. Include user-generated content: If you are further looking for ways on how you can engage and interact with your target audience, including user-generated content on your Instagram ad is a must. You can ask your existing followers to submit their own content that will be posted on your Instagram account. Aside from an increase of engagement and interaction, this will also enable you to gain the trust and even loyalty of your target audience.
3. Target local users: If you are starting out a local business, it is important that you will first target the users within your area. Making local users your target audience is the best way to build an audience because the possibility of them buying and availing your products and services is high rather than targeting Instagram users who are from across the globe who may get discouraged due to the distance. Do not be afraid to start small and simple.
Types of Instagram Ads
Although most of the Instagram ad examples, templates, and design ideas in this article mainly consist of images, there are still some other types of Instagram ads you need to consider making for your brand.
1. Photo Instagram Ads: This type is perhaps the most common and simplest one. All you need is a single top-notch image that can help you advertise a certain product or service of your brand.
2. Video Instagram Ads: If an image is not enough for your ad, then consider having a video ad where you can show multiple running images in a span of 60 seconds.
3. Carousel Instagram Ads: The difference of this type from the previously mentioned ad types is that it comes with a number of photos and videos that ranges from two to ten wherein users can just swipe through the range of products and services your brand offers.
4. Collection Instagram Ads: Show multiple photos of your products in a single post through the Collection Instagram Ad type.
5. Instagram Stories Ads: Do you have limited-time offers and promotions? This type is just perfect for you since Instagram Stories will expire after 24 hours and this gives your target market a sense of urgency. Instagram stories also come with a ready call to action that comes in a form of a swipe-up feature that allows you to bring them directly to your main website.
Instagram Ad FAQs
Here are the answers to the frequently asked questions regarding Instagram ads:
Why use Instagram ads?
Ever since 2015, when Instagram launched their advertising feature on its platform, Instagram ads have actually driven actions from more than one billion users. Ever since its launching, Instagram ads have been one of the popular and one of the best social media advertising choices by most brands, both local and international. Sure, you may have a lot of competitors but if you are going to think of the number of Instagram users, you will surely have nothing to worry about when it comes to audience reach.
Who should use Instagram ads?
Brands that are found under the categories of beauty, entertainment, fashion, food, music, etc. can definitely utilize Instagram ads. But you also have to determine the age group of your target users since Instagram ads are actually ideal for targeting users of ages 18 to 34 and particularly females. For other sectors and age groups, you need to have extensive research first so you will know whether investing your resources such as your time, effort, and even money on Instagram ads will be worth it or not.
Are you now interested to venture into Instagram advertising some time in the future? Make sure you use the Instagram ad examples, templates, and design ideas that we have here in this article to help you get started smoothly.