Social media has become a significant part of our everyday lives. Though it can be a broad term to define, we commonly associate it with just about anything that can be posted on various networks such as Facebook, Twitter, Snapchat, or Instagram. Social media is often used as a platform to stay connected with others, whether it's for personal or business purposes. To gain a deeper understanding of how it works, we need to look at it in terms of the activities that these social media marketing tools enable.
The easiest way to define social media is to see it as a collection of technologies that allow us to share content with other users online. With this, we are able to identify the essential elements that an influential social media page should possess.
1. Listening: This refers to the process of searching and monitoring public conversations and shared content in order to identify and understand the latest trends in the market. Any mentions of brands, products, services, events, questions, or other keywords are deemed important for most marketers. By listening to what your general audience has to say, you can tailor your content according to market demands.
2. Content Strategy: Digital media plays a key role in a successful content marketing strategy. This includes the use of written text, images, videos, and slideshows to raise attention and boost traffic. The idea is to provide valuable information to a target audience through share- and like-worthy content.
3. Engagement and Community Management: Considering how diverse everything on social media can be these days, keeping your audience fully engaged can be quite challenging.Engagement allows you to connect directly with another individual, preferably someone of your intended demographic. Combining the first two elements with your conversation skills, you can build a level of trust and loyalty with your audience by addressing problems and providing value.
4. Promotion and Advertising: Promotion and advertising in social media is often conducted through sponsored posts or any paid method which allows an advertiser to generate awareness about a product, service, event, website, or marketplace. Many advertisers use photos and videos to pique curiosity and encourage a response from users on the network.
5. Metrics, Measurement, and Analytics: To evaluate the effectiveness of your efforts, you need to keep a close eye on network measurements and analytics. This covers the activities related to the capture and analysis of data, including user demographic, website traffic and behavior, interactions and impressions, and any other data-generating activity. This allows you to understand and improve the potency of each action.
Agriculture YouTube Channel Template
Free Corporate YouTube Channel Template
Free DJ YouTube Channel Template
Printable Valentine's Day Facebook Cover Template
Free Lifestyle Channel Art for YouTube Template
Free Soccer Social Cover Pages Templates
Free Traveling YouTube Channel Template
Valentine's Day Instagram Post Template
Free YouTube Channel Art for Nature Template
Free YouTube Channel for Travel Template
Free YouTube Vacation Channel Template
Army Social Media Cover Example
behance.net/gallery/20906243/Social-Media-Cover-Photos
Colorful Social Media Cover Example
behance.net/gallery/23703255/Social-Media-Cover-Photos
Facebook Cover for Social Media Example
behance.net/gallery/46012775/BI-DWH-fb-cover-for-social-media
Facebook Cover Photo Example
behance.net/gallery/10737125/Social-Media-Cover-Photos
Facebook Timeline Cover Example

behance.net/gallery/44529781/Facebook-Timeline-Cover
Restaurant Social Media Cover Example
behance.net/gallery/50803165/Social-Media-Creative-and-Cover-Page-Smoked-Biryani
Social Media Business Cover Example
behance.net/gallery/15219821/Social-Media-Cover-camas-mas
Social Media Cover Banner Example
behance.net/gallery/56625445/Maxecv-social-media-coverbanner
Social Media Cover Photo Example
behance.net/gallery/67965311/Social-Media-Cover-Photo
Social Media Cover Photo for Business Example
behance.net/gallery/30510973/Social-media-cover-photo
A social media page is basically a billboard space for businesses to communicate their brand message to prospects. Thus, creating a great social media design should be a priority when starting or enhancing your  page.
To do so, here are a few steps to follow:
1. Study your market. 
Take a good look at your competitors. Which efforts were successful? Where did they go wrong with their previous attempts? See what you can do to put yourself ahead of the game. Market behavior and trends also provide an in-depth look as to how you can design your social media page more effectively.
2. Select the correct image sizes.
Before proceeding to the actual design process, you have to determine the right image size to use for each post. File dimensions typically vary across different platforms and devices, so make sure to apply them accordingly.
3. Develop your designs in RGB color mode. 
As you begin creating your social media design, remember to change your settings to the RGB color mode. Since everything will be displayed on screen, CMYK colors have no place here.
4. Showcase your branding, products, and community.
Images on a social media page mainly consist of a banner image, a profile picture, and sometimes a background. Businesses typically have their company logo displayed in the profile picture, while the banner and background can feature various types of images including the general products and services offered by the company.
By identifying what to put, you can fill your profile with relevant content for successful brand marketing.
5. Keep your designs visually consistent.
One way to establish a strong brand identity online is to keep all your designs visually cohesive across different platforms. This will help keep your brand image on top of a user's mind whenever they encounter your name and profile. You can achieve this by using the same colors or graphics between designs.
Simple Tips for an Excellent Social Media Layout
As humans, we can be very visual by nature. We grow curious over anything that catches our attention online, which is why being incredibly particular about your social media layout can serve as an advantage.
Listed below are some tips to achieve a captivating social media layout:
Color – Color is one of the most vital aspects of a social media design. It sets the mood, creates the atmosphere, and evokes emotion. In most cases, the colors used in a social media image can guide your audience through a story, while also creating a sense of harmony within your images.
Balance – Each element found in your layout holds a certain weight which can affect the way your social media page is perceived. Say for instance, the lightness and darkness of items, colors, texture, as well as the quantity, isolation, and orientation of objects are some of the factors to consider when creating a balanced social media layout.
Lines – Lines are a visual element that can guide the eyes to where you want them to go. Straight lines imply order, which is a common choice for businesses that want to establish formality, while curve lines hint movement within the image.
Typography – Though readability should always be a top priority, there's no harm in experimenting with different typefaces. Whether you choose a sans-serif or a serif font, remember to limit your design to a maximum of three typefaces, to use a font size that best suits your publishing medium, and to use kerning as a technique to balance headlines and titles.
Contrast – Your overall layout may look good, but is your text readable? Avoid the risk of creating a flat design by applying contrast to enhance significant elements in your social media images.
Repetition – Consistency in branding is one thing you can achieve through the principle of repetition. This means using the same set of fonts, colors, and logo designs across all your social media networks and posts.
Space – Negative space, otherwise known as white space, is the area that surrounds the objects in the image. This has the ability to uphold a certain aesthetic quality to your image while also highlighting the most important elements on your layout. In this age, achieving an aesthetically pleasing design is sure to capture a person's attention.
When it comes to social media marketing, there are a variety of image types you could use to boost interactions and impressions with your posts. They are as follows:
Photos – These are the standard photos that you could post on your Facebook, Twitter, and Instagram timelines without having to worry about cropping the original image. No text, perhaps a few graphics and edits, but nothing more.
Collages – Want to showcase a series of items in one image file? Make a collage. You can use a collection of images to tell a story or present a number of items in one post.
Text over Plain Background – Text-heavy images are typically used to feature inspirational quotes, compelling headlines, and intriguing excerpts from a journal or article for online users to notice.
Text with a Photo – This allows you to emphasize a specific message through a visual story and an interesting copy.
Icons and Illustrations – As an alternative to standard photos, you can use these images for a more visual form of communication.
Screenshots – Dubbed as the easiest variation from the rest of the items on this list, screenshots are useful for calling attention to a specific section of text or imagery, especially when proving a fact posted by a reliable source.
Knowing the basic image dimensions for cover photos, shared images, and other social assets can make a huge difference in your online posts. It also pays to know how to size images correctly to ensure the most visually pleasing outcome.
But photo dimensions often vary according to where and how they are shared. A cover photo should be sized differently from a timeline image, or a certain part of it could get obstructed by your profile photo.
To learn more about these dimensions, refer to the image sizes (in pixels) presented below:
Facebook
Cover image: 820 × 312 (minimum 400 × 150)
Profile image: ?180 × 180
Shared post image: 1200 × 630
Shared link preview image: 1200 × 628
Event image: 1920 × 1080
Profile Image
Shared Post Image
Shared Link Preview Image
Event Image: 1920 × 1080
Facebook Sizes
Twitter
Header image: 1500 × 500
Profile image: 400 × 400
In-stream image: 440 × 220
Profile Image
Google+
Profile image: 250 × 250
Cover image: 1080 × 608 (minimum 480 × 270)
Shared image: 497 × 373
Shared video: ?496 pixels wide
Shared link image thumbnail: 150 × 150
Profile Image
Cover Page
Shared Image
Shared Video
Google Sizes
Instagram
Profile image: 110 × 110
Image thumbnail: 161 × 161
Shared photos: 1080 × 1080
Shared videos: 1080 pixels wide
Instagram Stories: 1080 × 1920 (minimum 600 × 1067)
Profile Image
Image Thumbnail
Shared Photos
Shared Videos
Instagram Stories
Instagram Sizes
YouTube
Channel cover images: 2560 × 1440
Channel icon: 800 × 800
Video thumbnail: 1280 × 720
Channel cover image
Channel Icon
Youtube Sizes
LinkedIn
Banner image: 1584 × 396
Profile image: 400 × 400 (minimum 200 × 200)
Cover image: 1536 × 768
Shared image: 350 pixels wide
Shared link preview: 180 × 110
Company logo image: 300 × 300 | maximum 4 MB
Company cover image: 1536 × 768 (minimum 1192 × 220)
Company page banner image: 646 × 220
Square logo (appears in company searches): 60 × 60
Banner Size
Profile Image
Cover Image
Shared Image
Shared Link Preview
Company Logo Image
Company Cover Image
Company Page Banner Image
Square Logo
Linked In Sizes
Tumblr
Profile image: 128 × 128
Image post: 500 × 750 (maximum 1280 × 1920)
Profile Image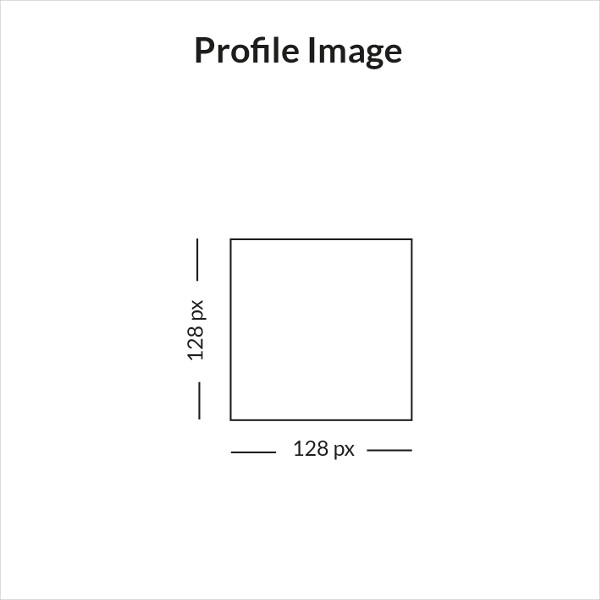 Image Post
Tumblr Sizes
Social Media FAQs
Here are a few questions commonly asked about social media posts:
1. How can I make a social media page?
Starting a social media page is pretty easy. The first thing you would need to do is to make an account and to fill in each field with the required information. Next, you'd want to create a theme for your overall layout. This means your profile picture, cover photo or banner, and timeline posts should possess a common look and feel. You need to make sure that these remain consistent across each of your social profiles.
Once you're finished setting up, you can then begin promoting your page.
2. What is the purpose of social media?
For the average user, social media serves as a means of communication to connect with friends and family in the cyberspace. On the contrary, businesses often use social media as a platform to establish their brand online. By interacting with a targeted audience, you can easily build exposure and increase engagement in order to drive traffic and sales for your business to thrive.
3. Why is social media important? 
With the millions of users on the network, being given the opportunity to communicate with someone from a different continent (without having to face hefty data charges) is a privilege that many businesses take advantage of. This way, you could quickly expand your market reach with only minimal effort required. And since nearly everyone in today's world is on social media, it only makes sense to bring your strategies to the digital universe to generate a higher response rate.
Social media banners, thumbnail images, channel icons, cover photos, and more! We offer just about any asset to improve your social media page in the best way possible. You can even check out more of these examples, designs, and templates over at Template.net.