A menu is an important element of every business in the food industry, whether it's a fast food joint or a restaurant. But little do people know how a menu design can greatly influence a customer in many ways. For one, it affects a person's decision on what to order. This could be based on how the menu items are ordered and the price tagged for each. That being said it's important for every menu to be created in a way that perfectly depicts the essence of the business. So whether you're creating a simple lunch menu, wedding menu, or catering menu, you must make sure that every aspect of your menu speaks well about your business.
Luncheon & Lunch Baptism Menu Template
Modern Lunch Menu
Lunch Delivery Food Menu
Restaurant Tri-Fold Menu
Fast Food Lunch Menu
Characteristics of an Appetizing Menu
A menu is one of the most significant advertising tools that every customer is certain to see. It leaves an impression about your business, along with what you have to offer. That being said, it's important to make a menu that can effectively connect with your audience. So here are five characteristics of a good menu design that every restaurant should take note of:
1. Design
Looking at a menu, its general purpose seems pretty simple. But designing a menu is no easy task, as a menu design has its way of communicating your brand identity. From the colors you choose to the overall tone of its design, it's safe to say that a menu is no different from the average company brochure or business card.
Think of how you want others to perceive your business as. In branding, you want to be remembered for what you have to offer. But in order to do so, you have to make it a memorable experience for customers to keep in mind even after they leave the establishment. Make sure the different design elements of your menu can successfully set you apart from the competition. This goes beyond just making a menu that looks "nice", as it must also reflect your brand as a whole.
2. Description
Descriptions are essential in a menu, especially when there is a need to explain what an item actually is. However, there are times when a menu fails to speak about a dish in a compelling way. You see, simply listing an item's ingredients is plain and boring. It must be able to convey a certain feeling that customers can become attached to. You have to make each item seem inviting enough for it to sell, just make sure you don't make the description too long for a person to comprehend.
3. Categorization
There are many ways to organize a menu, depending on the type of business you run. For instance, food menus and drink menus may be listed on separate cards or you could keep them in a traditional order, where appetizers, main course meals, and desserts are divided into different sections. But if you wish to break this standard practice, then you could always keep your focus on specialties and profitable menu items. Remember, the way you organize your menu can greatly affect a customer's decision.
4. Images
Good food photography can leave you craving for a dish even when you aren't hungry. This is why it's important to use photos sparingly. A mouthwatering image can easily draw attention, even when a person first sets his or her eyes upon your menu. But including images also means setting the bar higher than it already is, so you have to make sure it lives up to its expectations as well.
5. Currency Placement
Regardless of the amount of dough sitting inside our wallets, we often feel conscious about how much we're spending on a meal. Knowing this, you don't want diners to feel intimidated about your menu prices. Leaving out currency symbols from your price list is one way to make a person focus on a menu item rather than its cost. Prices that are listed in a single column of the menu may not be a good idea either, as this causes customers to compare prices and go for the cheapest one on the menu.
Folding A3 Food Menu
Blue Feathers Lunch Menu
Old Lunch Menu
Lunch Food Service Menu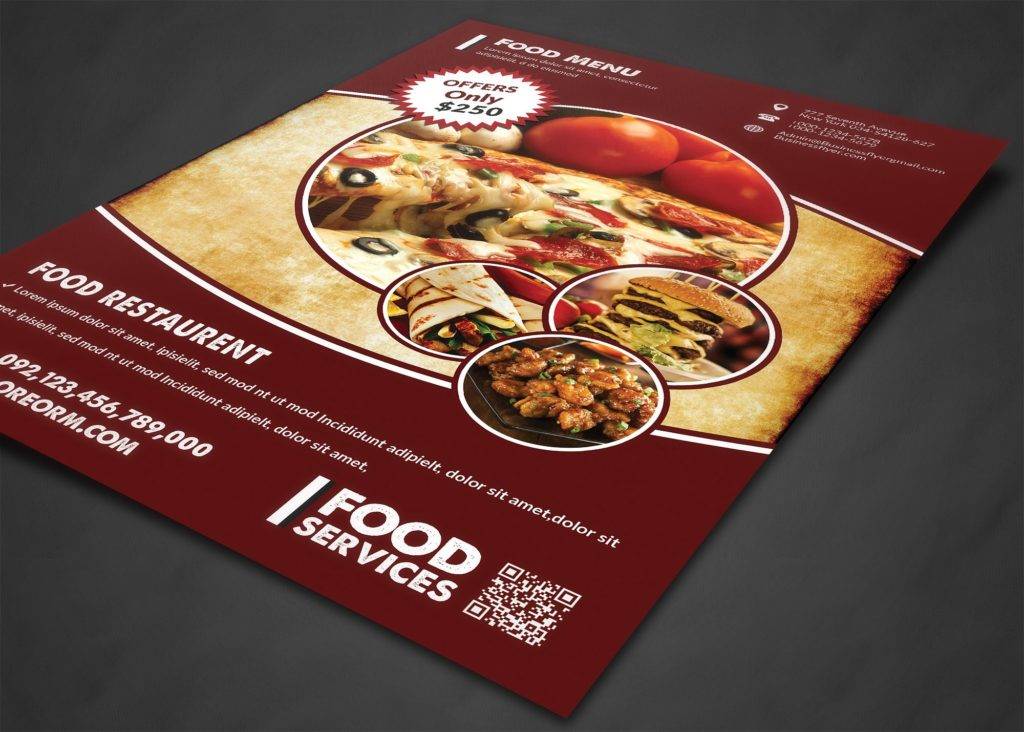 Food Corner Lunch Menu
Importance of a Good Menu Design
There are various reasons why a good menu design is important — this goes for both the business and its customers. For one thing, menus are seen as a medium for communication. If a menu fails to communicate effectively, then a business could lose its market. And how difficult would it be for a customer to step into a restaurant with little to zero knowledge on what to order because there isn't a menu in sight? Imagine the frustration of guessing what's available, without knowing what the dish actually is.
Even if we visit the same restaurant once every week, we can't help but ask for a menu to see if there's something new for us to try. Having a variety of dishes in display allows us to make proper decisions in terms of what we want and what we could afford. A good menu design also serves as an invitation for diners to come back and try another dish on their next visit. After all, not everyone has the stomach to consume every dish on the menu in one sitting.
Additionally, a menu also leaves an impression. It's the first thing a customer sees before they have the liberty of devouring your dishes. A poorly-designed menu can give the wrong impression, and it's never too late for a customer to back out and never consider revisiting your restaurant ever again. So instead, focus on making a menu design that's just as good as the food and beverages you serve. Everything from the color of your menu to the images you add can affect a customer's decision and perception towards your business.
BBQ Grill Food Menu
Stylish Lunch Menu
Nautical Party Lunch Menu
Seafood Menu
Tips and Tricks for Designing the Best Menu
You claim to have the best dishes in all of town, but if customers don't order, then what's the point? That's why it's important to make a good menu that people can take notice of. So to help you out, here are a few tips and tricks to make sure your menu the best it can be:
Study the competition. Do your homework. See how other businesses are able to connect with their audience through their menu design and learn from mistakes and failed attempts. You need to understand how the behavior of your market and how this may affect your business over time. This will also help you determine how you could stand out in the industry.
Be resourceful. You can be resourceful in a number of ways. You could offer menu items of a wider variety, without making your menu list too long. Simple add-ons tend to do the job perfectly, considering how we all have different preferences. You could also use an alternative, eco-friendly material to print your menu on.
Use simple language. Showering your menu with French and Italian words can appeal to an audience, but you don't want to overdo it. Using funny and sophisticated words can only do so much for your menu because after a while, people will find it confusing and misleading. It's important to keep things professional by using simple language that every customer can understand. If not, then make sure your employees are trained with enough patience to explain what a dish actually is over and over again.
Keep it short. There's no reason to create a 10-page restaurant menu, since nobody is going to read every single page anyway. It can be too overwhelming for a customer to take in, and there's always the possibility of simply settling on whatever is visible. But if you do have a lot to offer, then you might want to make multiple menus, arrange items in proper categories, or work on displaying everything on a single page without making it appear tight and messy.
Pay attention to font and color choice. Like a logo design, the font and colors used to design your menu say a lot about your business. Elegant restaurants choose colors and types with class, as this can often send a message to customers. Think about the theme of your restaurant and the kind of cuisine you serve, as this can help you determine the design elements that best suit your business.
Update when necessary. There are instances when certain dishes fail to deliver, ingredients become more expensive, and the demand and supply of certain item changes. When this happens, updating your menu is absolutely necessary. You don't want to fool diners with an outdated price list, phased out menu item, and the like. If the changes aren't that significant, you could always cover it up accordingly to refrain from spending too much for a new menu.
Creating a menu that accurately represents your business is crucial to its success. Apart from what you offer and the atmosphere you create, the menu adds to the overall customer experience. With a good menu design, you can attract potential customers and keep the loyal ones interested for all as long as you are in operation.