An email signature may not seem like a big deal. In fact, many people who send out emails every single day don't even use any email signatures in particular. But, if you are in the real estate business, it's best if you add a signature to every email you send out to your recipients. That's because email signatures have additional information that tells a lot about your brand. The following are some examples of the best email signatures to use.
Best Real Estate Email Signature Examples & Templates
1. Real Estate Company Email Signature Example
Are you tired of writing email signatures every time you want to send an email to your real estate stakeholders? You can use this real estate email signature template to make your work easier. It is available in HTML and Photoshop and it is easy to integrate to an already existing real estate email newsletter.
2. Real Estate Agent Email Signature Template
Integrate this signature to your email account and use it to communicate with your audience. This signature can make your email appear unique in the eyes of a reader. That's because it has more information about you and the real estate company that you present. The files are available in HTML and Photoshop.
3. Real Estate Consultant Email Signature
Are you a real estate consultant who uses Gmail to communicate to clients? Why not make your emails stand out by using a real estate consultant email signature. You can add your contact information and social media profiles so that clients can easily reach out. You can also add a headshot to the signature to make it stand out.
4. Formal Real Estate Email Signature
An email with a formal signature can capture the attention of a reader more than an email without a signature. That's why it is a good idea to use a formal email signature when messaging your real estate audience. Here is a sample template that you can download, customize, integrate with your email account, and use every time you need to send an email.
5. Creative Real Estate Email Signature Design
Make every email that you send stand out with this creative real estate email signature. This signature is a unique tool that you can use to communicate your brand. It provides additional information about your business, so your recipient can easily get a clear picture of who you are and why you emailed them in the first place.
6. Real Estate Broker Email Signature Sample
It is okay to send a plain text email. You will still get some response if the content of the email is worthwhile. But when you add this real estate broker signature to the content, you may likely get responses to every email you send. You can add a business logo, your headshot, social media profiles, and contact information to the file.
7. Responsive Email Signature for Real Estate Business
The last mistake you want to make is to use a non-responsive email signature. Such signatures are usually hard to read because they don't automatically adjust according to the width of a reader's electronic device. With that said, here is a good example of a responsive email signature that you can use for real estate.
8. Realtor Email Signature Template
Are you looking for a ready-to-use realtor email signature that you can merge with your email account? Here is a good example that you can download and use straight from the pack. You don't really need to edit the HTML code. Simply replace the text and image with your own and then use the signature accordingly.
9. Professional Real Estate Email Signature Example
Here is a very simple real estate email signature that you can download and use straight away. It is a good option for real estate companies, real estate brokers, and corporate real estate agents. You don't have to alter the design of the signature. Simply replace the existing dummy text with your personal information.
10. Standard Real Estate Email Signature Design
Whether you send daily, weekly, or monthly emails to your real estate stakeholders, using an email signature can make each email that you send, stand out. In fact, every time you use this email signature, you increase your chances of getting feedback from the recipients that you send emails to.
11. Real Estate Email Signature Bundle Sample
If you need a collection of high quality, professionally designed email signatures, this bundle is a good option for you. These are general email signatures, which mean you can also use them for your real estate email messaging. Each email signature is ideal for promoting your business. They are also easy to customize.
12. Real Estate Business Email Signature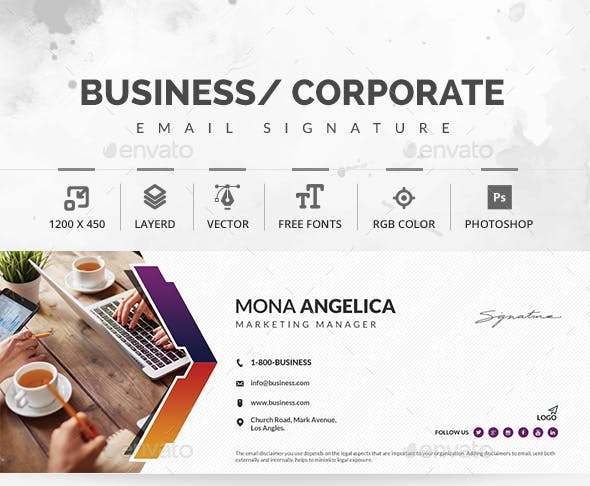 You know for sure that an email signature is an important feature of real estate email marketing. However, you don't know whether you should design one from scratch or hire a programmer to do the work for you. Fortunately, you can save time and money by simply downloading this professionally designed email signature.
13. 100+ Real Estate Email Signature Examples
Here is another collection of email signatures that you can use in every email that you send out to your real estate recipient. Because this is a very huge bundle, you have many options at your disposal. You can choose one template, or you can swap them from time to time. At the end of the day, they all serve the same purpose.
14. Best Real Estate Email Signature
Capture the attention of your email recipient with these colorful PSD email signatures. These professionally designed Photoshop files are easy to customize. Although the preview images are not included in the file, you can easily add your own custom headshot to the image layer. The dummy texts are also easy to replace. This email signature is also cheap as opposed to hiring a programmer to code the template for you.
15. Email Signature Bundle Templates
Here is yet another modern email signature bundle that you can use to communicate with your target audience. The template features a unique blend between background and element colors. You can use this email template to share additional contact information, your social media profiles, as well as the position that you hold in a real estate industry.