Easter is perhaps one of the most celebrated Christian holidays. But aside from being a holy holiday for Christians, Easter is also the time when people, including non-Christians, would hold events and fun activities related to Easter such as the famous Easter egg hunt and family days and getaways. If you organize events for Easter, it is ideal that you will make sure that everyone in your community knows about it. And to do that, the use of banners is highly encouraged because it ensures the awareness of your target attendees and participants.
Easter Banner Examples & Templates
In this article, we have collected and compiled some of the best Easter banner examples and templates that you may use to promote the festivities you have in store during the upcoming Easter holiday.
1. Easter Sunday LinkedIn Profile Banner
The celebration of Easter is mainly known for its lineup of events and activities. With Easter that is fast approaching, make sure you download this Easter Sunday LinkedIn profile banner that will help you promote your Easter-related activities and events in your LinkedIn account and get your connections aware and updated about it.
2. Easter Sunday Tumblr Banner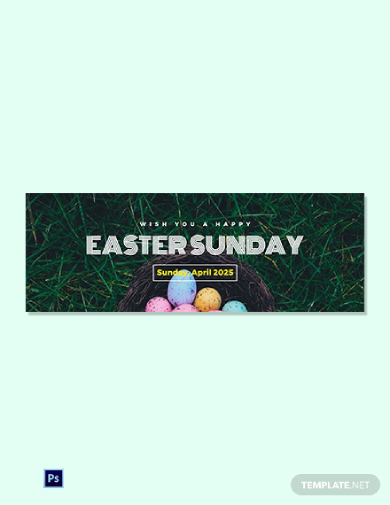 Do not miss getting this Easter Sunday Tumblr banner template in promoting your Easter events. Through this banner, you make your followers aware of your upcoming Easter event. With the use of this template, you will be able to start your banner design process in no time and just in time for Easter.
3. Easter Bunny Photo Shoot Banner
Does your lineup of Easter activities include an Easter Bunny photo shoot? Make sure you get the attention of your target participants, especially kids, with the help of this Easter banner template that will help in assuring their attendance to your event. With its attractive layout and design elements, getting kids to participate in your event will be no feat.
4. Easter Church Banner
Religious sectors will surely not fall short of the activities that they have lined up for Easter. If you are assigned to promote your church's upcoming Easter activities, do not forget to make use of an Easter banner, such as the given template above, that will surely get the attention and eventually the participation of the members of your church.
5. Easter Holiday Banner
Whatever activities you have planned out for Easter, ensure the use of an Easter holiday banner that will not only help you in jump-starting your promotional material design process but will also assure you that you will have attendees to your upcoming Easter event. Here is a template that will give you all the assurance that you need.
6. Easter Sale Banner
If you own a business, do not miss the opportunity of organizing events, launch new products, and put existing ones into sale during Easter. To make sure that you will create an impact to your target customers, it is encouraged that you should make use of advertising materials, such this versatile Easter sale banner that can be readily used for whatever type of business you have.
7. Easter Sermon Banner
When organizing a Lenten or an Easter-related activity that involves a sermon or preaching from a religious individual such as priests and pastors, make sure that the design elements of your Easter banner will reflect the solemnity of the activity by using simple colors instead of the bright and festive ones that you will usually see in most Easter banners.
8. Easter Vector Banner
Here is a festive Easter banner that is best suited for the fun activities you have planned out for Easter such as an Easter egg hunt. This banner template contains equally festive Easter graphic elements that will surely help you out in coming up with a captivating design that can definitely entice your target participant, most especially children.
Make sure that the entire church community that you belong to is aware of the activities your church has planned out this coming Easter with the use of an Easter banner, such as the given example above. It is important that you should include the full details of the upcoming activities of your church to get the church members fully aware of it.
Easter is best celebrated with the entire members of your community. One of the best activities that your entire community will enjoy is an Easter community egg hunt. You may also incorporate fun games as well as free meals to get the members of your community more enticed to attend your upcoming event. In promoting your event, here is an example of an Easter banner that can inspire you on how to do it right.
11. Easter Egg Hunt Banner
Organizing Easter egg hunts is pretty common during Easter and this simply means that you will have a lot of competitors during this day. In order for you to gain an advantage over others' Easter egg hunts, it is highly suggested that you make use of an attractive Easter banner, such as the given example above, so that you will be able to convince your target participants to attend to your event and not others.
12. Easter Schedule Banner
Keep in mind that it is the people who will make any event successful, so no matter how well-planned your Easter events are, it will still not be successful if you are not going to make people aware of the specific time, date, and venue of your event. And with that, you really have to make use of an Easter schedule banner that will make sure that people are aware of the details of your upcoming Easter event.
13. Easter Service Banner
If your church has organized an Easter service, make sure you announce it with the use of an Easter service banner. Do not worry if it is still your first attempt at designing such material because all you need to secure is a good choice of typography, an excellent background image, and the accurate details of your church's Easter service and you will be all set.
14. Easter Web Banner
Does your church have its own website? You can make use of it as your medium in advertising your upcoming Easter event. Here is an example of an Easter web banner where you can gain valuable ideas on how you can create your own web banner for your church's website.
15. Simple Easter Banner
In creating an Easter banner, you do not need to have the most impressive designing skills in order to come up with one. In fact, all you need is the basic designing skills and the simple banner elements in order to come up with a simple but definitely effective Easter banner design of your own.