Every Memorial Day, the citizens of the United States of America would take time to celebrate and honor the military who sacrificed and laid down their lives while serving the country. But aside from that, Memorial Day is also known as the unofficial start of their summer vacation which means that there are already parties, festivals, barbecue nights, beach trips, and such that are being organized by various groups of people, including the business sector. Regardless of the nature of the event that you are planning to organize, make sure that you announce the details about it with the use of flyers.
Memorial Day Flyer Examples & Templates
This article contains Memorial Day flyer examples and templates that you can readily use for whatever event you would want to organize for the Memorial Day. You may download and customize any template below that captured your interest.
1. Memorial Flyer Template
2. Memorial Day BBQ Flyer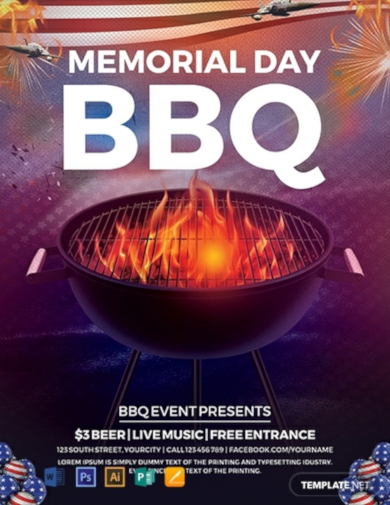 One of the best ways to celebrate Memorial Day as well as to open the unofficial start of summer is by having a barbecue night or party. And if this is already your plan for the upcoming federal holiday, we've got you covered with this Memorial Day barbecue flyer template that you can conveniently use in announcing the details of your upcoming barbecue night or party.
3. Memorial Day Flyer Template
Entice people to come and enjoy the food, drinks, music, and party of your upcoming Memorial Day event by making sure that you include such details in your flyer's design. And you can do so with this Memorial Day flyer template that guarantees you to attract interested individuals to attend your Memorial Day event.
4. Memorial Day Weekend Flyer
Through this Memorial Day weekend flyer, you will be able to get your intended message to get across more accurately and clearly to your intended audience. Through the excellent combination of text and graphic elements used in this template, you will not only excellently depict the essence of the federal holiday but you will also be able to entice your target audience to come and attend your event.
5. Simple Memorial Day Flyer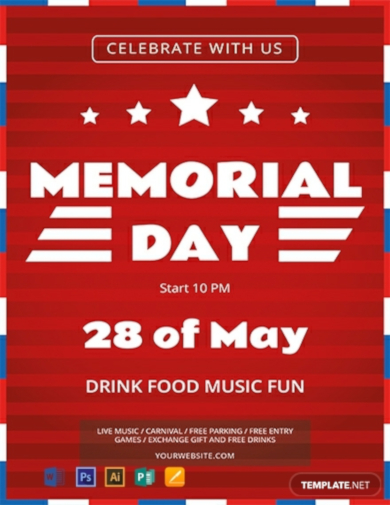 By distributing a flyer regarding the event you are going to organize for Memorial Day, you are able to create awareness among those who are interested in going to your celebration. Plus, you will also be able to offer them a glimpse of what they can expect from the Memorial Day event.
6. Basic Memorial Day Flyer
If you are not yet adept at designing any print material, you can never go wrong when you opt to go for a basic design when it comes to designing print materials like a flyer, a poster, and even a brochure. Sticking to simple and basic is the best way to get achieve a timeless design. We guarantee you that this Memorial Day flyer template above can help you in getting the attention that you need from your target audience.
7. BBQ Invitation Memorial Day Flyer
If you are planning to make use of a flyer as an invitation, here is a template that can serve you both the purpose of a flyer and an invitation! And one thing you should keep in mind when designing this kind of print material is to always make sure that its purpose is clear to your intended audience right at first glance. So if you want to double the use of a flyer as an invitation, make sure that it contains the exact details such as the date, time, and venue of the event and most importantly the call to action.
8. Honor Minimalist Memorial Day Flyer
Nowadays, minimalism is already considered as a design trend that gets incorporated into almost every print material available because of its effectivity. The use of minimalism in any printed material, such as the minimalist Memorial Day flyer above, is proven effective because it allows you to deliver your intended message more directly and instantly to the intended recipients of your message. With your message presented in clear view, for sure your target audience can easily grasp what the event agenda of your flyer is.
9. Memorial Day Dance Festival Flyer
Organizing a dance festival in celebration of Memorial Day? Here is a Memorial Day dance festival flyer template that you can use to make sure your target participants and attendees are well aware of what is going to happen during your dance festival event.
10. Memorial Day Event Flyer Template
In need of a flyer for your upcoming event related to Memorial Day but you just don't have the time to do so? You should consider getting this Memorial Day event flyer template that already contains all of the elements, both visual and text, that you would be needing for in a flyer. You may also consider this as an opportunity when you can exhibit and practice your creativity and marketing skills so that the next time you will be in need of a flyer template, you will no longer have to worry.
11. Memorial Day Weekend Club Flyer
There are some individuals who see Memorial Day as another excuse to party hard and drink at a club. This is why there are a lot of clubs around the city that would host events over the Memorial Day weekend as a way of drawing customers to their establishment. And to advertise this kind of event, it is ideal to distribute flyers, such as this Memorial Day weekend flyer template, that is specifically designed to attract prospective customers to a club.
12. Memorial Day Ceremony Flyer
Assigned to make press materials for an upcoming ceremony related to Memorial Day? You can never go wrong by making use of a flyer, such as this Memorial Day ceremony flyer provided above for you to gain inspiration and ideas on how you can come up with your own Memorial Day flyer design.