Whether it's entering a venue, riding the bus, or attending an event, tickets have become an essential part of our everyday lives. A simple ticket can be used for a variety of functions, all of which are specifically design to cater a purpose.
Designing a ticket shouldn't be too hard. With the right techniques and templates to use, crafting the perfect ticket design to suit your exact needs will be as easy as 1-2-3.
Essential Elements of a Ticket
Here are the key elements of an average ticket:
1. Title: This refers to the headline printed at the front and center of your ticket layout. This can be anything from the name of the event being celebrated to the main function that it represents. Similar to other marketing materials such as banner ads and promotional flyers, the title should make a lasting impression for your audience to remember.
2. Ticket Information: This information may vary from ticket to ticket. Most tickets contain the date and time of the event, while others simply have the price and serial number printed on the layout. You can even include your business logo and company tagline for branding purposes. This must be stated clearly enough for bearers to be fully aware of the what, when, and where of an event.
3. Graphics: While some tickets are kept plain and simple with text covering a particular area of the material, in most cases, adding eye-catching graphic elements may be advantageous in terms of ticket sales. A good ticket design can easily grab a person's attention and pique their curiosity. This can also help communicate the message you are trying to convey a lot clearer for viewers to grasp.
4. Ticket Number: This is a vital element of your ticket that will help you manage your event a million times better. This can be used to track tickets and determine whether the ticket is authentic or not. Some tickets may even consist of a barcode in place of a serial number. You may also see live concert ticket examples.
5. Terms & Conditions: Although this is completely optional, this might be helpful for those who need to know more about the event as well as the function of the ticket. It's best to keep this section brief and to the point, as not everyone will have the time nor the patience to read a lengthy copy.
10+ Ticket Templates
Blank Ticket Template
Ticket Invitation Template
Vintage Ticket Template
Vintage Travel Ticket
Retro Ticket Template
Elegant Ticket Template
Event Ticket Template
Admission Ticket Template
Travel Ticket Template
Travel Ticket Invitation Template
Movie Ticket Template
Movie Ticket Invitation Example
Movie Night Ticket Invitation
Movie Ticket Invitation
Dinner Ticket Template
Wedding Rehearsal Dinner Ticket Template
Black Tie Ticket
Concert Event Ticket
Diapers Raffle Ticket
Event Admission Ticket
Football Ticket Template
Modern Music Concert Ticket
Music Concert Ticket
Party Admission Ticket
Sports Ticket Template
Wedding Invitation Movie Ticket
10+ Ticket Examples
1960 Winter Olympics Ticket
2018 FIFA World Cup Russia Ticket
AmCham Thanksgiving Gala Charity Dinner Ticket
Carson & Barnes Circus Ticket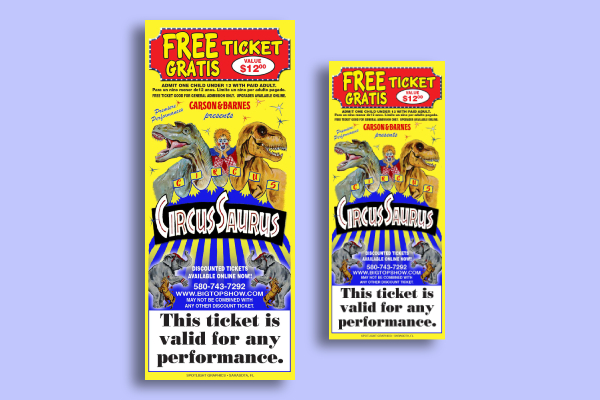 Denver Pops Orchestra Ticket
Special Olympics Lottery Ticket
Turkey Bowl for Missions Ticket
UEFA Champions League Final Ticket
Warsaw Comic Con Ticket
How to Create a Ticket
For some, creating a ticket might seem like a lot of work to go through. But it doesn't have to be that way for everyone. If having a professional designer put together the ticket for you goes well over your budget, craft the ticket on your own with the help of these simple steps:
1. Select a format: The size and structure of your layout should be determined beforehand. This will help you decide the placement of elements around your ticket so you can easily maximize the space available. Be sure to take the purpose of your ticket into consideration as well. But if starting from scratch doesn't excite you, you can always download an editable template instead.
2. Personalize your layout: Once you have chosen a format for your ticket, it's now time to customize your design to suit your personal requirements. It's important to incorporate your brand identity into the design through colors and images to help establish your name in a competitive industry. Also, make sure to use graphic elements that may be associated with your brand for easy recognition. You may also see elegant event ticket examples.
3. Include the necessary information: As much as you want to achieve a visually pleasing design, you must always prioritize function over appearance. Consider what people would want to know when they look at your ticket. This could be regarding the time, date, and venue of the event, along with a few details about the ticket and how it will be used. This should be made visible for ticket holders to notice to avoid anything important from being missed.
4. Finalize your design: For the final step of the process, always remember to proofread your content. Perhaps there are a few points that you forgot to mention, or maybe the alignment and size of some elements have made your text difficult to read. Check for any mistakes that may be corrected before you forward a copy of the ticket to the printing team. The last thing you would want to do is to settle the consequences with a costly sum.
Tips for Creating an Effective Ticket Design
When creating a ticket, you'll want to make something that is just as creative as it is informative. To make the most out of the ticket design process, here are a few guidelines to help you out:
Maintain readability across your layout: Since tickets are naturally smaller in size compared to a flyer or a card, text elements are likely to cram up in a single area. This will affect the readability of your text, so make sure you keep things readable by adjusting the size and style of your font. Applying proper typography is essential in keeping your text clean and visible.
Maximize space accordingly: With a ticket, you only have a limited space to work with. This is why it's important to prioritize elements and to include only those that are essential to your purpose. Applying negative space wherever applicable is also a good tip to practice. This will keep your layout neat and organized for effective communication.
Attract attention with captivating visuals: Tickets also function as a marketing material for most advertisers. It tells viewers what the event is about and how it might interest them. You can easily draw attention to your subject by incorporating various graphic elements to your ticket. However, try not to overwhelm your audience with over-the-top visuals.You may also see carnival event ticket examples.
Include indicators for validation: Fake tickets can be every organizers' worst enemy. Thus, it's important to verify the authenticity of the ticket by adding key indicators such as a serial number and a barcode. This can be positioned at the corner of the paper to avoid overshadowing other major elements.
Follow a strategic arrangement of elements: The first thing a person notices from your ticket will likely be the deal breaker. This could greatly influence one's perception toward your ticket and the subject behind it. Thus, you must be careful about how your text and graphic elements are positioned. Don't make it hard for people to find what they are looking for in your ticket. You can also emphasize key information by using lines, patterns, colors, or boxes.
Types of Tickets
Tickets are used for practically everything these days. In fact, they play a significant part in our day-to-day lives more than you may have realized. Listed below are some of the most common types of tickets that you're likely to encounter.
Admission Tickets: These are the tickets that certain establishments sell to customers who want to enter a venue and enjoy whatever services are available. One example would be the carnival ticket that people purchase whenever the carnival comes to town. Sports centers, museums, theaters, zoos, safaris, and amusement parks are other examples of places that sell admission tickets to make a profit.
Event Tickets: This type of ticket might be the one you're most familiar with. This is often used during charity programs, weddings, concerts, and galas to measure the number of people attending the event. Event tickets also double as an invitation ticket and an admission ticket due to how they function. They are either sold to the public for a reasonable price or given away by organizers for free.
Transportation Tickets: Airplanes, boats, trains, and buses typically require passengers to purchase a ticket online or from their ticketing outlets to be allowed on board the vehicle. The ticket will serve as evidence to prove that the individual has settled the necessary travel fees for the trip.
Gaming Tickets: If you're into gambling, then these tickets aren't foreign to you. Raffle tickets, lottery tickets, bingo tickets, and horse racing tickets rake in billions of dollars every year thanks to the competitive nature of their participants. When you buy a ticket, you can place in a bet for a chance to win a prize at an event or competition.
Ticket Sizes
Choosing the right size for your ticket should depend on the amount of information you wish to include, along with the purpose it serves. Provided below are the standard ticket sizes that you can choose from for your ticket design.
2 × 5.5 inches
2.75 × 5.5 inches
2.75 × 8.5 inches
3.5 × 8.5 inches
Ticket FAQs
When are tickets used?
A ticket may be used for all kinds of circumstances. It may function as a train ticket to enable the bearer to travel by train, a raffle ticket for one to join a gambling event, a cinema ticket to allow a person to enter a theater, or even a parking ticket to confirm that the parking fee has been paid. It's safe to say that a ticket can play a variety of roles in every setting you can imagine.
What is the importance of tickets?
A ticket is important for many reasons. In most cases, tickets aid in ensuring the safety and security of attendees at an event. For instance, in a stadium with a capacity of 50,000 people, crowd control will be the management's biggest concern. To avoid stampedes and other potential disasters, using tickets for each section of the venue will help divide the crowd into manageable groups. This will also help the security team monitor every single individual who enters the venue. You may also see vip event ticket examples.
How do you print tickets?
This would depend on the number of tickets you need for your event. Tickets of a smaller quantity can easily be printed at your home or office. But if you need something in a larger quantity, you can always have the tickets produced by an actual printing firm for a good price. Most businesses offer great discounts for bulk orders, and it's definitely something you want to get your hands on as a cost-efficient alternative.
And there you have it! Design an effective ticket today with the help of the examples, templates, and design ideas provided in this article.