Hearing the word "birthday" makes people release some dopamine in their brains that make them really excited and joyful about it. A birthday is a birth anniversary of a person or an institution. For some countries, it is something that is worth celebrating for. Birthday celebrants often get birthday messages, birthday cards and birthday posters from people who cared for them. Others receive phone calls and video greetings as an expression of people's love for the celebrant. Some people choose to celebrate their birthdays with their loved ones and close friends by organizing a birthday even in some hotels, resorts, function rooms and etc. With this, having a birthday flyer or birthday invitation cards is an essential thing to consider in order to inform your visitors details about your occasion.
15+ Birthday Flyer Examples
1. Birthday Flyer Template
2. Special My Birthday Flyer Template
3. Kids Happy Birthday Flyer Template
4. Wanted Birthday Party Flyer Template
5. Free Kid's Birthday Party Flyer Template
6. Free Birthday Party Flyer Template
7. Free Baby Birthday Party Flyer Template
8. Free Pool Party Birthday Flyer Template
9. First Birthday Flyer Template

Download
10. Elegant Birthday Flyer

Download
11. VIP Birthday Flyer

Download
12. Girls Birthday Flyer

Download
13. Birthday Party Flyer

Download
14. Birthday Bash Flyer Template

Download
15. Birthday Party Flyer Example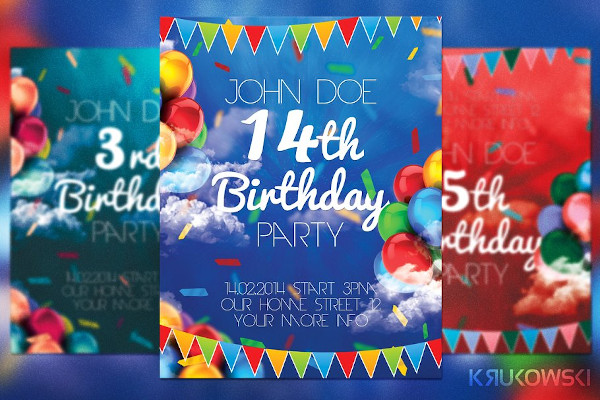 Download
16. Birthday Flyer in PSD

Download
Why Are Birthday Flyers Important?
Invitations comes in a form of physical (printed) or the digital (those that you can see in social media sites such as face book, messenger, google mail, instagram, etc.), either way, it is very important to consider having an invitation as a part of your planning for your event as well as planning your birthday menu. This invitations play a very essential role in guiding your guests as to the specifics of your event. Here are four reasons as to why it is important to send invitations to your visitors as you organize your birthday party:
1. It Sets the Tone of  Your Party
One of my most favorite thing about invitation flyers is that it conveys the totality and overall mood of the party. For example, if you are throwing a huge and fancy party, it complements as well with the invitations that your are making. If you're hosting a simple, intimate and elegant party, it displays on your flyers as well. Creating invitations will give you the opportunity to leash out your creativity. You'll not only enjoy the process of making it but also provides a healthy way of letting your guests know what to expect and even what to wear for your party.
2. It Provides the Complete, Specific Information That Guests Need to Be Informed About
Informing your guests about the primary information such as the schedule, venue, flow of program and with their names in the guestlist makes your party's flow sail smoothly. It also makes your guests feel valued and invited. Perhaps your party has a dress code that you might want to include in your details.
3. It Can Be Kept as Part of the Souvenir
The beauty of these invitations is that, once you receive it, you may likely put it somewhere noticeable in order for you to be reminded. May it be on the fridge door, bulletin board, pin board, memory board, letter holder etc. Even after the event, you still want this as a part of your "for keeps", with that, you may likely put it inside your treasure box or memory box.
FAQs
What is the standard size of a birthday flyer?
A standard flyer is usually the size of a computer paper, that is 8.5×11 (inches).
How to make a digital birthday flyer?
Choose a template from the ones suggested above, customize it according to the details of your party.
What should an invitation include?
There are many things that almost all invitation flyers, brochures or posters must include. You'll want to let your guests know the purpose, the time (start and end), the place, special instructions (if there is any), and dress code (formal or casual).
It feels really great to be invited with such occasions especially if the celebrant is our very close friends or loved ones. We get very excited with what gifts we should give, what birthday card messages we should write and what birthday speeches we should speak. When you are one  of the organizers for planning the event, availing the read-made online birthday invitations, flyers, brochures and posters could be a great help for you.