Easter has been celebrated in all parts of the world. While it is a religious celebration, others celebrate it to signify as a new beginning just like how the spring has come after the fall. People also use this day to send in well-wishes and celebrate life with their loved ones. In this article, various creative cards that you can use and send on Easter are provided.
Easter Card Templates and Examples
If you are hosting an Easter party or want to feature an Easter special on your restaurant, then you should use a menu that reflects or incorporates the Easter theme. This Easter menu card template is perfect to use for Easter-related festivities, it will allow you to list down all the dishes you will be serving on this day. You can download this template for free to enjoy all of its high-quality features.
2. Happy Easter Bunny Card
Send in well-wishes to your families and friends through a cute Easter card. As you know it is quite easy to create a card; you can make it on your computer or maybe even hand-draw everything on it. A personalized card can convey how you appreciate and love the person clearer than store-bought ones. If you want some inspiration, this card has a charming cover that will surely make your loved ones smile.
3. Watercolor Bunny Easter Card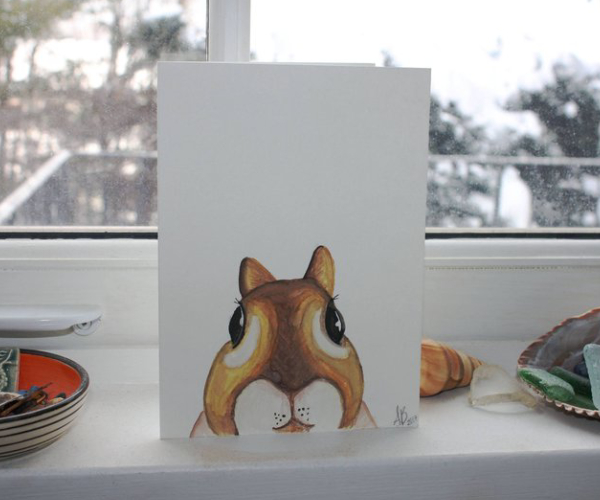 If you have the talent of drawing and painting, then, good for you. You can easily draw the cover for the card you send to your loved ones on Easter. You can go for a simple cover similar to this watercolor bunny card or go for lavisher cover by incorporating various Easter icons or symbols. Inspiration is everywhere, it is up to you on how you can flawlessly incorporate it in your card.
4. Funny Easter Card
If you are just not the type to send a serious card during such a lighthearted event or celebration, this example is the perfect inspiration for you. You can incorporate your fun and quirky personality by writing or using a witty greeting statement on the card. This is the perfect card to send to close family members and friends since they know that this is just your sense of humor kicking in.
5. Personalized Easter Card
Like a Christmas card, you can also have a personalized family Easter card that will send your greetings to families and friends. A simple design, layout, and illustration will still express how glad you are that you have them in your life. Since Easter sends the message of hope, you can use this to give family new hope for the things to come.
6. Naughty Easter Card for Husband
Sometimes you just wanna spice things up with your partner, why not use a card to achieve that? Just like this Easter card example, you can write a naughty and quirky statement on the cover of the card along with a fun illustration. This will surely excite your partner for such a naughty and telling suggestion.
7. Funny Easter Greeting Card
This funny Easter greeting card example is perfect to give to your partner. You might think that it is a simple and funny card, but the suggestion it gives is a naughty one. If you want to DIY, this is the perfect example to use as a guide to achieve seamless incorporation of a funny and naughty suggestive card.
8. Easter Love Card
Tell your family and friends that they mean a lot to you by giving them a thoughtful Easter card. Similar to this example, you can create or look for a card that conveys your love and appreciation for your loved ones in a witty way. Should you wish to create the card to make it more personal, you can use this example as your source of inspiration.
9. Happy Easter Card
Such a wholesome day deserves a wholesome card; this Easter card example is the perfect card to use as a guide and source of inspiration as you create the cards to give to your loved ones. It has a simple design and layout that comes along with such a charming illustration colored with refreshing colors. This card will truly make your loved ones smile.
10. Hand-painted Easter Greeting Card
As the Easter comes, so does new beginnings and hope; make sure you let your loved ones know that you love and appreciate them by giving them a well-thought-out card. The Easter greeting card you give to them can be store-bought or handmade, but what matters most is you convey your love to them with a heartfelt message. Should you need to have a cute reference or guide when you create the card, you can use this example.
11. Cute Easter Card for Baby
Do you want to stray away from the usual greeting cards? This Easter card for baby example is a cute guide and reference that you can use as you create your own card. This card incorporates the icon Easter bunny in a unique way by including bunny ears on the card itself. This surely is a unique way to send your well-wishes to the people that you love.
12. Family Easter Card
What better way is there than expressing your well-wishes and love to your loved ones with a family greeting card? The greeting card can feature your family's family photos along with a simple message. The card does not have to be adorned with glitters and whatnot, a simple card layout and design will still send a clear message to the reader.
13. Boy First Easter Card
If you have a son or nephew or cousin that is celebrating his first Easter with the family, why not make it even more special by giving him a special card? This cute Easter card example is the perfect source of inspiration to help you create a unique and beautiful greeting card. It still uses the Easter bunny icon as its main design element and has maintained a child-appropriate feels to it.
14. Easter Eggs Greeting Card
Express your well-wishes to family and friends through a creative greeting card. If you are looking for inspiration, this example is perfect. It incorporates the fun Easter egg hunt with its design and illustration making it consistent to the theme regardless of its cacti illustrations. It's watercolor effect also adds a personal touch to the card.
15. Kids Easter Card
Kids should get their special greeting card too. You can create a simple card that incorporates a cute illustration and a simple greeting. Since kids will most likely appreciate toys as gifts, giving them a card that tells them you love them will also be appreciated. If you are in need of inspiration, you can use this Easter card example as your reference.
16. Easter Bunny Photo Card
To make it even more personal, why not give a photo card as your Easter greeting card? In this example, you can see how simple yet personal the card is. You can also amp up how the card looks by drawing funny illustrations, as seen in this example. This can also serve as your family greeting card that you send to all your family and friends.