Instagram stories are important because they allow users to share videos and photos to their "Story", and this is then visible to their followers.  These stories are ephemeral, expiring after 24 hours.
Normally, your Instagram story will be published differently from the videos and photos in your profile page. And while you might already know how to share your stories, there are templates and tools that can make your videos and photos more engaging. In this article, we show you 6+ Instagram story examples and templates that you can use to add meaning and life to your Story. These templates are readymade and easily editable. You just have to plug in your story and publish it instantly. For more inspiration about creating wonderful Instagram stories, check out these Instagram Ad Examples.
Travel Instagram Story Examples & Templates
1. Travel Instagram Stories
This travel Instagram Stories template is an attractively designed template that you can easily edit in Photoshop and Sketch. Its minimal design means that the template can be adaptable for any type of story.  The template is instantly downloadable and saves you a lot of time since it has taken care of the design issues.
The beauty of the template has to be the way it is customizable. For instance, we all know that Instagram text is nothing but pretty. The template lets you tweak it up easily and with no fuss. Also, you can customize your colors to make them just exactly how you want it. If the color palette of the template doesn't satisfy you, you are free to create your own from the video or photo you've captured. And all this is pretty easy. You just have to open the text icon up, and then tap the eyedropper icon usually located in the; left-hand area of the screen and you are good to go.
2. Travel Instagram Stories Highlights
This is another travel Instagram story example that you can draw inspiration on when creating your own story. The template features minimalistic design to topography which makes it ideal for publishing several stories. The template is a great choice when you are in food, travel or fashion industry and you want a creative way of sharing your behind-the-scenes images and photos.
The template is easy to use because it has been designed already. Your only work will be plugging your story, customize it a bit and publishing. You can get the template on instant download anywhere and at any time. Check out these banner examples and templates for more Instagram Story ideas.
3. Couple & Travel Instagram Stories
This couple & travel Instagram stories template gives you a fun and fresh way to publish your stories that will be engaging to your followers. The template features an elegant design so you don't have to worry about that. In fact, even if you have no design knowledge, you can still be able to publish stories that will leave your followers wowed. You can take advantage of this stylishly-designed template to promote your special offers, sale or even let your customers know that you are launching a new product. Also, you can use it to share behind the scenes photo or a quote.
The multipurpose template is available on instant download and is fully editable and customizable. It gives you total freedom to tweak the template as you like so that it reflects your own business branding.
4. Simple Travel Instagram Stories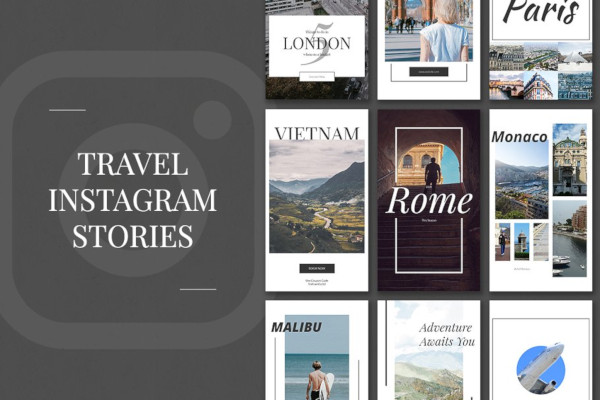 With this simple travel Instagram stories template, you have a perfect way of connecting with your audience and boosting your engagement rate with your followers. Through the use of this template, you can be sure of standing out from the competition so that you capture the attention of your audience.
The instantly downloadable template has been designed professionally and so anyone can use it to publish their Instagram Story even with no design skills or experience. Also, since everything has pretty much been done, you don't have much to do. Just customize the template by changing a few things like colour and text, and then add your story. It makes everything fun and fresh.
5. Travel Instagram Posts & Stories
This Travel Instagram Posts & Stories template features creative texts, awesome transitioning effects and stylish design. You will love how easy the template is to use, and the way editing it is a breeze. Also, the text is highly customizable, allowing you to drag and drop new media and change colours and text. The template gives you a neat way of showing off your trips, travelling, tours, holidays, birthdays, fashion, new product photos and portfolio. With this template, you will be able to easily impress your audience and leave them even more inspired.
To get hold of this template and start publishing your stories immediately, just download the template.
6. Food & Travel Instagram Stories
This is a well-designed image with text and graphics, and it includes blank spaces that you will fill. This template has one important purpose, which is to allow you to share information about you with your Instagram followers. This template gives you a new way to let people know about your personality.
7. Modern Travel Instagram Stories
This ready-to-use modern Travel Instagram Stories template was created to inspire you and even your group of followers.  With this template, you can capture every tiny detail of wherever you go, anything you drink or eat and anything that you consider to be memorable.  The template is instantly downloadable from the internet, and you can access it from just about anywhere and at any time.
With this template, you can change text colours, strokes, shapes and images to get the best results. Also, the template lets you mix and match so as to create custom stories and get the best impact for your followers. You can easily edit your stories in seconds. Also, with the use of video tutorials, you can get started immediately even if you are a rather basic user.
The template is easily editable and allows you to customize it as much as you would wish. Change colours, text, move images and add anything that makes you express yourself better. You can download the template anywhere and anytime and get started immediately.