Are you ready for one of the most important days of your life? For many, their wedding is exactly that and more. It isn't just about walking down the aisle, ready to be united with your chosen partner in perpetuity. There's also a lot of planning involved. To ensure that your guests receive the news in the best ways, you need to get creative with the announcement. Fortunately, a wedding flyer can easily suffice. Scroll down to learn more about this and to get the best wedding flyer templates from our list.
Elegant Wedding Planners Flyer Template
Simple Wedding Planner Flyer Template
Wedding Event Planner Flyer Template
Wedding Planner Service Flyer Template
Editable Wedding Photography Flyer Template
Wedding Party Flyer Template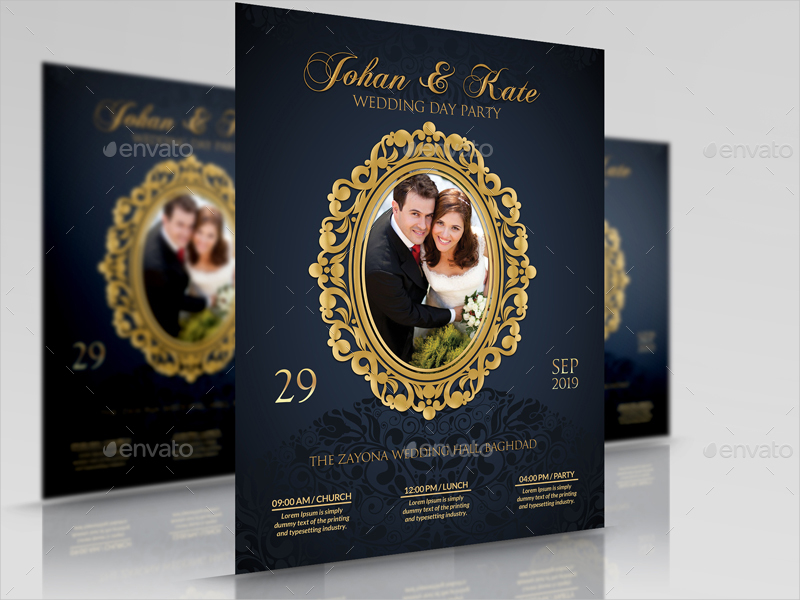 White Wedding Flyer Template
Floral Pink Wedding Flyer Template Design
Red Wedding Party Flyer Template
Wedding Photography Flyer Design
White and Gold Wedding Flyer Design Template
Wedding Flyer PSD Template
Wedding Planner Flyer
Black and Gold Wedding Flyer
Classy Wedding Flyer Example
Wedding Invite Flyer Example
Golden Wedding Flyer Template
Pastel Pink Wedding Flyer Template
Flowery Wedding Flyer Template
Wedding Planning Marketing Template
Blue and Gold Wedding Flyer Design Template
The Importance of a Wedding Flyer
Weddings are huge events that many people would love to attend and celebrate. For the soon-to-be married couple, there are multiple ways to get the attention they want for their big day. A wedding flyer is one of them. Easy to create, often beautiful to look at, and relatively cheap to produce, these items are no-brainers for any couple. The actual creation of these flyers, however, is a totally different story. Some may want to create their own from scratch, which is fine. Others may prefer the use of free wedding planner flyer templates, which is just as valid as an option.
Tips for Designing a Wedding Flyer
Creating a wedding flyer is always going to be a creatively fulfilling task. Yet there are those that may need a little help. To preserve one's creative integrity, we will not be posting actual steps. Instead, we will offer tips instead, to give artistic individuals the help they need while allowing them the chance to find their own way at the same time.
Tip 1: Make Good Use of Flyer Templates
To make things even easier for yourself, it's wise to select a pre-existing template and simply make the necessary edits to it later on. There are many samples, like the wedding flyer template in our list above, for anybody to choose from. Doing this practically cuts your efforts by half.
Tip 2: Keep a Consistent Theme in Mind
If choosing a template isn't for you, then remember that the best flyers are united through a singular theme. Even wedding flyers have an obvious one. Look into a wedding background and pick out a few things that really hammer the theme home. Don't go for anything irrelevant or anything that sticks out too much. A wedding flyer requires a consistent wedding flyer design.
Tip 3: Choose Pictures Carefully
Even those who decide to make use of a good wedding flyer maker program will have to be careful about what graphics or pictures they use. There are some pictures that might have felt like a good fit during the planning, but clearly do not mix well in the actual practical application. If so, don't hesitate to scrap it. Remember that sometimes a well-made flyer takes time and a lot of revisions to get right.
Tip 4: Sometimes Less is More
One mistake that pops up for those new to making wedding flyers, photography flyers, and the like, is overloading the output with some many things at once. While adding more, more, and more might seem like a good idea at first, the truth is that sometimes going for a lot less will feel more impactful. Be minimal with the text. Choose only the best and most relevant pics. Figure out the right spaces to put them in, instead of utilizing all the space.
FAQs
What are the basic elements of every flyer?
The first flyer element to concern yourself with is its purpose. Next would be its popping headline, followed closely by its overall message. For the more obvious elements, the graphics and pictures come next, and the last element would have to be the contact information.
Utilizing a free printable wedding flyer would be the easiest and most obvious answer. Then you have letters, radio announcements, and the use of a wedding poster template. For more modern and convenient ways, one can always announce the wedding through social media.
What are the most common flyer sizes?
The most common size options for most flyer examples would be either 8.5" x 11, 8.3" x 11.7", and 8.3" x 5.8."
Weddings can be quite a handful not just to attend, but to organize. That is something that many couples already know, having gone through the best and worst of it. The creation of a wedding flyer then is just one small but important result of the entire scenario. To know how to make one—or find the right templates for the effort—is a crucial bit of knowledge that you now have. Make good use of it and act now!