To fulfill your dream wedding, you want everything to be perfect and in accordance with what you desire. However, as a bride or groom, there is a high possibility that you will get consumed by the list of tasks you need to do and complete within a limited period of time. In order to help you with your invitation, the most important piece of your wedding stationery, provided below are useful wedding invitation templates and examples that will guide and help you achieve your most desired design. There are really no rules in creating an invitation, so unleash your creativity and create a wedding invitation that best represents you, your love, and your memorable day.
Wedding Invitation Card Examples and Templates
1. Artsy Wedding Invitation Card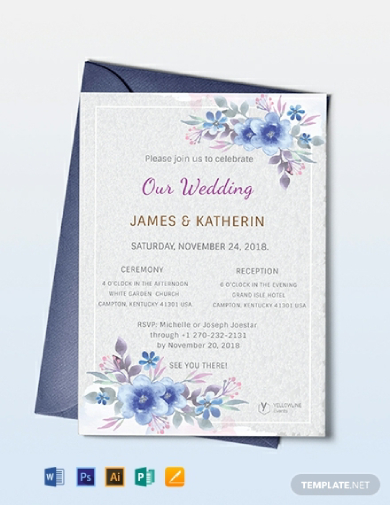 Getting stressed for the planning and preparation of your wedding? Make your wedding preparations effortless with the use of this artsy wedding invitation card template that is easy to download, edit, print, and send. Whether you are planning to send the card traditionally or through online, this template can surely help you as there are a lot of available options for file formats that you can choose from, namely Illustrator, Photoshop, MS Word, Publisher, and Apple Pages. The design that you want is just right at your fingertips. All you need to do is spend a little portion of your time doing the edits and customizations.
2. Pink Floral Wedding Invitation Card
Skip the hassle of invitation card creation with the use of this pink floral wedding invitation card template. It is typical in wedding designs to feature floral elements, similar to the designs in this template, hence perfect for any wedding themes or motifs. Assuredly, you will have a professionally crafted card that contains high-quality photos and design elements as this is designed by experienced graphic artists and designers. You have the freedom to customize this card template and incorporate the details of your wedding to make it as your own.
3. Garden Wedding Invitation Card
A garden wedding is a ceremony that takes place in a garden or outdoors. The attire can range from smart casual to formal dress. Hence, in your invitation, do not forget to mention the type of wedding that you are going to have, a garden wedding, as well as the appropriate attire for the guests so that they will not be over- or underdressed. You may as well design a garden wedding invitation that goes well with your motif. In doing so, you can use this garden wedding invitation card template and customize it according to your own preferences.
4. Unique Wedding Invitation Card
Whether you are planning to have a big wedding celebration or just a small, intimate one, this unique wedding invitation card suits you well. Design this template and send it to your family, friends, and other special guests to let them know when it is time to celebrate your nuptials. Do not forget to include the necessary elements in a wedding invitation such as the following: the name of the bride and groom, the statement of invitation or request to come, the date and time, the location, the reception information, the dress code, and the separate RSVP card. Wedding RSVPs would prompt the recipient to send a reply so that the host can include them in the headcount of the guests for the purposes of determining the number of seats, seating arrangement, and catering.
5. Winery Wedding Invitation Card
There are some couples who love celebrating their big day with a winery-themed or vineyard wedding. This can be held indoors or outdoors and often features a design and styling elements that reflect the natural surrounding. In this case, you can also design your wedding invitation card with graphic elements related to your theme, such as this winery invitation card. You can use this template as your own, and you are free to drag the design elements around until you get satisfied with the output.
6. Vintage Wedding Invitation Card
Planning for your wedding can be exciting and, at the same time, exhausting. To help you save your energy for your big day, you can use this invitation card template as your own, especially when you are planning to have a vintage theme for your wedding. Note that you must send the invitations ahead of time, preferably six to eight weeks before the wedding, in order for your guests to clear their schedules or make travel and accommodation arrangements. This will also give them enough time to look for or buy the appropriate attire for your wedding.
7. Stylish Wedding Invitation Card
Craft an invitation that goes beyond the standard details with the use of this stylish wedding invitation card. With this, you can surely achieve a card that provides your guests with not just the basic information regarding your wedding, such as the date, time, and location, but also with a glimpse of your relationship as a couple.
8. Wedding Invitation and Save-the-Date Card
In most cases, wedding save-the-date cards, invitation cards, and wedding RSVP cards are often sent as one. However, technically, the three differ as regards their purpose. Save-the-dates are sent informing the recipient of the upcoming wedding and are usually sent eight to twelve months before the wedding. Invitation cards are invitation proper and are sent six to eight weeks before the wedding. Finally, RSVP cards are sent confirming the attendance of the recipient which typically has a deadline at three weeks before the wedding day. In this template, provided are wedding invitation and save-the-date cards that you can fully personalize to fit your specific preferences.
9. Elegant Wedding Invitation Card
We know how busy it is to prepare a wedding, so we would like to help through this elegant wedding invitation card. With its decent and sophisticated look, your guests will surely get excited to come to your wedding. Remember to include the name or names of the guests in your invitation to make them feel special.
10. Pastel Wedding Invitation Card
Pastel colors are commonly used in wedding themes and designs as it is very relaxing and soothing to the eyes. Hence, you can refer to this pastel wedding invitation card example to give you an idea on how to design a card with pastel colors, such as soft light azure, creamy mint, millennial pink, or whimsy yellow.