She said YES!!! Oh my gosh (girls screeching in the background)! If you are an avid watcher of How I Met Your Mother wherein one of the main characters of the series Barney Stinson (played by Neil Patrick Harris) proposed to Robin (played by Cobie Smulders) with an elaborate scheme that involved a lot of drama.
Just in case you are wondering where you can find this episode, it is called The Last Page Part 2, the Season Finale of the series. And the both of them lived happily ever after, right? But they are getting there. Because now comes the very hard and challenging part of the newly engaged couple: planning the wedding. This is it, ladies and gentlemen.
Wedding Invitation Card Template
Wedding Anniversary Invitation Card
The grand moment has come at long last. And it is not going to be an easy task. To plan a wedding would at take at least months to a year to plan depending on how grand you would want the wedding to be. Here are a few tips that you and your bride-to-be can do to prepare for the big day ahead:
1. Start planning early
First thing first, it's high time you and your bride-to-be thought about your wedding date. It really is up to both of your discretion and husband and bride as to when you would want to get wed. Give yourselves an allowance of at least 6 to 8 months as to give the couple time to prepare everything that they need: from the wedding invitations to the wedding pre-wedding photoshoot to the finding of venue and suppliers to the rough guest list and most importantly, your budget. But the earlier you get onto it, the easier, and less stressful it will be as your day approaches. You may also see best greeting card designs & examples.
Having a clear plan before you start will help you keep on top of everything and be sure that you don't forget something important.
Green Foliage Wedding Suite Invitation Card
2. Nail the budget
It's easy to forget that you have a budget to consider especially when you would want to plan the perfect wedding for both of you to truly make it a night that they can never forget. But unless you happen to be the child of Bill Gates or Jack Ma or Steve Jobs, you would just have to settle for a special kind of wedding given the budget you have. Having sponsors for the said wedding is not also a bad idea, if there are people who are willing to donate that kind of money. You may also like congratulations greeting card examples.
Greeting Card with Flowers Card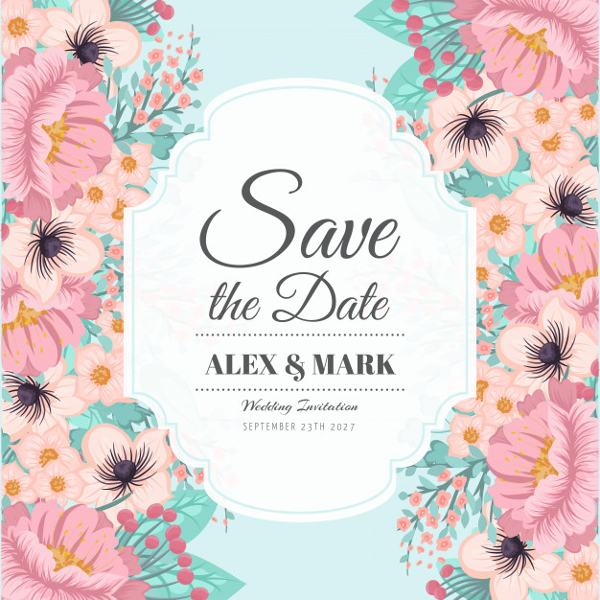 3. Helping hands
Dude, come on! It's your wedding. You obviously can't think you can do it alone, can you? Well, you cannot. I am sure that your friends and family are more than willing to help you guys out for all your wedding needs. But as much as possible, only ask people that you can absolutely trust to get the job done. Otherwise, that would just suck if they did not even bother to push through to help you out. You may also check out examples of creative greeting cards.
Modern Gold Foliage Wedding Invitation
4. Be selective with the guest list
Sorting out the guest list is probably the most tricky part of both the bride and groom. Obviously, the mutual choice of both the bride and groom would be their own families along with their relatives and cousins. Next up would be to invite their friends who have been with them through thick and then. Depending on how long you have gone to school in your life, you would have to picky and choose correctly as to how many of these friends of yours you are planning to invite. You also have to consider your bride's friends as well as well as how many people can the venue for the wedding accommodate. You might be interested in thank-you card examples.
Wedding invitation Card With Watercolor Flowers
5. Long distance venues
Speaking of long-distance, if ever you have friends or relatives who are living abroad and you would really want them to be there on your special day, then by all means, make the effort to try and reach out to them. Back to the sub-topic, make sure that both the wedding ceremony itself and wedding reception places are not too far to the point that everyone ends up struggling just trying to get to the venue. Keep in mind that the venues should be accessible and not too far away from each other to ensure that no time will be wasted. You may also see anime greeting card designs & examples.
Passport Wedding Invitation Card
6. Make sure you have a Plan B in place
Not everything can really go according to your grand design. Some suppliers might cancel their service due to unforeseen circumstances, some guests could not make it to the event because an unexpected emergency, etc… These are just some of the things that can happen. So it is with utmost importance that a contingency plan be set up just in case a few things do not go your way. If Plan B does not work, have a Plan C all the way up to Plan Z because you will never really know what is going to happen. You may also like wedding card designs & examples.
Lovely Watercolor Wedding Invitation Card
7. Pick your best girls
Your bridesmaids should be your biggest support throughout the planning process, so choose wisely. Friends you've recently made or cousins you rarely see are not the best choice. Instead choose your sisters, long–term best friends or close relatives. The last thing you'll want is to look at your wedding album a few years later and to be no longer in touch with one of your bridesmaids. You may also check out printable greeting cards.
Classic Wedding Invitation Card
8. Book the best photographer you can
No wedding is complete without a photographer or a videographer. You do not want your pictures to be taken by some amateur, right? Only for it to be eventually ruined in terms of the quality. You would not want that, do you? Especially not on your big day. Pictures and videos of the said event are there to be remembered and cherished forever even when you turn old and gray. You want everything to be perfect. So hire a professional. And not just any professional, the best kind of professional photographer and videographer that you know or at least money can buy. You might be interested in disney greeting card designs & examples.
Invitation Card & Envelope
9. Get the menu right
After the wedding ceremony comes perhaps the most important part: the reception. And with it comes the food. Depending on the restaurant venue that you have selected to take care of your food, it is either going to be a buffet style type or the kind wherein waiters and servers will bring the food to you per table. Another thing about receptions is the option to select your own food. The food does not have to be fancy, nor can it be too cheap as well. As mentioned before, it will have to depend on your budget upon selecting the venue of the reception. You may also see valentine's card designs & examples.
Rustic Wedding Invitation Card
10. Feel fabulous, but don't overdo it!
Have you heard of the saying: "Simplicity is beauty"? That should be the main point when you the bride and groom will meet in church. Be neat and tidy. But try not to overdo it as it will not look and feel good anymore. Because in the end, all you really need to do is just to be yourself in the most presentable way as possible. You may also like retirement greeting card examples.
11. Don't fall for common beauty mishap!
The main culprits here are too much fake tan, coloured–in eyebrows and too much foundation! Yes, you will need to wear slightly heavier make–up than usual to make your features stand out in photos, but don't go crazy! 2015 is all about soft, smokey eyes and peachy tones on the lips and cheeks.
12. Give your groom his own responsibilities
Your fiancè may not have been planning his wedding since he was five, but he will definitely have his own ideas and opinions and will want a say in the planning. Listen to what he says and remember it's his day, too! Most guys like to get involved with the menu, music and budget spreadsheets. You may also see love greeting card designs & examples.
The Wedding Script & Invitation Card
13. Make the little details personal
Never forget, this is your wedding! So by all means, exercise your creative ability that sets the atmosphere and feel of the wedding your own. After all, a little personal touch of flair always helps, right?
14. Lists, lists and more lists!
The tasks and responsibilities of the bride and groom seem to be never-ending. But no one ever said that planning a wedding is going to be easy, right? It takes time. Lots of time. From finding the right supplier to searching for the right videographer to managing your budget. With so many factors to take in and consider, it might be too overwhelming for you. As mentioned in the previous tip, get help if you need to. You may also like easter greeting card designs and examples.
Vintage Map Wedding Invitation Card
15. Don't forget what's important
Wedding planning can be stressful but if you find yourself getting too caught up in it all, take a step back and remind yourself what your wedding is really about – you marrying the love of your life!
Rustic Wedding Invitation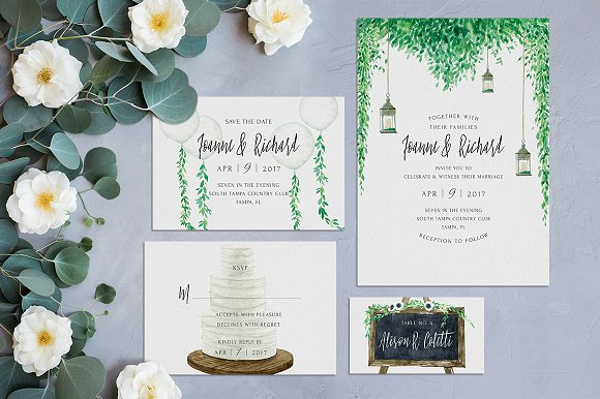 So now that you're all set, just sit back and relax and constantly remind yourself as to how lucky you are in meeting the perfect one for you. You might be interested in examples of blank greeting cards.