We spend an average of eight hours a day, five times a week, at work doing what our job role requires us to do. Yet sometimes, we find ourselves cramming to meet deadlines and secure the necessary deliverable's despite having the entire week to do so. This can lead to many shortcomings that have been overlooked due to inefficient performance. You may also see workout log examples.
When mistakes are made, but looking for the culprit is impossible to point out, something as simple as a daily work log can be incredibly useful.
12+ Daily Work Log Examples
1. Daily Voids Log Sheet Template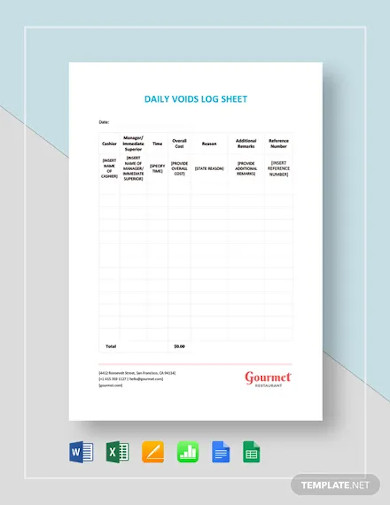 2. Free Daily Work From Home Log Template
3. Free Construction Daily Log Template
4. Free Daily Log Template
5. Daily Work Log Template Example
6. Daily Activity Work Log Example
7. Construction Daily Work Log Example
8. Daily Work Log Sheet Example
9. Daily Field Activity Work Log Example
10. Daily Action Work Log Example
10. Daily Work Time Log Example
11. Professional Daily Work Log Example
12. Daily & Weekly Construction Work Log Example
13. Student Daily Work Log Example
The Purpose of a Daily Work Log
A daily work log is simply a written record of what a person does on a day-to-day basis. It's a documented representation of how you spend your time during the day for you to refer to for a personal or professional purpose. Since our memory isn't always that accurate, keeping a daily log in hand is sure to bring things you might not have noticed into your full attention. You may also see food log examples in PDF.
In the workplace, securing a record of events can provide valuable data of the things that might have went well, mistakes that have been made and what you did to address, along with the successes that are worth bringing into focus for your next performance review.
Now, if you're wondering whether or not a daily work log is something that is worth investing your time and effort on, then the answer is yes.
To put it simply, writing in your daily work log, which only takes about fifteen minutes or less to accomplish, can help improve your work performance by offering you a different perspective of yourself as professionals, as well as the areas that you need to improve on. This will help keep your smart goals in track and illustrate when things aren't helping you grow as an individual.
What Should I Keep in a Daily Work Log?
Your work diary must contain accurate details of your day-to-day responsibilities. Though we all have our own preferences when it comes to creating one, the following items are examples of the basic information that goes into a daily work log:
1. Date and Time
Naturally, indicating the date and time of which a given task was executed is extremely important. This will make it easier for you to track what has been done during a certain moment in time in case any issues come up in the near future. You may also see activity log examples.
2. Activities Performed
Did you start working on that proposal letter your boss asked you to make? Did you attend an important meeting with potential investors right after your lunch break? Whatever work-related activities were performed should be indicated in the work log through a detailed description of what transpired.
3. How I Feel
What are your thoughts about the recent activity? Can it help you reach your performance objective? Are you satisfied about it? Express your sentiments regarding these matters in your work log. You don't need to open about everything, only on subjects that might be essential toward your growth. You may also like printable workout log examples.
4. Things to Take Note of
For this section, you can note down important reminders that might play a significant role in your future endeavors. You can also point out significant happenings that might have taken place while a task was performed.
5. Value
This refers to the level of importance of a given item. For instance, if you've been working on a slideshow presentation for an importance conference the next day, you can label this activity as "high." But if you've spending two hours of your day writing a cover letter for a grant proposal that isn't due until next week, you can label it as "low."
Benefits of Time-Tracking
The number of productivity strategies ever made is immeasurable. People constantly come up with new ways to track their daily activity using various tools and applications that guarantee better time management.
But before you even consider spending all your time (and money) on these mobile applications that swear you'd be more productive if you start using them, try looking at your own attitude and behavior.
Are you spending more time on things that actually matter? Or have you been allocating your time on tasks that have little to no significance to your end goal? Once you have identified the answer to these questions, it is then that you'd realize what exactly you've been doing wrong. You may also see mileage logs examples.
So, what exactly can you get for tracking your time?
For one thing, you'll come to realize how much you've overestimated as well as underestimated how long certain things take. Everyone is busy in their own ways. But what if you realize that your business just feels like you're constantly preoccupied with something due to the amount of time it takes for you to accomplish it? Maybe a 5-hour task could be stitched up into a 2-hour workload if you tried a different approach? You may also see training sheet examples & samples.
Or perhaps your perception toward your current schedule has greatly affected your performance, tricking you to work at a slower pace, or even discouraging you to get things done a lot quicker than expected.
In addition to that, let's say you have an average of 40 hours per week to complete a project given to you. How is it that some people can work a lot faster than others? Are they smarter or more capable than most? Probably, or most likely not. While you might think you've been typing on your computer for an hour or less, you might not have noticed that it actually took more than three hours to finish your term paper. You may also like monthly sheet examples & samples.
By tracking your time, you feel more accountable for your own actions. Most people keep daily work logs to see whether they've been performing efficiently, but if there are certain pit holes that prove that a significant amount of time has been wasted on irrelevant things, then damage control can be made with a little self-improvement. You may also check out score sheet examples & samples.
Finally, as much as multitasking can be beneficial in various ways, there are a few disadvantages that can put a horrible jab in your productivity. You aren't actually doing multiple things at once, rather, you're cycling through different activities in a terrible manner. This leads to poor production outputs, as well as a stressed-out mind and body that won't recover until you actually do something about your inadequate time management skills. You might be interested in task sheet examples & samples.
Basic Parts of a Daily Work Log
Before you begin creating your daily work log, there are a few things you need to remember when inputting data. To get the most out of this time-tracking strategy, take note of these general keys:
1. Honesty
If you aren't honest about what you input into the log, then what's the point of doing it in the first place? Not only are you making it a lot harder to monitor the setbacks and accomplishments made, but you're also wasting precious time making a work diary that won't even help you with your time tracking problem. Don't be embarrassed about what you did and what you failed to do, because that's all part of the process. You may also see activity sheet examples & samples.
2. Consistency
If you plan on keeping a daily work log, then you might as well be committed to its purpose. At least two weeks of time-tracking will provide you with a clearer picture of how you're doing so far, so make sure to keep yourself dedicated to its end goal. If you find yourself slacking off with the daily updates, then you might want to put that in your work log when you do get the motivation to continue writing again. You may also like instruction sheet examples & samples.
3. Meticulousness
No matter how slow your day was, be as detailed as possible. Think by the minutes and not in hours. It's important to add a sufficient amount of information for you to analyze in the near future. But if you define yourself as a person of a few words, then try keeping it brief yet to the point instead.
After which, make sure your work log is composed of the following parts:
1. A record of general events
What events stand out the most from your day? Did anything happen out of the ordinary? Keep in mind that your work log is almost like your personal diary where you need to share certain events that have taken place throughout the day. As much as possible, try keeping it strict to your professional life, unless there were personal activities that took a toll in your productivity for the day. You may also check out activity sheet examples & samples.
2. What's working
By the end of the day, identify the progress you have made so far. What factors contributed to your achievements? How can you sustain them to keep yourself just as productive (or maybe even better) for tomorrow? You need to determine what's been helping you perform in a good way during your morning or night routine. You might be interested in fact sheet examples & samples.
3. What isn't working
There might have been a few factors that either slowed you down or distracted you from performing effectively. Sometimes, your current work strategy isn't generating positive results due to certain factors that you may have overlooked.
To identify these factors, try asking yourself, what setbacks did I have today? How did these affect the way I performed? What can I do to weaken or avoid them tomorrow? Identify the toxins or inhibitors that have been affecting your productivity level for the day. Although you may not always identify them correctly at first, the daily work log enables you to monitor these factors along with what you could have been doing wrong. You may also see workout sheet examples & samples.
Daily time logs can be beneficial in a lot of ways. With the right attitude and mind-set in place, your work log is sure to help you improve your ways for a better and more productive performance.