Accidents tend to happen, and it is always unfortunate. Suppose you crashed your SUV for some reason. You'll need to get your insurance to cover you, so don't face more losses. To do this, you will need to file a damage report detailing what exactly happened to your vehicle. In this article, we will discuss how to write one.
16+ Damage Report Examples
Damage Report Template
Equipment Damage Report Template
Damage Report for Insurance Template
Restaurant Damage Report Template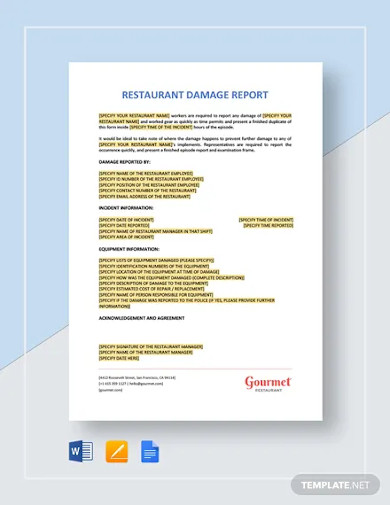 Free Equipment Damage Report Template
Free Vehicle Damage Report Template
Free Property Damage Report Template
Computer Damage Report Example
Damage Report Template
Equipment Damage Report Form Example
Initial Damage Assessment Report Example
Insurance Damage Report Example
Motor Vehicle Damage Report Example
Property Damage or Loss Claim Report Example
Property Damage Release and Report Example
Property Damage Report Form Example
Utility Damage Incident Report Example
What Is a Damage Report?
As its name would suggest, a damage report is a document written to give detail over a particular kind of damage. Whether it refers to a damaged item or property damage, this form covers it all. It helps people in insurance claims as it allows them to explain what has happened and prove their right to getting covered.
How To Draft a Damage Report
Since a damage report plays a crucial role in determining how to handle an incident, we need to know how to create these documents in the event of a disaster. That said, here are a few guidelines to create a useful report.
1. Know What Insurance to Address To
According to Statista research, there are different kinds of insurance, so you need to know which insurance to address your damage report. Different insurances require different types of damage reports, so it is helpful to take some time to look into it first before you start writing.
2. Know What the Damage Is
Before you create your damage report, you have to understand what kind of damage you are dealing with. That way, you will have an easy time wording out the incident in your report. For example, if you are dealing with equipment damage, take some time to do an inspection. You will be a breeze listing down the technical issues by doing that.
3. Make It Understandable
Avoid using big, flowery words that only make it harder for people to grasp your message. Vague terms and sentences may sound great in writing. When crafting something as professional as a damage report, they only act as a distraction from the document's primary purpose. Keep it brief yet detailed enough for readers to accurately visualize what happened.
4. Review the Document
Review the report for any grammar or spelling errors you may have committed. It would also be necessary to double-check the facts provided, as you may have missed or overlooked some details essential to the report.
FAQs
What makes a damage report different from a damage assessment?
A damage assessment refers to the process of identifying the nature of something damaged. Meanwhile, a damage report covers the documentation of the information gathered from the evaluation. The former is usually done first before the latter.
How do you describe the damages done to your car?
When it comes to vehicular accidents, you need to be familiar with the types of car damage for your damage report. The three common examples include minor, moderate, and severe damage.
What are the damage assessment response teams?
A damage assessment response team typically consists of experienced individuals sent to evaluate and document the damage caused by an incident and its potential impact on the community.
Like any other form of report writing, you must write your damage reports. It must provide readers with all the information needed to know about a particular incident to help them investigate the cause and respond appropriately. This way, you can receive the assistance you need to recover from an unfortunate tragedy. So if you ever find yourself stuck in a situation that requires a damage report, make sure to refer to these guidelines for a successful write-up.