Cannot track lost items from your inventory? Cannot account for your purchases and sales? Human memory capacity is indeed limited, and we are in need of notes such as the inventory list to keep a record of our items. May it be inventories that we have on hand as well as the inventories on consignment, we need to document every single item in order for us to easily account for them. Although a physical list of inventory comes in handy, it is so much better and convenient to have an online version of your list. You may also see inventory tracking and management examples.
Online copies of your inventories list will help you recover the files in case calamities may take place in your warehouse or storage room. If you only keep a physical record, this might be damaged due to the said calamity. However, if you have a backup copy, you will have the assurance of a secured copy. You may also see inventory checklist examples.
Below are examples of inventory list where you can get the idea of how to create one.
Sample Inventory List Template
Simple Inventory List Template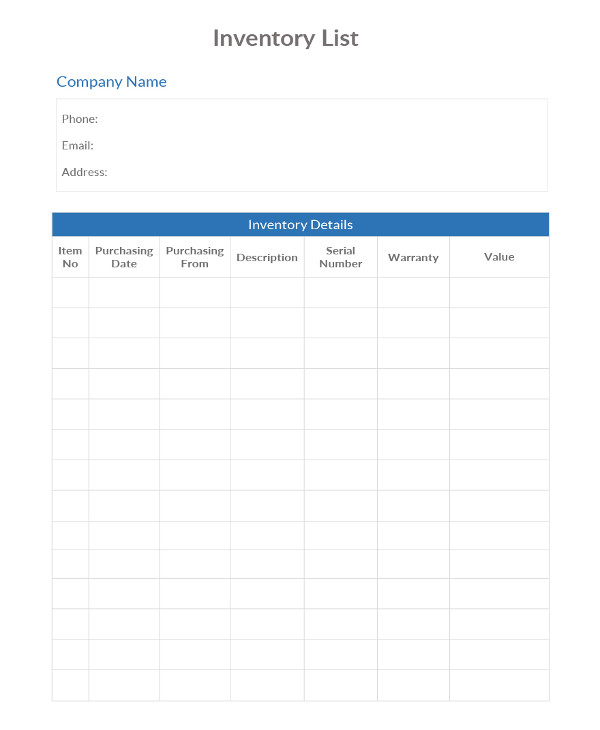 Inventory List Template
Reasons for Keeping Inventories
Basically, when the nature of your business is selling inventories, you need to dispose as much inventories as possible in order to reach the maximum sales. You need to constantly and consistently market them so that people will get to know more about your items for sales. However, if you have observed, there are entities that would keep inventories for a specific period of time. You might be wondering why they would not dispose them immediately by offering them up for sale. You may also see system inventory examples.
In order to understand this, you need to know the general reasons of those entities for keeping inventories. These are as follows:
1. Time Lag
In practice, it is recommended that you keep inventories and maintain them for consumption during the time lag from purchasing from a supplier to the user. While waiting for your orders in the next batch of your inventories, you must make sure that you have inventories kept on hand especially when you have preexisting orders. You must not commit and sell something that is not yet in your jurisdiction or those that you have not yet purchased for this may create an expectation to your customers which, when not achieved, may lead to customer dissatisfaction. You may also see classroom inventory examples.
2. Seasonal Demand
During the ordinary days, it is expected that the sales for your inventories are at an average. Business people perfectly know that during the holidays or if there are some events, this would create traffic to your sales and you experience a peak season. Hence, because you understand that people will demand and buy more during the peak season, you must maintain and keep an enormous amount of inventory on the anticipation of future consumption, for example, during the holidays. You may also see system inventory examples.
Building Inventory List Template
Basic Home Inventory List Example
Hazard Inventory List Example
3. Uncertainty
Although it might be tempting to empty your stock room if there are huge purchases from your store, you must also consider the uncertainties. You must maintain inventories as buffers to meet uncertainties in demand, supply, and movements of goods. Your inventories must be enough to supply a huge market that you have or have not anticipated. However, you must also consider the storage costs that you might incur when you purchase a lot of inventories. Note that certain costs are also incurred even when your inventories are still in the storeroom. For example, you may incur cost for the manpower used in moving the inventory from one storeroom to another or the amount of rent for the space. These are just some of the costs that you may also consider when you purchase a lot of inventories. You may also see retail inventory examples.
4. Economies of Scale
Simply stated, economies of scale means doing things more efficiently with increasing size or speed of operation. It may also be defined as the ideal condition of a certain item at a certain time at a certain place where a customer needs it and when he needs it. Because the cost of inventory also considers the cost of logistics, knowing the quantities you need in order to have the lowest cost of storing but still efficiently supplying the demands of people is important. You may also see property inventory examples.
5. Appreciation in Value
You might also have noticed that there are some items, such as relics, antics, and painting masterpiece, that will appreciate in value when they have been kept for a long period of time. Most likely, these items would become expensive through time. Furthermore, there are also inventories that require to be kept for some time in order to reach the desired standard for consumption such as the wine. Hence, in this case, keeping inventories is a must. You may also see process inventory examples.
Home Inventory Checklist Example
Household Inventory List Example
Inventory List and Home Condition Report Example
Methods of Costing Inventory
Inventories must be properly measured and recorded. The cost of the inventory must be appropriately determined and documented in your list of inventories. There are several costing methods that you can apply for costing your inventories, and these are as follows:
1. Specific Identification
In this costing method, the actual cost is attached to an identifiable unit of product. When you carefully think about it, this does not apply to small items of large quantities of inventory. Instead, this is easy to apply when purchasing and selling large inventory items, for example, cars, refrigerator, and television. Under the costing method, each unit in inventory must be identified with a serial number or identification tag. You may also see accounting inventory examples.
2. First-In, First-Out Method (FIFO)
In this type of costing method, this assumes that the first goods purchased are the first ones to be sold; hence, the cost of the first goods purchased are those charged to cost of goods sold when the company actually sells goods. This costing method is usually applied when an entity is selling goods that may perish or spoil such as fresh dairy products, fruits, and vegetables. Normally, the first inventories that they have are the first ones on their display so that walk-in customers can easily grab them. You may also see landlord inventory examples.
Inventory List Reporting Template Example
Rental Inventory List Example
Sample Asset Register or Inventory List Example
3. Last-In, First-Out Method (LIFO)
Last-in, first-out costing method assumes that the last goods included in the inventory are the first ones to be sold. In the computation for the cost of goods sold, the amount of inventory first sold is based on the amount of the cost of the latest inventory. For example, on the first week, a company buys 100 plates for retail for $5 each. On the second week, it purchases another 100 plates for retail, but this time, it is worth $7 each. Then, a certain buyer buys 100 plates on the third week for $10. In the accounting records, the cost of the inventories sold must be recorded at $7, the amount of the latest batch of plates included in the inventory. Hence, the amount of gross profit is $3 per plate, that is $10 (selling price) less $7 (cost of inventory). You may also see material list examples.
4. Weighted Average
In this method of inventory costing, the ending inventory is calculated using a weighted-average unit cost. Weighted average method is commonly used by entities who sell identical items such as identical games in a toy store or identical electrical tools in a hardware store in determining a cost for units that are basically the same. You may also see application inventory examples.
Costs Associated with Inventory
At first sight, when talking about the cost of inventory, you may think of it as only the cost of the item. However, there are many other costs that are associated with inventory which may be capitalizable in recording for your inventory. These costs are attributable and directly related to inventories. Some of these costs have already been stated in the above points. You may also see list templates.
1. Ordering Cost
No matter how small your order may be, there is always an ordering cost related to your purchase. This cost is incurred in order to create and process your order. Several common examples of ordering costs are cost to process the supplier invoice related to an order, cost to prepare a purchase order, cost to prepare a purchase requisition, cost to prepare and issue a payment to the supplier, cost of the labor required to inspect goods when they are received, and cost to put away goods once they have been received. Usually, these costs are capitalized and added to the cost of the inventory purchased. You may also see address list examples.
Simple Inventory List Example
Standard Inventory List Example
2. Setup Cost
This type of cost that is associated with the inventory is considered to be a non-value-added cost, and the companies are striving to minimize them. These are costs incurred to get equipment ready to process a different batch of goods, the reason why this is regarded as a batch-level cost in activity-based costing. You may also see to-do list examples.
Examples of setup costs are costs of moving materials or components, costs of changing the tools or dies on the equipment, and costs of testing output to if it meets the specifications. Apart from the labor cost in setting up the equipment, there might also be opportunity cost or the opportunity that has been lost in manufacturing profitable output while the machine is not yet in operation during the time of set up. You may also see rooming list examples.
3. Holding Cost
Holding costs are those costs that are associated with holding inventories that are not yet sold. Along with ordering and shortage costs, holding costs are usually being capitalized and added to the cost of the inventory. Examples of holding costs include the cost of the inventory damaged or spoiled while being stored, the storage space, direct labor, as well as insurance. Hence, as stated above, the company must know and determine how many items must they order so that they can lessen the amount of holding costs for those items and in turn lowering the price of your item, products, or inventories. You may also see vendor list examples.
4. Shortage Cost
Shortage cost pertains to the cost of having a shortage in the inventory and not being able to meet demands of your clients and customers. How can a shortage of stock affect to your transaction? When you have shortages of stocks, this may result in the cancellation of orders and heavy losses in your sale which would lead to loss in not only the profit of the company but also its goodwill. This is also considered an opportunity cost or the cost that you have forgone because you cannot provide a certain inventory for your orders and not meeting the demands of your customers. You may also see contact list examples.
In Sum
Having a list of your inventory is extremely important for you to account for and track your inventory. In business, as inventories are directly related to the revenue of a certain entity, the entity must record all its owned inventories—beginning inventory, purchases, and ending inventory. The copy of the list must not only be in tangible physical form but also in online form to increase the assurance of a secured copy. You may also see reading list examples.
In the previous section, it has been discussed that inventories are being kept for several reasons such as time lag, seasonal demand, uncertainty, economies of scale, and appreciation in value. Moreover, the methods costing for inventories that are commonly implemented by different entities are also being discussed. You may also see class list examples.
These are the following: specific identification, first-in, first-out method (FIFO); last-in, first-out method (LIFO); and weighted average method. Lastly, the costs associated with inventories are ordering cost, setup cost, holding cost, and shortage cost. Now that you know more about inventories as well as its importance, keep track of all your inventories now by having a list of all your inventories using the examples of inventory list displayed above. You may also see management skills list.