Employees need a time off from work so that they can recharge when they come back. More so, there are instances where employees need to be absent due to health issues and personal errands. For the business to maintain a healthy relationship with its workforce even with the presence of these scenarios, a leave policy must be established.
The policy examples that you will develop and implement regarding the leaves of your employees can help you establish a document that can serve as the reference of each party should concerns about the execution of leave processes arise. Remember that a leave policy protects the rights of both the employees and the employer so it will truly be beneficial if you will have one for your business.
Paternity Leave Policy Example
Personal Leave Policy Example
Military Leave Policy Template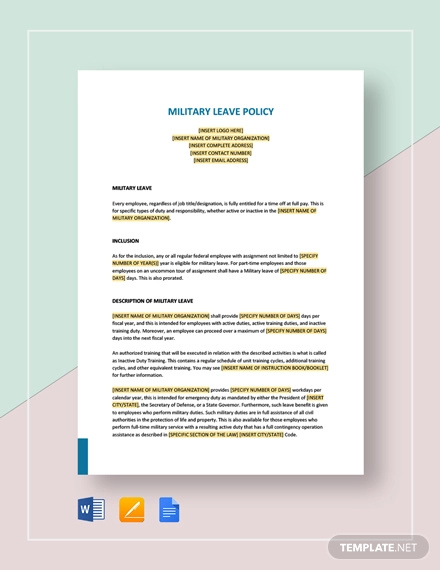 Sick Leave Policy Example
Confusion Regarding Sick Leave Policy Example
Restaurant Funeral Leave Policy Example
Maternity/Pregnancy Leave Policy Template
Restaurant Paternity Leave Policy Template
Restaurant Employee Sick Leave Policy Template
Restaurant Maternity/Pregnancy Leave Policy Template
Paid Sick Leave Policy Example
Sick Leave Policy Example
Why is a Leave Policy Important?
No matter what the size of your business is, having a leave policy is important. It is not only the policy examples in PDF, Word or Excel that matter but also on how you execute the content of the leave policy document that you have made. A few reasons why a leave policy is essential to be made and executed accordingly are as follows:
1. A leave policy can help you make your employees understand their rights especially when it comes to leave credits and proper compensation. Employees need to have a reference whenever they plan to file a leave so they will know the amount of money that they will be paid with for that particular leave. You may also see the financial policy.
2. A leave policy makes it easier for employers to keep track of the procedures that should be followed in different types of leaves that employees are entitled to. There are a lot of leave credits with different natures and having a policy on how to use these types of leaves can help build understanding between the employer and the employee. You may also see the customer service policy.
3. A leave policy ensures that rules and regulations about the use of leave credits are set. This includes the procedures that should be followed when filing a leave and the guidelines that can assess whether a particular leave from work will be paid or not. You may also see the policy proposal.
Paternal and Parental Leave Policy Example
Maternity Leave Policy Example
What Should Your Leave Policy Contain?
A comprehensive leave policy can lessen the potential for misunderstandings to exist. If you will fully disseminate the precise information with regards the leave policy, then misleading information about the specified policy is most likely to not be a problem in the future. If you want to have a complete leave policy, here are the important details that you should put in the document:
1. The kinds of leaves that your company honors.
2. The details of the leaves that your employees are entitled to use.
3. The list of the paid and unpaid leaves and the computation of payment varying on the leave type used. You may also see travel policy.
4. The terms and conditions of using leave credentials.
5. The duration by which the leave credits can be used.
6. The necessary certifications and/or proofs that are essential to be presented when certain leaves are used.
7. The process of notification before a leave is already considered as approved, may it be a leave application email or in a physical form that the immediate supervisor of the employee can provide.
8. The number of leave credits that an employee has within an operational year.
9. The clear statements about the leave usages.
10. Other information about the leave policy that you would like to develop for your business. You may also see the company policy.
Sample Parental Leave Policy Example
Vacation and Leave Policy Example
Different Types of Leave Within a Leave Policy
There are certain types of leaves that should be precisely discussed within a leave policy. If proper discussion can be done, it will be easier for employees to understand their leave credentials and how these can be used within a specified time period. Hence, an employee handbook outline should be able to present all the different leaves that a business honors. Some of the kinds of leaves that an employee is entitled to use must include the following:
1. A paternal leave is the number of days that a father is entitled to be away from work to fulfill his duties as a father. There are certain instances where paternal leaves may apply which is why you have to observe the terms and conditions of the usage of this leave. Not all businesses have this kind of leave so make sure to ask the human resource department about it. You may also see the policy examples.
2. A sick leave is given to employees who cannot make it to work because of poor health conditions. Most businesses require a medical certificate to be presented before a sick leave is considered valid. You may also see the cash policy examples.
3. An earned leave is usually composed of the leaves that are about to expire. Some employees are not able to use all their leaves within an operational year. Rather than not being able to fully use it, some businesses provide the cash equivalent of those leaves. If a refund is not allowed in the business regulations, then employees have the privilege to use the number of those remaining leaves and take an off from work while still being paid. You may also see the privacy policy examples.
4. A quarantine leave can be used by an employee who has been proven to acquire a disease that can be transmitted to other people. This leave is used to ensure the safety and health security of other employees.
5. An unpaid leave is commonly used if all the leave credits of the employee have been used up. Depending on your company or the nature of your work designation, unpaid leaves can actually affect your productivity reports. You may also see the security policy examples.
6. A maternity leave is given to a female employee who is expecting a child. This leave is given to ensure the safe delivery of the employee's baby and so that the mother can have enough time to take care of the newborn. You may also see the training policy.
If a leave policy can separately discuss all these kinds of leaves, then it will be easier for employees to identify which leave credits to use in specific situations. You may also see the insurance policy.
Leave Policy Example
Staff Leave Policy and Procedure Example
Tips You Can Follow While Making a Leave Policy
A leave policy is a document that can serve as a guide not only to the employees but also to the employer when there is already a need to count the allowable leaves of the workforce. Since this document is important in the organization of the operations of the business, you should make sure that you will create a leave policy that works. Listed below are some of the tips that can help you come up with an outstanding leave policy. You may also see the attendance policy.
1. Make sure that you are aware of the laws in your location regarding the development of the leave policy so you can implement legal regulations related to the leave benefits of your employees. Following certain laws about leave credentials are very important as you need your employees to see that you are following the regulations of the state or country regarding the protection of the rights of employees. You may also see the drug testing policy.
2. If necessary, create clauses that can discuss each type of leave credits that you can provide to your employees. Having these clauses or sub-groups can make your leave policy more organized and understandable. This is mostly applicable to big companies who have several types of leave policies in the works. You may also see the quality policy.
3. Consult the attendance policy of the business as you need to ensure that the operations of the business will not be negatively affected by the leaves of the employees. There are certain industries that require the proper plotting of leave application especially if the operations require the presence of a particular number of employees per day.
Unpaid Leave Policy Example
Annual Leave Policy Example
Ready to Create a Leave Policy?
Creating a leave policy is a great way for you to establish trustworthiness and credibility to your employees. It is necessary to showcase these characteristics for the reason that your workforce is an integral part of your operations. Hence, their rights must be well taken care of and they should be aware of the measures that you are implementing to do that. You may also see the smoking policy.
If you have no idea on how to make your own leave policy, the samples available for download in this post can serve as your guide when making this document. You can also refer to templates of leave policies so you can have a more efficient time when formatting the content of your company's leave policy. Create a leave policy now so you can guide your employees about their leave credentials and how they can use these appropriately. You may also see the social media policy.