Compared to College party invitations, birthday invitations are more personal. Birthdays only come once a year which is why people really prepare to make the most out of it. Birthday invitations come in different forms as there are also a lot of themes where these documents can take their design reference from.
The birthday invitation that you will use for your birthday celebration should be related to the theme of the event. With this, it is only fitting to use BBq invitations if you will invite your guests for a day of barbecue and outdoor fun. If you are planning to come up with barbecue birthday invitations, the samples that we have listed in this post will be very helpful for you.
BBQ Birthday Party Invitation Card Template
BBQ Dinner Birthday Invitation
BBQ Party Birthday Retirement Invitation
Design Ideas for BBQ Birthday Invitations
It sure is hard to come up with a unique and outstanding design for your barbecue birthday invitation. Though this kind of birthday invitation is not as commonly used as other kinds of birthday invitations, the challenge of creating one that is both original and great looking is still there. Here are some ideas that you can use if you are already in the design procedure of your barbecue birthday invitation development:
1. Use images of barbecues especially those that will really be present during the event. You can create different representations of what barbecues look like so you can come up with a more unique concept for your birthday invitations.You may also see Printable Birthday Invitations
2. Depict a scene where people are having a good time during a barbecue party. You can also get references from cocktail party invitations as drinks and barbecue sure is a great combination for adult parties.
3. Use barbecue images as your background. Macro shots are great options for this particular design idea as you can make the invitation look bigger while giving enough space for the content that you will put in the document.You may also see 80th Birthday Invitations
4. Present a grill or a grilling station in the birthday invitation design. This can give an idea that it is a barbecue party that you inviting your guests in.You may also see Funny Birthday Invitations
5. You can incorporate your birthday invitation design with your thank you invitations  and other birthday cards. This can help make all the documents that you will use for your birthday party look cohesive.
Adult Birthday BBQ Vintage Invitation
Picnic Birthday Party Invitation
Birthday Steak BBQ invitation
70th Birthday BBQ Invitation
Chalkboard BBQ Birthday Invitation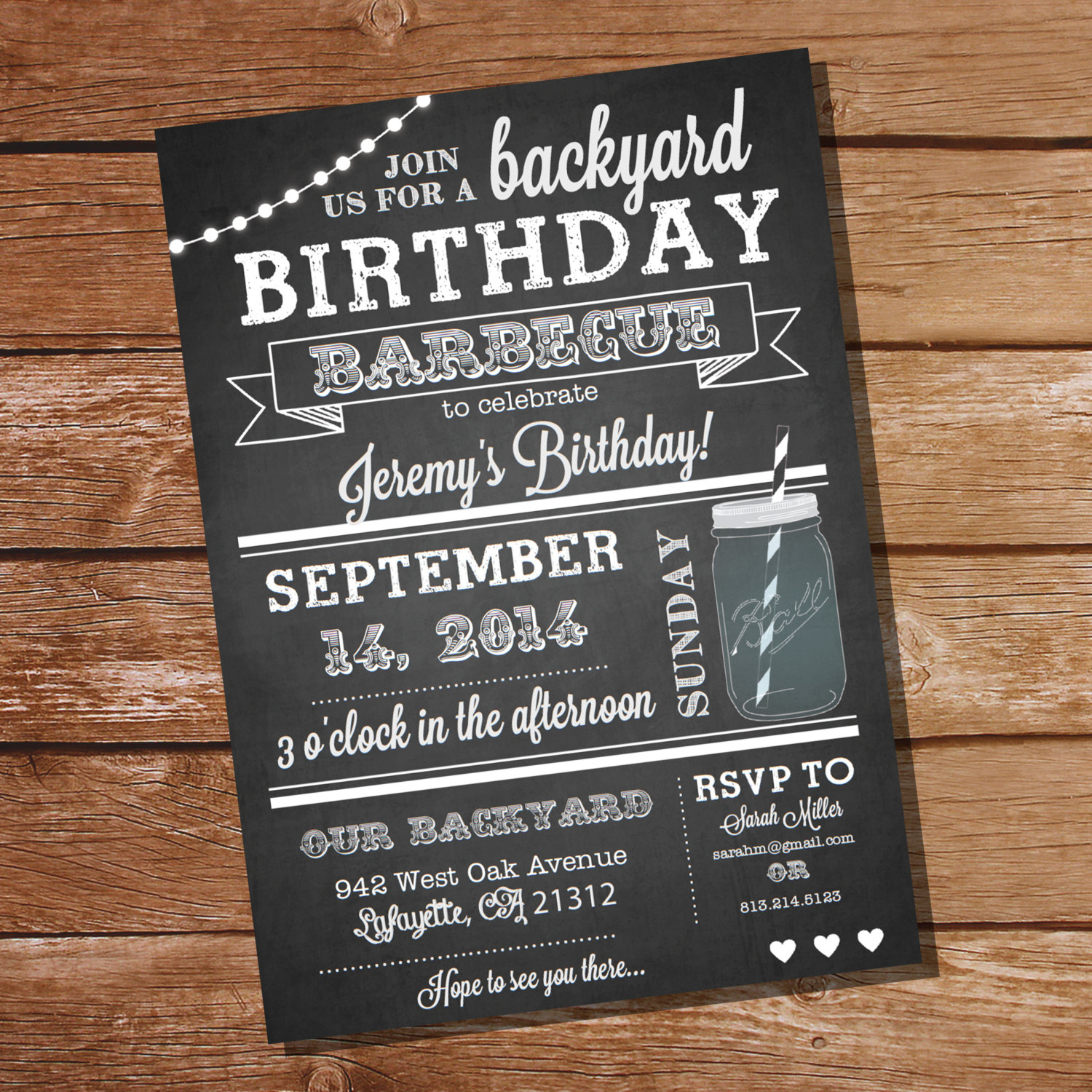 How to Make Your BBQ Birthday Invitation More Attractive
When tasked to come up with a modern and appealing birthday invitation design for a barbecue party, it is important for you to ensure that you can make the document look attractive. You have to keep in mind that your birthday invitation should not look like a flyer that is used by barbecue stalls and establishments. Here are a few ways on how you can make your barbecue birthday invitation look more attractive:
1. Use photo Party invitations so that you can present action in the design that you plan to have.
2. Ensure that you have a great color selection from the hues of the colors that you will select up to the ways on how you will combine these in the birthday invitation.You may also see Minecraft Birthday Invitations
3. Develop a savory representation of a barbecue-filled party so you can entice your guests to come to the event even more.
4. Do not forget to make the barbecue birthday invitation look lively and vibrant. This can be done by adding various design materials and items that can complement with the theme of the celebration.You may also see Sweet 16 Birthday Invitation
5. Always review the selection of images and other items that you will place in the birthday invitation. Working with a few design materials is enough as long as you know how to make them work.You may also see Girls Birthday Invitations
Even if it is not Holiday party invitations that you are making, you still have to give focus on how you can present the message of the celebration to the people that you plan to invite. Give an impression that they will have a good time if they will attend the party just by handing them a comprehensive and well-designed barbecue birthday invitation.
Kids BBQ Birthday Party Invitation
Kraft Paper BBQ Birthday Invitation
BBQ Party Surprise Birthday Party Invitation
BBQ Summer Birthday Party Invitation
Guidelines for Creating and Formatting BBQ Birthday Invitation
It is not only the design of the barbecue birthday invitation that you should give focus on. It is also important for you to be aware of these following items:
1. The blank or negative spaces that can give more organization to the entire birthday invitation design. You may also see Double birthday party invitations
2. The proper blocking of the birthday invitation content
3. The completion of the details of the birthday celebration. You may also see Carnival Birthday Invitations
If you plan to create a barbecue birthday invitation, there are some things that are also relevant on the factors above that you should be knowledgeable of. Here are some of the guidelines that can help you create and format the barbecue birthday invitation content and design:
1. Know the kind of barbecue party that you will host. This will serve as the core of your decision-making processes as this can dictate the elements that you need to gather to come up with the design that you want to have.You may also see Party Invitation Examples
2. Do not confuse your guests by adding a lot of details in the birthday invitation. More so, let them know that it is not an Engagement Party Invitation or an retirement party invitation by providing all the necessary information about the birthday celebration.
3. Properly give an idea of the program of the birthday party by combining designs and content that go well with each other.You may also see Masquerade Birthday Invitations
Backyard BBQ Birthday Invitation
Rustic Birthday Party BBQ Invitation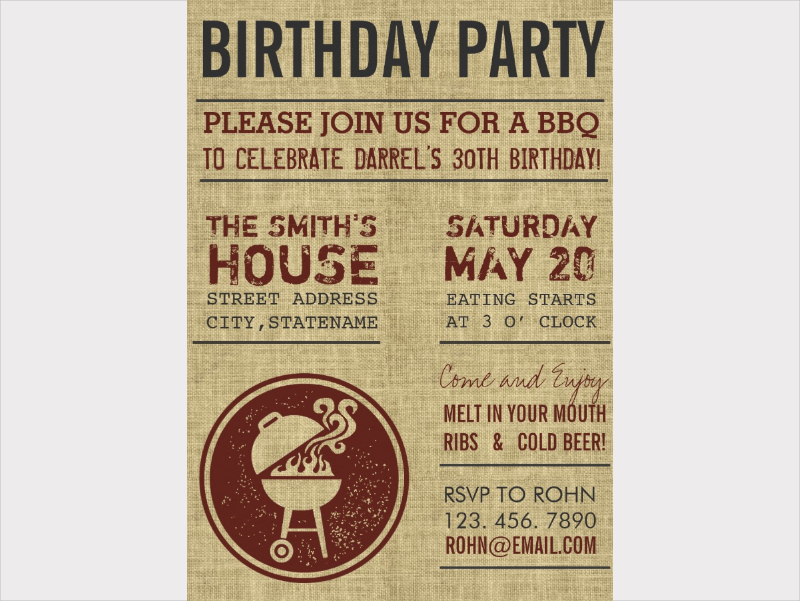 Pool Birthday Party BBQ Invitation
Up For Making Your Own BBQ Birthday Invitation?
Making your own Happy birthday invitation requires a different process compared to when making bridal party invitations. You have to be organized when following the processes of designing a birthday invitation so you can present your barbecue party accordingly and properly.
If you are making your barbecue birthday invitation from scratch, it will be very efficient for you if you can browse through samples of the design that you also want to have in your document. Do not complicate things and learn how to design a barbecue birthday invitation now. Your knowledge with regards the matter is what can help you have a smooth flow of design processes. Refer to any of our samples and start making a beautiful and highly usable barbecue birthday invitation.You may also see Elegant Invitations