What comes into your mind whenever you hear the words "classical music?" Do you think of a classical orchestra with almost every single instrument together creating climactic music? How about a choir of dozens of singers that seems to move the heavens and earth together? Although there is no definitive picture that everyone can agree upon, most of us can still accept that creating these events is a feat in itself. So, suppose you're an individual who wants to organize a memorable concert and is looking for exceptional and quality music brochure samples. In that case, you're in the right place! Check our music brochures sample and guide below and have the confidence that you can do best!
10+ Music Brochure Examples
1. Music Concert Tri-Fold Brochure Template
2. Music Academy Tri-Fold Brochure Template
3. Music School Bi-Fold Brochure Template
4. Music Program Bi-Fold Brochure Template
5. Free Music Band Bi-Fold Brochure Template
6. Music Festival Brochure
Download
7. Music Concert Event Brochure
Download
8. Music & Creative Art School Brochure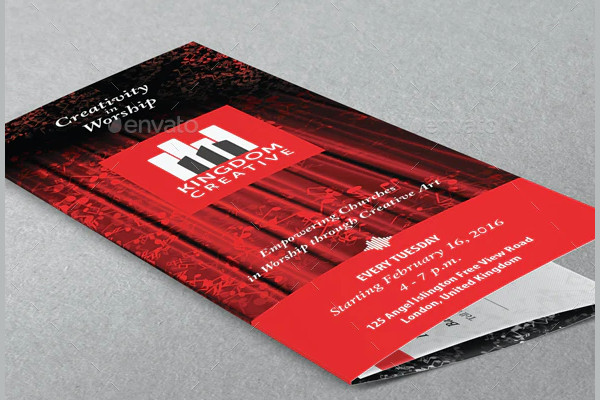 Download
9. Music Event Brochure
Download
10. Music A4 Brochure Template
Download
11. Creative Music Festival Brochure
Download
What is a Music Brochure?
A music brochure is a type of advertising tool that allows you to invite people to any musical events while emanating a sense of professionalism. In this way, you raise the people's expectation on occasion, providing your festivals and concerts prestige in the process.
How to Make a Two Fold Brochure?
One of the most basic types of brochures in the market is a two-fold brochure. People may sometimes call these bifold or half fold. These brochures are easier to make than trifold and would be perfect for any design with a decent layout. To help you better, we provided some tips below to help you make your creation process superb.
Tip 1: Choose The Right Paper
A bifold or twofold brochure is basically a paper folded in half. By doing this, you have four pages or columns to use as a marketing or advertising tool. That's why in regards to its material, choosing the right paper is necessary. If possible, make sure that your paper's quality is superb and that it is pleasing, as well. Make sure also that the paper complements the ink you will be using.
Tip 2: Create a Compelling Design
We all know that 'first impression matters' quote. Well, that is effective. If you are trying to create a bifold brochure, make sure that your front cover provides people with a glimpse of your work quality. You can do this by ensuring that your design is eye-catching. In this way, people get excited about your event, advertisement, or marketing plan.
Tip 3: Fold Precisely
Do you remember the last time you've poured yourself water, and there's a small spill? Although if you're mature enough, you wouldn't really find this bothering. Nonetheless, for other people, this could be disturbing, and that's the very same principle when folding your brochure. If you're trying to fold it yourself, make sure that it's precise and clean. Remember, you are presenting these to people, and what you should present is the best if you want to boost your business.
Tip 4: Use an Envelope
Almost everyone can agree that an enveloped document brings quality to delivery. It feels like something is exciting and new. With a colored envelope of your choice, you can ensure that people will have a sense of respect for the document itself. You can even add a logo of your event on the outside. If you're inviting a specific person, putting their names on the envelope brings much more pleasure and appreciation. Try it.
How to Create a Music Brochure?
So your musicians are ready, and your piano and guitar are good to go. However, you find it difficult to advertise your concert. You had concert posters and many event flyers, but you still think it's not enough. Well, then you should create a music brochure. Why? Because these types of brochures will surely help you get more people with expectant hearts into your concerts. Ready to learn how to make one? Follow these tips below and create yours.
Tip 1: Use Your Theme
Music is an art. It is an encompassing art that almost everyone can appreciate. To make use of art, you should also use it in your creation of the brochure. You can do this by creating an overarching design that you can use for both the brochure and other marketing documents.
Tip 2: Incorporate Pictures
Another way for you to enrich your brochure is by incorporating pictures. However, if you find the thought of using yours and your friend's picture on the brochure disturbing. A picture of your venue is acceptable. In this way, the reader will have a glimpse of what to expect at the event.
Tip 3: Indicate Information
Information is important in your document. Why? It is your method of ensuring that people can come to your event. You should indicate the time, venue, and theme at the very least. In this way, people can get to your event on time. If you're doing this event in a children's institute, indicate it well. Never allow people to miss out on crucial information.
Tip 4: Allow RSVP
Lastly, if you should do an RSVP. By doing this, you can expect certain individuals in your events and be sure that you will have an audience. An orchestra, artist, or choir without an audience is like a university without students. It becomes useless. So if possible, allowing RSVP ensures that you have people at the time of the event.
FAQs
What is a music class pamphlet?
A music class pamphlet is a type of document that advertises a certain music class. In this way, the music teacher can gain students better and faster through referrals and word-of-mouth.
What is a music studio brochure?
A music studio brochure is a handout that provides a person with information bout the pricing, quality, and information of a certain music studio. By doing this, bands, musicians, and other artists can contact the music studio for any reservations and recordings.
What is a band brochure?
A band brochure is a type of marketing document that showcases a band's capability, success, and skills. They may also include their fees and other conditions for accepting an invitation. Talent scouts and managers may try and use this to gain a better position on contracts.
It is not farfetched to say that the music industry is alive and breathing. Music is all around us. However, as an industry in itself, it is still a subject of economy and must conform to its patterns. Nonetheless, for all musicians out there, keep practicing and polish your skills. Enjoy your artistic journey.