From the Coachella Valley Music and Arts Festival in California to the Glastonbury Festival of Contemporary Performing Arts in England, these are just some of the most prominent events that continue to attract thousands of locals and tourists from all around the world every year.You may also like summer party ticket designs & examples.
VIP Live Event Ticket Template
Simple VIP Ticket Template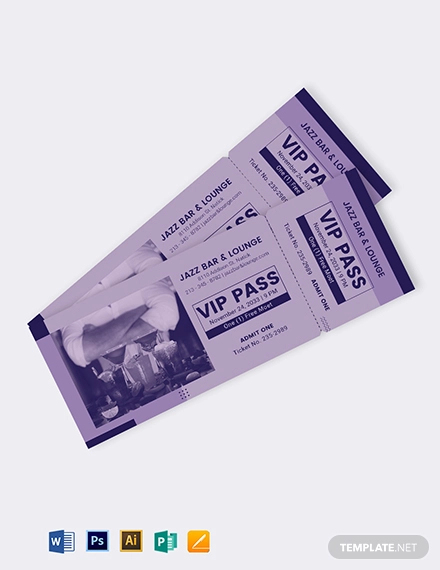 Golden VIP Ticket Template
Vip Pass Ticket Invitation Template
Vip Pass Ticket Template
Music Festival VIP Pass Ticket Template
But planning and developing these events can be a daunting task to execute. Whether it's designing an engaging program or picking the perfect food and beverage stalls, with so many competing choices and distractions available to your guests, providing a unique and memorable experience is more important than ever. And to your audience, it's all about getting their money's worth with a one-of-a-kind VIP experience like never before.You may also see event ticket examples.
VIP Event Ticket Template
Elegant VIP Event Ticket Example
VIP Live Event Ticket Example
VIP Event Invitation Ticket Example
The Perks of Being a VIP in an Event
If the thought of getting lost in a sea of strangers terrifies you, then music festivals, red carpet events, and national sports tournaments may not be your cup of tea. Widely celebrated events often have the biggest and the most diverse crowds of people from all walks of life. But then again, if you're in it for the event experience itself, you might be willing to spend more than the average person would.You may also see event show time ticket examples.
The VIP experience is something that only VIP event ticket holders are privileged enough to enjoy. These tickets cost way more than the ordinary, and only a limited number of slots are made available to the public, while others are given away to special sponsors and performers of the actual event.
Though spending a few hundred more bucks for a one-day event may seem impractical to most people, the perks are definitely worth every dime.You may also check out elegant ticket designs and examples.
1. No more long lines!
Was waiting in line for an hour and a half to get on Disneyland's Space Mountain worth every second? Probably.
But think about all the precious time wasted when you could've been exploring other things in the theme park.
Fortunately, with a VIP event ticket, you can bid adios to the long, grueling lines to get into your favorite activity booths, food tents, and even the restroom. You no longer have to wait under the scorching heat of the sun to purchase some event merchandise, nor do you have to worry about the merchandise tent running out of your size because the VIP treatment also offers exclusive access to limited merchandise for VIP ticket holders to enjoy before anyone else.You may also like invitation ticket examples.
2. You can avoid the crowds.
If you've attended an event at a ballroom, arena, or concert hall before, you might have noticed a couple of people seated comfortably at the balcony, special box, or air-conditioned room at the venue. These individuals are VIPs at the event who paid extra money to be situated conveniently away from the huge (and often sweaty) crowds of event-goers.
Though most people don't pay much attention to the crowd, not everyone is a fan of being pressed against sticky bodies and metal barriers as they desperately try to get whiff of fresh air. If you're worried about being crushed to your death by a crowd of rowdy individuals, you should probably consider getting a VIP ticket.You may also see football tournament ticket examples.
3. You can enjoy various freebies and bundles.
A lanyard and bracelet aren't the only things you can get at the VIP booth, as most event sponsors tend to give away other freebies and bundles to VIP ticket holders. This can be anything from shopping vouchers to perfume bottles, fanny packs to a basket of goodies, it could be any product or item endorsed at the event by sponsors and advertisers.
Even if you didn't have the best time at the event, at least you won't go home empty-handed.
4. Food and beverage stalls are easily accessible.
Getting hungry or thirsty at a big event can be pretty difficult to deal with. Apart from the massive crowds of people surrounding the refreshment booth, you don't exactly have a lot of options to choose from. Stepping out of the spot you've reserved for yourself to grab a bottle of water is another thing you need to worry about, especially when you're attending a free-seated event where everything's at a first-come-first-serve basis. And unless you have a companion to secure your spot, you might want to wait until the event is over before you consider leaving your seat.You may also like concert ticket examples.
5. You can meet fellow VIPs.
Being a VIP event ticket holder is a luxury that not everybody can afford. With that in mind, you can only imagine who you might run into at the VIP section.
From celebrities to politicians, the VIP area of an event is usually packed with A-listers who are more than happy to return the smiles and high-fives you've just given them. And if you're lucky enough, you might even score a seat next to a Hollywood hot-shot like Ryan Gosling or Rihanna!You may also check out blank festival tickets.
6. EVERYTHING is better!
Since you're basically paying for a VIP ticket worth five GA (general admission) tickets combined, you should only expect the best of the best.
Event organizers value their VIPs, so you can only expect the best view, the best seats, the best food, the best comfort room, and the best experience you'll remember for a very long time. Even just for a day, you'll feel like a rock star sipping from a glass of only the finest champagne, as you enjoy the rest of the night surrounded by your fellow VIPs.You may also like halloween party retro ticket examples.
Devil Red VIP Event Pass Ticket Example
Gold VIP Event Ticket Example
VIP Party Event Ticket Example
How to Design an Enticing VIP Package Attendees Will Splurge On
You might not realize it, but some of your attendees are open to spending more than you charge just to get their hands on the VIP experience. The perks of a VIP ticket holder is every person's dream, which is why VIP tickets sell out faster than the others, despite of their ridiculous price range.You may also like carnival event ticket examples
However, it's important to offer attendees the exact experience they're looking for at the exact price they're willing to pay. Event attendees are more attracted to events that offer a VIP program due to the "uniqueness" of the whole experience. The availability of the VIP package can greatly influence one's decision to attend the event or not, and if you don't devise a program that can live up to one's expectations, it can turn into a black hole for costs that don't pay off—for you and your attendees.
1. Make it exclusive.
Nothing spells a VIP experience more than a private event held exclusively for VIP event ticket holders. This can be in the form of a pre-party, an after-party, or the actual event itself. Private concert gigs that cater to around 100 to 300 people are usually arranged based on an invite-only basis.You may also check out multipurpose retro party ticket designs
One example would be Taylor's Swift's secret listening party for her fifth studio album 1989, where the singer-songwriter treated about 30 of her biggest fans to an exclusive listening party at her home in Los Angeles. Though no tickets were sold for the actual event, it was a once-in-a-lifetime opportunity that was too exciting to pass up!
2. Remove sources of frustration.
The VIP experience doesn't have to start by the time ticket holders arrive at the venue. Think about how you can extend your services for the convenience of VIP event-goers. For instance, besides putting ticket holders at the front of every line, you can also offer a private VIP parking lot close to the venue to take away the hassle of parking woes, or you can provide VIP shuttles to pick up event-goers from designated spots around the city.You might be interested in VIP event ticket designs & examples.
3. Enhance the event experience.
Events can be fun, but they can also get pretty exhausting at some points. Knowing this, it's best to prepare VIP-only lounge areas for attendees to hangout with other ticket holders and event performers. You can even serve complimentary drinks and snacks to guests seated at special viewing areas. This will help build an exclusive community area for VIPs to relax and enjoy the event in style.You may also see music event ticket designs & examples.
4. Go all out with the decorations.
From lighting to service crew attire to interior design, there is more to an event design than the space provided by the venue itself. This is the part where you need to be creative with your ideas by capturing that perfect Instagram-worthy look and feel. Keep in mind that the way you decorate your venue can contribute to the atmosphere of the event. LED uplighters, for example, can turn a formal event into a party ground in a matter of seconds.You may also like examples of ticket designs.
You'd want to make the most out of a basic space by using various decorative materials to set the ambiance of the event.
Stylish VIP Event Ticket Example
Metro Style VIP Event Ticket Example
Retro VIP Event Ticket Example
Tips for Crafting the Perfect Event Ticket
You may not know it, but ticket designs can greatly contribute to the marketing aspect of an event. Enticing event ticket designs can easily attract attention, transforming curious minds into enthusiastic attendees for the success of your event. Tickets also help make the event more official by verifying a holder's payment for entry and providing attendees a souvenir to remember the event for. So when it comes to designing a proper event ticket, you need to make sure that it's as attractive as it is purposeful.
1. Determine the information to include in the ticket. This includes the basic details attendees need to know about beforehand, such as the event name, date, time, and venue. Assigned seats and their respective numbers should also be stated on the front cover of the ticket design. Refrain from adding details that are not relevant to the ticket's primary purpose. Tickets are typically of a smaller size, so the last thing you would want to do is overcrowd the already minimal space with useless information.You may also see wedding ceremony boarding pass ticket designs.
2. Design the ticket according to the event theme. A ticket that complements the theme of the event is not only pleasing to look at, but it's also worth keeping. You can design the ticket in any way you want to, as long as its details remain visible and clear enough for people to read. Avoid font styles that resemble handwritten texts, as they're usually a lot harder to read from a distance. Instead, stick to block letter fonts that are readable despite the presence of other design elements.You may also see birthday invitation tickets.
3. Choose a design or image that portrays what the event entails. If you're hosting a Mardi Gras-themed event, you might want to choose a festive theme with bright colors and mask icons for your ticket design. It's best to add design elements that best emphasize what the event stands for to make it easier for people to recognize. You can even incorporate brand colors into your ticket design for a touch of promotional effort.
4. Utilize the back of the ticket. You can use the back of the ticket to list other useful information about the event or the organization behind it. This includes a list of sponsors, discount coupons for tickets to the next calendar event, or even special words of thanks addressed to the attendees. You can utilize this space to promote other events and special causes for ticket holders to be aware of.
5. Take advantage of ticket templates. If you're looking for consistency and uniformity, then using an event ticket design template would be an awesome idea. Templates can come in handy if your event requires numbered tickets (especially for door prizes and the like) or if you need to produce a mass number of tickets in a short span of time. This allows you to print and distribute tickets in an orderly fashion before the actual event date.You may also see bridal shower boarding pass ticket designs
Hosting a VIP event is all about creating a journey filled with engaging, exciting, and extraordinary activities and benefits for guests to enjoy. It's about going beyond the limit to offer attendees an experience of a lifetime. So for your next lavish event, remember to get that VIP package ready and those VIP event tickets printed as you prepare to host the event of a lifetime that guests are sure to treasure for the years to come.You may also see plane boarding ticket examples.