Every party that you decide to needs to have a party invitations sent out. Also, the invitation you're going to end up making has to match the party you decide to throw. For example, if you're going for an all-male party, then you can create and send Boys Party Invitations.
If you're having a party that's meant for thanking someone for whatever he/she has done, then you'll end up creating thank you invitations. But what if you're having a party for a child? Don't you want to send invitations which will make that clear? That's why this article is going to focus on how you will go about in creating children's party invitations.
Happy Birthday Invitation Card
Circus Children's Birthday Invitation
Bear Childrens Party Invitation Card
Why You Should Create a Children's Party Invitation for Your Child's Birthday Party?
There is a multitude of reasons as to why you should do this, but here are the most important ones:
1. Your Guests Will Instantly Know That It's a Party Specifically for a Child
Pointing out what the party is going to be like from the very start of the invitation is one of the best ways to tell your invitees what they should expect. Because let's say that you're sending out Cocktail Party Invitations, naturally you'd want to make it clear that the party is aimed for adults who can get together and have a drink. For a child's party invitation, you're telling your invitees that the activities and the food are going to cater to the taste of the child and that they should expect the entire party to play out to what a child would like.
2. It Will Tell Them What They Should Expect and Wear
As mentioned very recently, a well-made child's party invitation will tell your guests what kind of activities will take place, what the theme is going to be, what kind of food is going to be served, etc. Also, you can use the invitation to point out as to whether your invitees should dress formally, or if they're allowed to go as casual as they can get. Knowing what they should wear is important as you want these people to dress appropriately for the party, so you have to make it clear as to what kind of outfit they should dress themselves in. Because you wouldn't want to end up in a similar situation wherein people to receive DJ Party Invitations, only for them to end up getting confused as to why they're going to have to wear beach attire (unless the DJ party is set in a beach).
Retro Children's Party Invitation
Balloon Birthday Party Invitation
Children's Pool Party  Invitation
3. It Will People Interested in the Party
Making the right kind of party invitation as well as putting in the right content can help ensure that invitees will be interested enough or become excited to the point where they can't wait for the party to happen. You need to generate enough excitement so that people who go through your invite will look forward to the party. So let's say that you plan on sending out dance party invitations, you want to point out to your guests that the party is going to be full of dancing as well as different genres of music that will cater to everyone's tastes. Be sure that your invitation has everything that would get a child excited so that you'll see a lot of kids attending your child's party.
How to Create a Child's Party Invitation
Now that you know how the importance of creating a child's party invitation, the next step that you're going to have to take is to actually create the invitation.You may also see Surprise Party Invitations
Here are the steps that should help you do that:
1. Point Out the Name of the Celebrant
You have to think that no matter what kind of party invitation you intend to make, whether you're sending out Graduation Party Invitations to celebrate someone's graduation or a birthday party invitation to celebrate one's day of birth, your invitees are going to want to know who the party is for. So you have to clearly state the name of the celebrant so that your invitees will know the celebrant's gender. Why is this important? Because knowing the celebrant's gender is the best way to tell your invitees what gifts they should bring, what they can expect out of the activities, and the possible theme of the children's party.
Pets Child's Birthday Invitation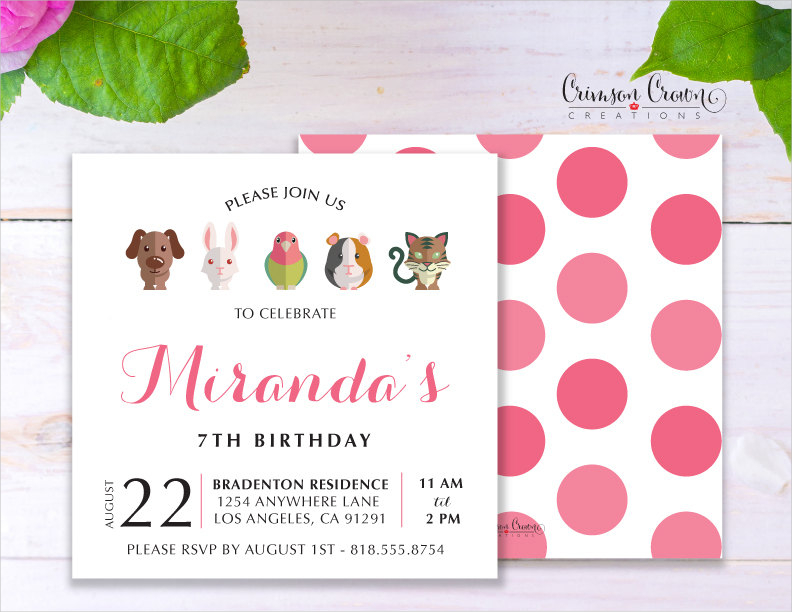 Preschool Party Invitation
Daycare Children's Party Invitation
Colourful  Birthday Party Invitation
2. Point Out the Main Theme of the Children's Party
If you're going to throw a party, there's always going to be a theme that it will focus on. Let's say that you're holding a children's party for your little girl and she wants everyone to dress up as princesses for the occasion. This is the perfect time for you to come up with princess party invitations where you make it clear to everyone that the theme of the party is princesses. You want to be really clear on the theme of your party so that your invitees will know specific details such as what they have to wear or what they should bring. While they can also take a look at the name of the guest to know this information, it's best that you directly tell them about the theme as you want no misinterpretations or any kind of confusion to happen.
3. Be Specific on the Venue of the Party
No matter where you decide to hold your party, you have to make sure that you go with a place that will match the theme of your party, and you have to make sure that you give out all the details of the location to your invitees. What I mean by the location matching with the theme of your party is that the party should be somewhere that can take full advantage of the party's theme. So let's say that you're going for a formal dinner party, so you'll want to make dinner party invitations which pinpoint the location of a fancy restaurant.
Also, remember that you should never leave out any important details regarding the address of the venue. Give the complete address so that your invitees will know excactly where to go and so that you won't have to deal with anyone calling you asking for directions just because they're lost or they've ended up in the wrong place.You may also see Beach Party Invitations
Children's Yoga Party Invitation
Kids Celebration Birthday Invitation
Children's Museum Invitation
3. The Date and Time of the Party
Now that you've settled on the venue, you need to be specific as to when the party is going to happen. You'll want to make it clear as to what time you expect your guests to arrive, what time the party is going to end, and the date in which the party is going to take place. By giving these people the date and time, they won't have any excuse if ever they're late to the party or if they weren't able to attend on the date (unless they've stated that they can't make it or that they'll be running late).You may also see Bachelorette Party Invitations
Also, make sure that these two important factors of the invitation are reasonable. Because let's say that you're sending out Holiday party invitations to celebrate a Christmas party with your friends. You won't' expect them to be there for your party if it's going to be held on Christmas eve as they may want to celebrate it with their families. So try to set it on a date close to Christmas where everyone can take part in it.
If you would like to learn more about how to create children's party invitations or any other type of invitations (a good example being baby invitations to invite everyone to celebrate your baby's birth), then all you have to do is go through our site, find the articles that can provide you with the information that you need, and utilize whatever information you're able to gather to help you out.