Parties are a great way for you to celebrate a special occasion, but you'll need to have guests over to make it even better; meaning that you're going to have to create party invitations. While there are a ton of Party Invitation Examples you can find online, you need to go with the ones that will match the party you're going to hold.
So let's say that you're planning on throwing a children's party for your adorable daughter and that the party is going to be princess-themed. This means you're going to have to send out Kids party invitations that will clearly point that out. This article is going to focus on how you're going to make princess party invitations that will not only look good but ones that will get your guests to want to come to your party.
Princess Party Invitation Example
Princess Invitation Template
Birthday Party Invitation Example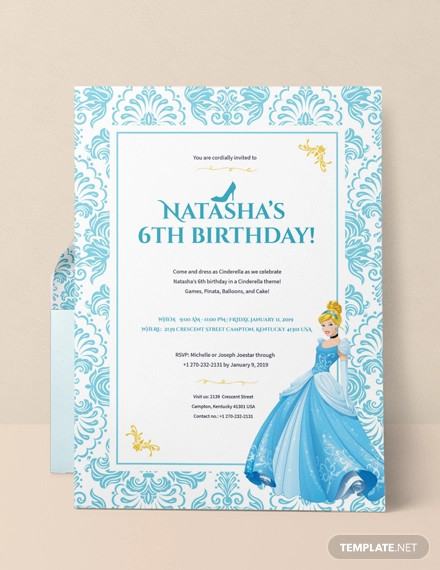 Little Princess Birthday Party Invitation
Pink Princess Birthday Party Invitation
How to Create your Own Princess Party Invitations
Creating party invitations is never going to be an easy thing, especially if you're going to make one that's princess-themed. But it doesn't have to be too hard if you already know what you should put in it.You may also see Adult Party Invitations
So here are the things you're going to have to do to ensure that you're able to make well-made princess party invitations:
1. Make the Theme of the Party Clear
You're holding a princess party, so naturally, the entire theme of the party you're going to hold is entirely based off of princesses. The reason as to why you want to make the theme of the party clear is so that your guests show up in the attire that you want them to wear (in this case, princess attire), and you'll give them an incentive as to what they should bring for the party. So whether you're creating kitty Party Invitations for that birthday party for your kitty, Cocktail Party Invitations for that little get-together to celebrate a social event for someone special, or princess party invitations for that special little princess of yours, just make sure that the theme is clear to all of the people you plan on inviting.
2. Remember to Write Down the Complete Address Into the Invitation
You have to guarantee that you're writing down all the details regarding the address of the venue for your princess party. You want to make sure that everyone you want to invite won't' have any problems regarding where the party is going to take place. Because let's say that you've sent out either Dinner Party Invitations or BBQ Party Invitations because you've finally found the time to actually throw them. If you don't give the complete address for either of the parties or you're too vague about the details, then don't expect any of your guests to arrive at the party.
Cute Princes Party Invitation
Princess and Knight Party Invitation
Balloon Princes Party Invitation
Stylish little Princes Party Invitation
2. Point Out the Name of the Celebrant
If receive Funny party invitations, yet there isn't any information as to who the party is for, then most likely you're not going to be attending because even you wouldn't want to take part in an event where you have no idea as to why or for who it's being held. So while you're making the princess party invitation, you need to remember that the name of the celebrant is very important.
While you're emphasizing what kind of party it's going to be, it's just as important that you emphasize the name of the person as to who the party is for. So you should definitely go with a font that will go with the elegant inspired theme of the princess party. Also, letting your invitees know who the celebrant is will let them know what they should bring and help them decide as to whether or not they should go.
3. Go With a Date and Time That's Perfect for Your Guests
Since you're planning on princes party, then most likely that it's going to be an all children's event. Meaning that you're going to have to go with the best time where these children are able to attend and have fun during the party. So let's say that you're already on your way in making the children's party invitations for that princess-themed party of yours.
When you're setting the date of the party, it's best to do it on a Saturday as that's one of the best days where you can hold a party, and it's better than Sunday as most people would want to use that day to relax. When it comes to the time, you can have the party either at around early noon where you think that every one of your invitees is done with any prior obligations, or you can opt to have it early in the evening.
Gold and Pink Princess Invitation
Elegant Princess Party Invitation
Floral Princess Party Invitation
Classic Princess Party Invitation
Pink Purple Gold Princess Party Invitation
Royal Princess Party Invitation
Tips for Creating Your Princess Party Invitations
Now that you know what to do to make your princess party invitations, here are a couple of tips that should help make them even better for your invitees.You may also see Birthday Party Invitations
1. Go With a Design that Perfectly Captures the Princess Theme
If you were going to have a neon party where people would be using a ton of glowsticks during the event, then wouldn't you want your Glow Party Invitations to clearly show that? It's the same in princess party invitations where you want the design to easily point out to your invitees as to what kind of theme your party is going to have.
Since you're thinking about throwing a princess party, you want to have images of a famous princess on it such as the likes of Cinderella, Snow White, etc. Also, you want the invitation's background to portray that it's a classy princess party, so go with light colors to help you out with that.
2. Remember to Always Check the Invitations for Mistakes
Whether you're making Holiday party invitations, summer party invitations, or princess party invitations, you need to make sure that there aren't any errors when it comes to the spelling, grammar or even information within your invitations. You don't want your invitees thinking that you're incompetent or that you didn't really put the effort into making the invitations; that will just be bad on your end.
So the one thing you can do is to go through your invitation before you decide to print out several copies and sending them to your invitees. If you see any mistakes? Fix them as soon as possible.
If you would like to learn more on this particular topic or how to make other types of invitations, then all you have to do is go through our site, find the articles that have the information you need, and use whatever you've found to help you out.You may also see Pool Party Invitations