Often times, you will wan to unwind without having to leave your state or country; staycation is a modern term used for having a vacation near where you currently live. What better way to do such thing than to check in to a hotel and enjoy all of its amenities from the buffet, to the pool, the spa and massage and down to its comfortable and cozy rooms.
Hotel Voucher Example
Sample Hotel Voucher
Simple Hotel Voucher Design
Printable Hotel Voucher Template
Hotel Breakfast Voucher Template
Hotel Mini Bar Voucher Template
Hotel Gas Voucher Template
Hotel Confirmation Voucher Template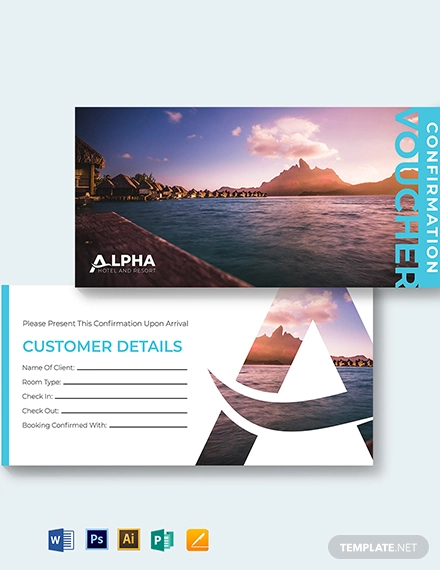 Travel Agent Hotel Voucher Template
Emergency Hotel Voucher Template
Hotel Promotion Voucher Template
Hotel Complimentary Voucher Template
Resort Hotel Voucher Template
Service Hotel Voucher
Hotel Prepaid Voucher
However, even with the convenience of checking to a hotel sounds pretty appealing, you still hold back from indulging. Because aside from the fact that your responsibilities can get stacked up once you get back to work, the possible expenses you will have to shoulder makes you doubt to have some time off. But fret not, this article will help you plan for a luxurious staycation that is still within your budget.
Hotel Spa Voucher Template
Hotel Voucher Gift Card
Conference Hotel Voucher
Hotel Laundry Voucher
Hotel Booking Voucher
Hotel Gift Voucher
Guide to Finessing a Luxury Hotel Stay for a Lot Less
Although you decide to stay in a hotel close to your home, there is bound to be expenses that you need to prepare for. In cases where you want to travel to a different state or country, how can you stay in a luxurious hotel without having to spend way more than your budget? To help you with that, here is a list you can refer to during you staycation or vacation planning process so that you can finesse a luxury hotel stay for a a lot less:
1. Choose emerging over established destinations
An advice that you will find useful when planning for your staycation or vacation is to not follow the crowd. Although it is your dream to visit certain states or countries, it can be very hard to economize in a super-expensive, traditional destination. You have to think differently from all the other tourists. You have to find a destination that can give you your dream vacation fantasy but is still within your budget. For example, if it is your dream to go to Barcelona because of its history, you can instead go to Buenos Aires since it still has rich Spanish history for a cheaper price.
2. Stay outside the tourist center
Avoid staying in or even roam around the tourist center of your chosen destination. If you choose to stay on the center of the place your staying, you will end up paying more for everything from your hotel down to your commute. In this case, it is better to find a place far, but still accessible, to the tourist center. For example, if you want to set your heart out to travel to NYC chances are even four-star hotels are pricey. Thus, it is always financially better to choose hotels outside tourist hubs in NYC, taking into account your bus or subway commute, of course. Even though you don't get to stay in famous luxurious hotels, you can still get the ultimate tourist experience at a lower cost.
3. Go for the basic room instead of suite room
As sweet as having to stay in a suite room, always opt to go for a the hotel's basic room. Since you are probably there in vacation to roam around and do touristy things, you will most likely spend more time outside than inside your hotel room. If this is the case, a basic hotel room will still get you the hotel's A+ service, cozy bed and other amenities. Just make sure that you choose a room that has a view or at least not overlooking an airshaft or the parking lot, beside the elevator, above a noisy lounge. However, if you have planned to book a hotel to simply lounge and laze then this advice does not apply to you.
4. Stay in a four-star hotel, but upgrade to the club floor
An obvious choice to help you spend less on hotel bills is to choose a less luxurious hotel. Staying on a four-star hotel means you get to enjoy good quality service and amenities for a cheaper price. However, if you do this always go for the upscale club floor of a four-star hotel. This way you can still have a five-star experience during your stay. Upgrading to a club floor can be easily done if you have a acquired points as a frequent guest of the hotel; otherwise, upgrading will cost you. Although it will still cost you, it will still be less than a five-star hotel room, but with the same or even more privileges.
Hotel Gift Voucher Example
Elegant Hotel Voucher Example
Golf Resort Voucher Example
Modern Hotel Voucher Example
Hotel Voucher Example
Luxurious Hotel Voucher Example
5. Travel off-season and never on holidays
Each year, there are certain points in time when people decide to travel at the same time, this is what people in tourist destinations call the 'high season.' With this, you have to remember that when its the high season it also means that the prices are high on such locations. Thus, it is always economical and practical to travel during off-season. For example, if you want to go on a tropical destination known for its beaches and summer adventures, you can avoid the hassle and save up on expenses when you travel during your summer, springtime or fall and never during the winter. Prices correspond to the flock of tourists that are expected to arrive, better plan ahead to save up.
6. Go all-inclusive
You may think that paying for everything at once is too much for you but it can really help you save up for the rest of your vacation. Pay for everything at once so that you can indulge on the rest of the trip. For example, when you book for your hotel always choose an option that allows you to pay for your meals and other accommodations or amenities at once so that when you get there you will no longer think of those factors. This way you can enjoy your trip even more and have the spare cash to spend for your extra unplanned trips or even for a shopping spree.
7. Choose a package that includes airfare
When you decide to go on a trip, always scour the internet for packages that are all-inclusive. This means you should definitely go for a package that includes you airfare, hotel stay, meals, tours and so on. Although this can be more expensive, this will eliminate the trouble of you having to think about everything else while on the trip itself. If you are not a traveler that can rely on spontaneity, booking everything in advance means everything is already organized the moment you arrive on your destination. Doing this can help you appreciate your vacation more since the stress of bookings is already out of the picture.
8. Get insider deals through a travel agent
You may think that booking for your vacation through a travel agent is old school since the internet makes everything accessible an efficient, doing so will greatly affect the success of booking for your travel and hotels. Since travel agents are generally professionals in this field, they have more people they can contact to ensure that the booking is cheaper and more reliable. Travel agents have better insiders/inside reports than the ones you can see on the internet, this is a win-win situation for you.
Sleek Hotel Voucher Example
Holiday Season Hotel Voucher Example
Hotel Honeymoon Gift Voucher Example
Formal Hotel Voucher Example
Resort Summer Gift Voucher Example
Hotel Etiquette for Guests
Yes, you are a paying customer but that does not mean you can just do whatever you want once you check in the hotel. Remember that other clients checked in the hotel have also paid for there experience. Therefore, you need behave how you are expected to behave once you are in the hotel. To remind you of you and your family or friends should act once in the hotel, here is a short guide of the proper etiquette you should conduct yourself as hotel guests:
1. Hotel reservation
It is best to have your hotel reservation in advance, maybe 2-3 weeks prior to your trip. It is always better, not only for your but also to the hotel, to have your booking in advance. Waiting for the last minute to book your hotel run the risk of having fully booked hotel rooms, not having the accommodation you prefer, or being put on the waiting list. In addition, you should also call in to make sure you are in the roster and print out your confirmation receipt the day before your scheduled arrival.
2. Travelling with pets
If you have a pet with you during your trip, you should let the receptionist know in advance. Better yet, you should research and ask in advance if the hotel you are about to stay in will allow you to bring in a pet. It is necessary to ask or inform the hotel in advance so you will not have to change plans last minute or you will not have to pay extra once you arrive on the hotel. In addition to that, when you inform the hotel about your pet, they may give you recommendations on what hotels can accommodate you with your pet.
3. Upon arrival
Upon your arrival, you must have you confirmation number ready and present it at the receptionist. Once at the hotel, directly go to the receptionist and present your confirmation information as well as the names and other necessary information of the people who will be staying in the room/s. In addition to that, you have to prepare your self for some tipping all throughout your stay. Here is a list of people you should tip:
Parking valet – on drop-off and pick-up of your vehicle
Doorman – on arrival and departure
Porter – after bags have been picked up
Concierge – at the end of the hotel stay
Restaurant servers – on the table or credit card bill
Cleaning staff – on the desk or dresser in a visible location each morning
4. In the room
Although you have paid to stay in the hotel, you have to properly handle all things inside the room with care. If you notice some things are broke, it is best to inform the receptionist/front desk right away. Know that you are now the only person on the floor; be a good neighbor and keep the noise to a minimum. Lastly, although it is common for guests to bring toiletries home, be sure to not take with you any reusable items such as bathrobes, towels, dishes, glasses, mugs, coffee pots, and other objects that you are meant to use only in the room. Remember that anything you take with you can be billed on you on check out.
5. Housekeeping
Be respectful of whoever cleans your room for you. In fact, it is always better to at least tidy up a little bit before you leave the room. Remember that you are not the only room they are about to clean, do not slow them down instead help them do their job more efficiently. Moreover, do not answer the doom when you are not full dressed. Make their jobs as easy as you can.
6. Other areas and facilities
Just like in your room, you need to be aware of your surroundings. Be quiet as you move from one place to another; other guests also want their peace and quiet so you should respect them. Be respectful of others during elevators rides; wait for others to get in or off the elevator before closing the doors. Don't allow your children to play with the buttons on the elevator. Basically, read the hotel rules before using any of their facilities to avoid causing trouble.
7. Checkout
Before you check out, ask for your checkout information or bill before the time you are expected to leave. Once you have your bill, go over it and make sure the bill to make sure your charges are accurate. Furthermore, see to it that you leave your room as tidy as you can; make sure you do not leave any thing you have brought with you. If there are no more issues, all you need to do is leave your key in the room when it is time to depart. If there is an issue, politely call the front desk to clarify and resolve the issue.
Unique Hotel Gift Voucher Example
Inclusive Hotel Voucher Example
Simple Hotel Voucher Example
Multipurpose Hotel Voucher Example
We hope you have learned valuable information about possible hotel stays for your staycation or vacation with the help of the discussions in this article.