There's nothing worse than losing your luggage after an excruciatingly long flight. The chances your luggage was stolen are there, but it's also possible that the airline must have lost it or that someone could have mistaken it for their own. To avoid instances like these, using a luggage label is highly advisable.
Luggage labels are a lot similar to ID cards. But for the label to be effective, it must be crafted correctly.
Elements of a Luggage Label
Labels of any kind are often made attractive and compelling thanks to the medium's main design elements. Listed below are the major elements that every luggage label should have:
1. Contact Information: The airline makes an unfortunate mistake that brings your luggage to a place that's 500 miles from where it's destined to be. Nobody claims the luggage so personnel have to trace who the owner is and where it should be delivered. But how can they do this without the owner's contact information? This is the most important part of the label that should never be forgotten.
2. Readability: Font choice can greatly affect the readability of your text. If your name, address, and contact number are hard to read, whoever has your luggage at the moment may have a hard time finding you. A standard font style like Times New Roman or Arial might seem a bit boring to you but if it fulfills your purpose, then function wins against aesthetic for this round.
3. Graphics: Unlike bottle labels, graphics aren't exactly a huge deal when it comes to luggage labels. However, you can still benefit from this element to help enhance the look of the material. You can choose an abstract design to match the appearance of your luggage, or a colorful, vibrant design to make it more visible from a distance.
4. Material: Given the conditions your luggage will likely go through as you travel, it's important to print the label on a durable material. The design must fit the material to maintain its readability, along with a finish that will make the label last for a very long time.
5. Size: The size of the label would depend on the amount of information you wish to put. Large labels usually carry a lot of personal details about the owner, while a separate front and back label can carry text elements on one side and purely graphics on the other.
10+ Luggage Label Templates
Luggage Label Template
Template Details
Available File Formats
&nbsp
&nbsp
&nbsp
&nbsp
&nbsp
Luggage Name Tag Label
Template Details
Available File Formats
&nbsp
&nbsp
&nbsp
&nbsp
&nbsp
Size: 2.13 × 4 inches
Luggage Tag Label
Template Details
Available File Formats
&nbsp
&nbsp
&nbsp
&nbsp
&nbsp
Size: 2.13 × 4 inches
Wedding Luggage Tag Label
Template Details
Available File Formats
&nbsp
&nbsp
&nbsp
&nbsp
&nbsp
Size: 2.13 × 4 inches
Tropical Leaf Luggage Label
Monogram Luggage Tag Label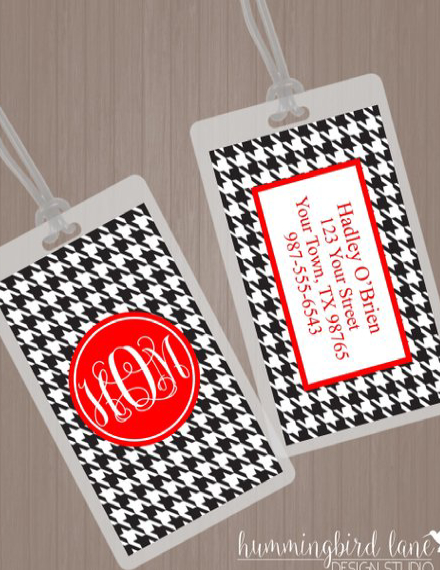 Personalized Luggage Label
Pink Pattern Luggage Label
Luggage Label for Kids
Kids Luggage Label
10+ Luggage Label Examples
Airmail and Passenger Service Luggage Label
American Airlines Luggage Label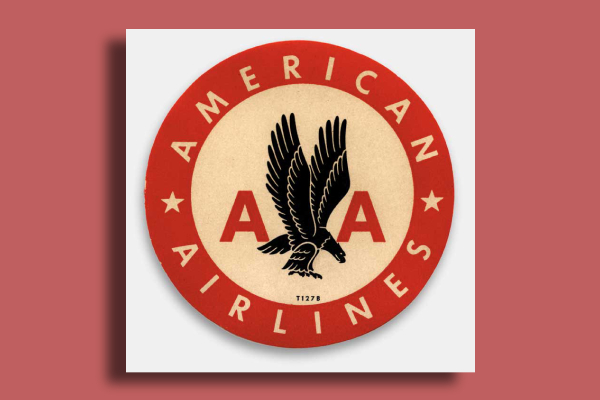 Hotel Korcula Luggage Label
Hotel Metropole Luggage Label
Hotel Pension Luggage Label

Hotel Travel Luggage Label
Palace Hotel Helipolis Luggage Label
Pan America Airline Luggage Label

Trieste Italy Luggage Label
Vintage Delta Airlines Luggage Label
How to Design a Luggage Label
Some things are just easier to do on your own. If you don't want to spend the next hour or so shopping for a seemingly overpriced luggage label at your local mall, why not create and print your own version of the luggage label to suit your personal and business travels?
1. From Scratch
Think of it as a business card. This type of labels carry important information that you can print and affix to your luggage whenever necessary. Feel free to design the label yourself by following the steps below.
Open Microsoft Word: Once you launch the application, a blank document will automatically appear. You can save the document in advance or do it after you have finished the design.
Format your label: Click on Page Layout > Size > More Paper Sizes to enter the size for the label.
Design your layout: Get creative with your luggage label by playing around with various text and photo elements to complete the design. Be sure to leave enough space for the owner's personal details, which may be written after the label has been printed.
Add the necessary information: If you're creating the label for your company or client, you might want to leave a space or line blank for the traveler's name. Other than that, you can include your company's information and logo design by utilizing the text and image tools available in Word.
2. Using a Template in Word
If you don't have the time nor the skills to make a luggage label from scratch, you can always rely on label templates to do most of the work for you.
Open Microsoft Word: Launch the software on your computer and open a new work space by clicking File > New.
Select a template: To locate these templates, type the word label, address label, or luggage into the Search bar of the application. This will open a gallery of templates that you can browse through to find a template that best suits your aesthetic.
Download the template: Once you have found something you like, select it and click the Download button to import the file into Word.
Edit your content: You can personalize your luggage label by double-clicking on any element of the material and then changing it to your personal or company information. This is the most crucial step of the process, as empty fields and general template details (like John or Jane Doe) may defeat the whole purpose of the label in the first place.
Tips to Create an Eye-Catching Luggage Label
There are no hard and fast rules to follow when it comes to creating a good luggage label. However, most of us could easily recognize a personal item if its label is appealing enough to catch our attention. That being said, here are a few tips for designing a captivating luggage label:
Use legible fonts: A maximum of two font styles would be most appropriate. You don't want to make it hard for people to read what your label has to say, as they could mistaken it for something else. Proper spacing between words and letters should also be observed to maintain readability.
Choose a noticeable color or pattern: To make your luggage a lot easier to locate, it's important to make the label visible from a distance. You can easily spot a vibrant label, especially when you use a contrasting color to that of your luggage. You can also use distinct patterns or graphics that only you, and probably a few other people, can recognize from afar.
Keep it durable: The material you choose for your label is crucial to its survival. You'd want to use something that can last for a very long time; otherwise, you'd be forced to change your luggage label every time you travel. A gloss finish would be a good option, or you could have the label laminated like a card to prolong its lifespan.
Include important information: Put your first name (or initial) and last name in the label. Your email address and phone number would also be necessary for easy tracking. If you're worried about providing personal information in the address label, especially your home address, you can specify your office address instead for security purposes. Alternative contacts may also be used if you feel the need to do so.
Types of Luggage Labels
As crazy as it sounds, labels can be pretty unique for its kind. They come in different colors, shapes, and sizes, but still serve a similar function. Here are four common types of luggage labels you're likely to encounter:
1. Dry Peel Labels: These are the type of labels that you could easily peel away and remove from your luggage. It uses a temporary adhesive that doesn't leave any residue behind when peeled off carefully. You can position the label on top of the bag or on its handle to keep it visible even from a fair distance.
2. Fold-Out Labels: Most common among creatively designed luggage labels, these labels fold out to provide extra room for your content. That way, you can jot down additional information about the luggage owner's identity, such as one's office details and e-mail address, to make it easier for airline personnel to identify and return your luggage safely.
3. Specialty Die-Cut Labels: If you're looking for a fashionable yet functional luggage label, then this might be the print material for you. They are often made to add uniqueness to your label, whether it's for branding or other aesthetic purposes.
4. Laminated Tag Label: Think of it as a name tag. Although they're more of a tag than the kind of labels you've grown accustomed to, if it's worth anything, laminated labels are often printed in a similar way as an average label. It even uses a thicker board stock that can be laminated to protect the material.
Luggage Label FAQs
How can I make a luggage label?
There are two ways to make a label: you either create one from scratch or use a ready-made template instead. This would depend on the amount of time you have to work on it, along with the level of trust you have for yourself to craft one. But if you decide to create the label without the guidance of a template, you can always refer to a few luggage label examples for inspiration.
What is the purpose of a luggage label?
If you're a frequent traveler, you probably know how labels can be a lifesaver for your belongings. A labeled luggage can easily be identified if lost or stolen. It's common to miss or mistaken an item from the carousel at the airport or station, considering how many suitcases share a similar design. But with a luggage label, spotting your personal items from the crowd will be as easy as pie.
Why is a luggage label important?
After the loaders toss around your bags and place them in compartments filled with pieces of luggage and other packages, there's a huge chance those flimsy luggage labels provided by the airline won't survive the flight. The last thing you would want to do is to get into an argument with airline staff over a missing luggage. Thus, you might as well save yourself from the hassle with the help of a label.
Avoid losing personal belongings and office equipment during your travels by marking these items with a good luggage label. So the next time you find yourself in need of a luggage label, remember to keep these tips, examples, and templates in mind!