Gifts, clothes, luggage, etc. should have an attachment that tells you who it belongs to or other important information. In this case, a tag is an obvious yet non-obnoxious document that you can attach to an object to indicate ownership, price, or any other important information that a person should know. In this article, you will learn how to easily make a tag along with the tag templates that you can download.
How to Make a Tag
Here is a short and easy guide you can follow to make a creative and effective tag:
1. Determine appropriate shape and size
In most cases, a tag usually uses a rectangular shape; however, it can be of different shapes depending on your preference. For example, a gift tag can be circular or in a square shape. On the other hand, tags on clothes are normally in a rectangular or square shape. The size of the tag should be appropriate or proportionate to the item it will be attached to so that it can be easily visible.
2. Indicate all the necessary details
Since a tag can be used for any purpose, it is important to provide details that indicate what it will be used for. Thus, a thank-you tag should have the words thank you on it so that the receiver or reader can immediately understand its purpose. On the other hand, a price tag should have the name of the brand, item number, barcode, price, etc. on the tag.
3. Insert appropriate images or illustrations
If a logo or other illustrations are needed to tie everything together, make sure that you use a high-quality image. If there is a theme that should be followed—for example, a wedding invitation tag—it should have illustrations or images that relate to the event and theme to make everything consistent and clear.
4. Organize all elements
If you have incorporated all the essential texts and design elements, make sure that they are all arranged and organized accordingly. Make sure that there is enough white space to achieve a neat and clean final appearance. To build a structured layout, lines can be used to separate words and design elements.
Tag Templates and Examples
1. Restaurant Label Tag
Although a restaurant has a menu that lists all the products they have available along with the corresponding price, using a tag on special offers that are not on the menu is an effective alternative. This restaurant label tag template can be attached to any items for sale in a restaurant to ensure its product name, brand, price, etc. can be easily visible to the customer.
2. Round Thank-You Tag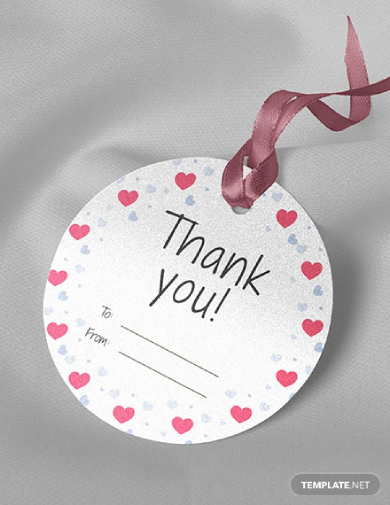 To express your gratitude to friends and family during special events, you can use this round thank-you tag template. This template is easily editable and can be customized to fit any occasion you might use it for. You can also edit its flexible layout so that it can include elements or components that you like. This is free for download in Adobe Illustrator and Photoshop, MS Word and Publisher, and Apple Pages format.
3. Christmas Gift Tag
Giving gifts is one way of sharing the spirit of Christmas to your family and friends. And to make sure which gift belongs to whom, a tag should be attached. If you are looking for the perfect Christmas gift tag, we have the perfect template for you! You can download this template for free and edit it to incorporate designs, details, etc. that you prefer.
4. Limited Offer Sale Tag
As a business, you want to entice potential customers with what you have to offer. One way of the best strategy in encouraging customers is through sales. Indicating that items are on sale will surely generate higher revenue. With that said, a good sale tag should include the percentage of the sale as well as the sale price of an item. You can download this sale tag template and use its high-quality layout and design to your advantage.
5. Luggage Name Tag
You need to make sure that your luggage doesn't get lost or mixed up with somebody else's when you travel. You need to indicate ownership to your luggage so that you can easily identify it. Attaching a luggage tag is a good and cost-effective way to do it. Although you can purchase one is stores, you can also personalize your luggage tag with the use of this downloadable and editable template.
6. Floral Wedding Tag
Traditional wedding invitations have a certain amount of pages for certain elements. However, if you are looking for a way to be unique and cost-effective at the same time, you should look beyond the normal. In this case, using a tag as an invitation or label for party favors is a good option. This downloadable floral wedding tag template is the perfect one to use since you have the freedom to edit and customize it to suit your theme and preference.
As a start-up fashion brand, you need to make sure that all the materials and tools used in your business are consistent with your brand identity—from marketing posters down to the receipt. If you are looking for the perfect product tag, we have one that you can download for free! This template is simple and easy to edit to make sure your brand identity is incorporated flawlessly.
8. Modern Name Tag
As simple as a name tag can be at first, it can help in establishing your name and brand. Just like a business card ensures that identifying factors such as your name, position or specialty, contact information, etc. are presented clearly. Should you be in the market looking for a modernly designed name tag, you're in the right place! This template features high-quality designs, flexible layout, and original artworks that you can use for free.
9. Birthday Gift Tag
Giving gifts is a good way to make someone feel special, but personalizing or giving something that you made on your own is more special. This birthday gift tag template is downloadable and editable to make sure you incorporate your own style and design preferences.
10. Boise State University Name Tag
Universities have standards when it comes to their materials; hence, you can see how this name tag follows the standard university layout. In this example, you can see how the design is minimalistic and how clear the layout is. When making a name tag it is important to maintain simplicity and focus on readability instead of aesthetics.
11. RIT Thank a Giver Tag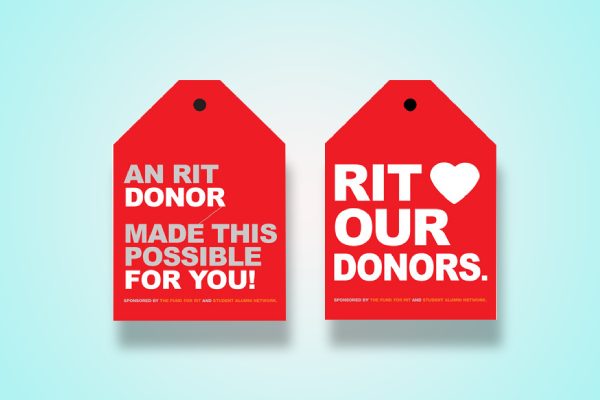 This example of a tag was used to express gratitude to donors who have helped students of this university. The design and layout are very simple and straightforward. It has greatly achieved its priority to express gratitude since no unnecessary designs and illustrations are used.