Aside from the usual informational and marketing tools, what are other possible materials that you can use to promote you or your business to potential clients? A press kit, also known as a a media kit, is a document containing relevant information about you, your business, product, or event. The point of a media kit is to entice clients or journalists to make an exciting piece to promote you and your brand; in another point of view, it is also used by companies to determine if you have a wide audience reach to promote their products or services.
1. Blog Media Kit
In this day and age, a well-made blog can generate decent revenue. There should be an effort to establish a partnership with brands and companies to ensure there is revenue with blogging. You can use this blog media kit template to present information about you, your blog, and statistics regarding your audience reach. This template is customizable to ensure that your own brand is heavily incorporated.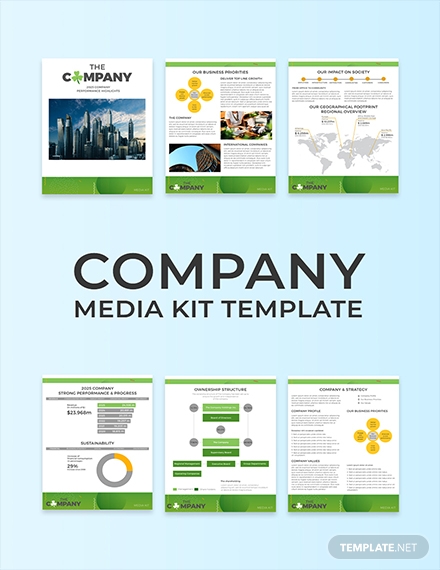 Creative companies need bigger companies to employ them for projects in order to thrive throughout the years. And since you label yourself as a creative company, the materials you used to represent you must embody that. To help you get a head start in promoting your company, you can use this creative company media kit template. Download and make use of the original artworks, high-quality design and layout, and unique fonts.
Since companies invest in digital marketing, the number of companies specializing in digital marketing has significantly gone up. In that sense, you need to step with your best foot forward and using this digital marketing media kit is the perfect way to do so. This template will allow you to emphasize your accomplishments as a company that will surely impress potential clients.
4. Travel Blog Media Kit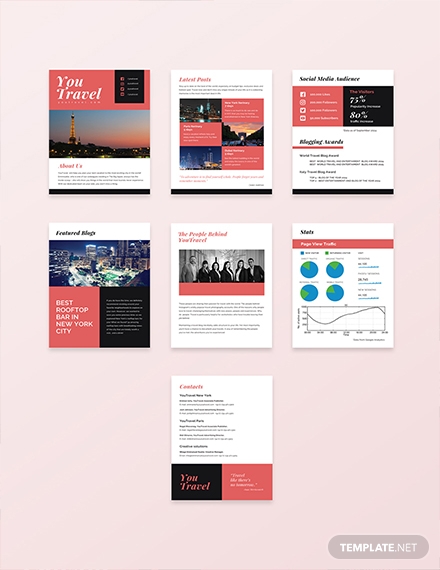 Travel agencies and other companies collaborate with travel bloggers to promote what they have to offer. If you are interested in offering your blogging services to an interested company, you should be able to give them facts and data that will make you a qualified candidate. You can present such data along with other relevant information about your travel blog with the use of this travel blog media kit template.
Fashion will always be a booming industry, and it is common for brands, even high-end brands, to establish a partnership with influencers to help promote and create traffic for their brand. As a fashion influencer aiming to snatch that good deal with a good brand, you need to present what makes you unique from other influencers. To present your data and information in a stylish manner make use of this high-quality fashion influencer media kit template.
There is competition in any industry and as a company that wants to continue to thrive, it is important to find effective ways to stand out. Using a product media kit to clearly provide relevant information about the products you produce will help encourage writers, advertisers, bloggers, or influencers to promote them to their readers or followers. Download this template for free and customize to suit your brand.
Events need effective PR to encourage people to join. This means that when organizing an event you need to partner up with people that can help you promote your event to the audience. You can use this event media kit template to provide information about you and the event you're organizing. This will help writers or promoters in providing accurate information should they be tasked to help in promoting it.
Since a lot of people are on social media, it has become the most effective place to promote a company's products or services. That is also the reason people have striven hard to establish a good following so that companies would be encouraged to collaborate with them. Should you be one of those people, here is a social media kit template where you can provide information about you and data about your followers and content reach and engagement.
If you are a company specializing in magazine advertising, this is the perfect media kit for you. This all-purpose magazine media kit template will help you promote the services of products that you offer. Since it outlines and presents the important details, you will easily capture the attention of a potential client.
Franchise businesses need to double up their effort in promotion to ensure stable revenue growth. If you are looking for a tool to use to promote your franchise business, you can instantly use this high-quality media kit that features a well-structured design, clear layout, and original artworks.
Promote and amp up your audience reach with this media kit specifically tailored for food and drink business. This template offers a clear layout and high-quality design, original artworks, and unique fonts are also featured. You can easily customize this template to fit your business aesthetics and preference.
Even famous hotels still need to find ways to better promote their establishment. Doing so ensures that new partnerships and sponsorships can be established. In this template, the design sticks with a basic look. This ensures that a good visual representation and important details are provided clearly. Download and use this template for free; should you need, you can easily edit this in Adobe Illustrator and Photoshop, MS Word and Publisher, and Apple Pages.
13. City Mom Blog Media Kit
In this media kit, you can see how each element is separated to make sure there is a clear emphasis. You can take inspiration with how the media kit is designed and layout. Its simple and clean overall appearance makes it easier for the clients to easily comb through and look for the important details.
14. Cooking Blog Media Kit
Since this is for a food blog, this media kit uses high-quality images and emphasizes the blogger's background to establish credibility. She has also included previous successful partnerships which will surely ensure future clients about the quality of her work.
Instagram models have become a prevalent term used for influencers that specialize in Instagram content and marketing. In this media kit, you can see how the influencer emphasizes his statistics relating to her Instagram following, engagement, reach, and other relevant details.
16. Chic Blogger Media Kit
Bloggers that specialize in fashion and lifestyle need to produce a chic media kit where they can provide information to impress potential sponsors and clients. In this example, you can see how the blogger has neatly categorized each important aspect that a client needs to know.