When a business wants to publicize the products and services through press releases, social media posts, etc. there should be a comprehensive document that puts into details the features, advantages, benefits, etc. with what they have to offer. A media kit, also known as a press kit, is a document that contains relevant and interesting facts about the business, products, services, and even events. It is basically a one-stop shop for all the information that a journalist, blogger, or influencer will need to write up or post.
Entice clients with a well-written online post or article about your business by providing the journalist or blogger with a complete and detailed media kit. All the details regarding what you have to offer to the public and what makes you unique from all your competitors should be included. To help you get a good head start with this, you can download this online media kit template for free.
2. Travel Blog Media Kit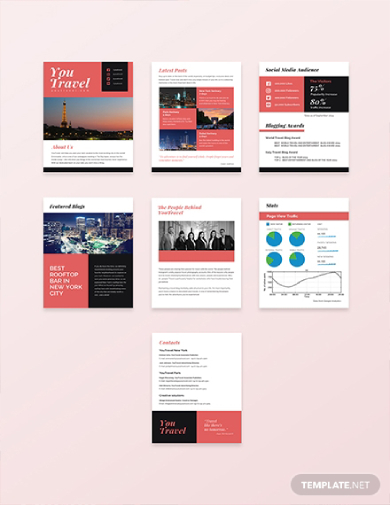 As a blogger focusing on traveling certain parts of the world, a business can only be interested in creating a partnership with you if you produce high results. Thus, it is important that your media kit contains data about your audience reach and engagement to let businesses know that you are a good investment for them. You can create a travel blog media kit starting with this template that you can download and easily edit.
Like a product catalog that provides details about the specific products that you offer, your media kit, when releasing new products, should be complete and comprehensive. It should provide answers to the 5 Ws and 1 H questions that people you partner with may have; it should present information from the packaging down to the facts of the product itself. You can use this template either as an inspiration or outline for your own product media kit.
4. Blogger Media Kit
The number of followers, audience reach, and audience engagement are just a few things that businesses will want to know before they start a collaboration or partnership with a blogger. If you are planning to use your blog as your primary source of income, you will need to have a media kit that presents what makes you the better choice from all the others. Edit this blogger media kit template to incorporate your brand flawlessly and partners will soon come flooding.
Blogger or influencers, as well as businesses, will want to know about specific details about your hotel before they consider partnering with you. Having a media kit that showcases your high-quality services, world-class facilities, and practical deals and promos will help influencers and businesses become interested and encouraged to establish an income-generating partnership that can benefit both parties.
As much as you think you can survive through your own marketing or promotional efforts, you will need help from other establishments, writers, or influencers to reach to a wider audience. If you want to start a partnership with other influential people, you should have a detailed media kit that will provide all the important details about your business. If you are looking for a template you can easily edit, you can download this restaurant business media kit template for free.
As a small business just starting to climb up the ladder of success, you need to establish positive and giving relationships with possible external partners. But before you can do that, you need to provide them with sufficient background information about you so that they know what your mission is and what you have to offer. You can easily do that with the help of a business media kit, you can download this template and edit this to suit your brand.
Regardless of the type of industry you belong to, you will need to have partners outside your immediate circle to help market and promote your products and services. Having a document that immediately communicates the advantages and benefits that your company has to offer will help people understand what you're trying to do to help solve existing problems in the market. With that, you can download this company media kit that you can easily edit and use.
Investing in partnerships that focus on social media advertising will surely increase your audience reach and engagement. However, before you start choosing third-party companies and/or bloggers or influencers to partner and collaborate with, you should have a comprehensive media kit that is specifically tailored to social media standards. You can download this social media kit to serve as your guide or outline should you start making one for your own business.
A newspaper is used by business as the medium to promote certain products and services, but newspapers or any type of publication will also need to be promoted to acquire more partnerships and collaborations. That's why in this city paper media kit example you can see how it has provided information and images of the published covers to help encourage other businesses to start a creative partnership or collaboration with them.
As a magazine focusing on home interiors and lifestyle, you should have a media kit that provides a complete informational background about what you do and what you have to offer. This means that data about your subscriptions and audience reach should be provided to help potential partners know of your capabilities as a marketing tool. You can use this home magazine media kit example as a guide or inspiration when you start to make one for your own.