Imagine if you can watch a movie at the theater without the use of a ticket. While it might seem like a great thought to ponder on, the absence of a ticketing system can put the safety of moviegoers and the operations of the business at risk. With that said, here are some of the best movie ticket templates and examples to inspire you.
Best Movie Ticket Examples & Templates
1. Simple Movie Ticket Template
2. Blank Movie Ticket Template
3. Classic Movie Ticket Template
4. Elegant Movie Ticket Template
5. Movie Night Ticket Invitation
Hosting a movie night for all of your friends? It's even more fun if you use a ticket invitation to send your invites! Using a ticket invitation to gather your friends for a movie night at your place is a creative way of encouraging people to go. You can even use the movie ticket for screening a compilation of old family videos during annual gatherings with relatives.
6. Movie Ticket Invitation
Not all tickets are the size of the palm of your hand. Some ticket invitations, for instance, have the same dimensions as that of an invitation card. Anyone who owns a copy of the ticket invitation may be granted entry to the venue and is entitled to enjoy the services offered exclusively to guests. Parties organized for special movie screenings often use these tickets to make sure that only those whose presence is required can get the chance to see the film right then and there.
7. Movie Ticket Template
Tickets take time and effort to make. If you need a movie ticket for a film screening at your school theater or town hall, it's a good idea to use a basic movie ticket template for you to produce clear and consistent tickets in bulk. The ticket must carry general information regarding the event, including the name, date, time, and venue of the screening.
8. Movie Ticket Voucher
A lot of companies and businesses give away movie ticket vouchers to employees and customers as a token of their appreciation. The voucher entitles the holder to a discount or freebie, depending on the goods or services accounted for by the piece of paper. If you're thinking about using this strategy as a means of promoting your brand, feel free to use the template above as your basis.
9. Raffle Movie Ticket
Some tickets are designed to double as a raffle ticket. These are made for events that have special giveaways and contests that attendees can take part in as long as they have a ticket to secure their attendance. Due to its purpose, the ticket must consist of a unique identifier that organizers can use for tracking and guaranteeing the authenticity of the movie ticket.
10. Vintage Movie Ticket Invitation
A vintage look for your movie ticket invitation is sure to draw the attention needed to market your event. You can even use this ticket design for celebrating birthdays, anniversaries, and company functions. This will give your event a nostalgic feel that guests are sure to remember.
11. Wedding Invitation Movie Ticket
As cliché as it sounds, weddings mark the beginning of a couple's happily ever after. It's the end we hope to see in every romance movie and the picture that every hopeless romantic has painted in their head. As a way of bringing this concept to life, you can use a movie ticket as the theme of your wedding invitation. A simple yet elegant design will catch the eye of each guest and help make your wedding a day worth remembering.
12. Wedding Movie Ticket Template
13. Date Night Movie Ticket Template
14. Cartoon Movie Ticket Template
15. Christmas Movie Ticket Template
16. Vintage Movie Ticket Template
17. Old Time Movie Ticket Template
18. Save The Date Movie Ticket Template
19. Old School Movie Ticket Template
20. Movie Theater Ticket Template
21. Best Movie Ticket Template
If you're looking for a design that will give you that old-fashioned movie ticket vibes, this template is the perfect option. Simply edit the content of the ticket and replace it with your own copy for a more personalized approach.
22. Simple Movie Ticket
Use a simple movie ticket to deliver key details about your event in style. Anyone who's in a rush or would want to make some last-minute design changes to their ticket can utilize the template provided to hasten the process.
23. Vintage Movie Ticket
To cut down on printing costs, consider choosing a vintage theme for the design of your movie ticket. It's a cool way to make your ticket seem stylish and chic, while also saving a few bucks in the process. You can use this ticket for special film releases at your local cinema or community center.
24. Wedding Invitation Movie Ticket
Bring the romantic fantasies you've read about as a child to a reality with the help of these wedding invitation tickets. Celebrating your big day surrounded by family and friends can only be achieved if you can manage to gather everyone in one venue at the same time. A movie ticket design might seem like a cheesy concept, but it's sure to captivate your audience with its classy appearance.
25. Movie Admission Ticket
One of the main purposes of a movie ticket is to allow a holder entry to the theater or cinema. Admission tickets are essential for the business to earn a profit and to make sure that the safety and security of customers are prioritized. If you need a ticket for effective management, you can use this template as an efficient option.
26. Movie Night Ticket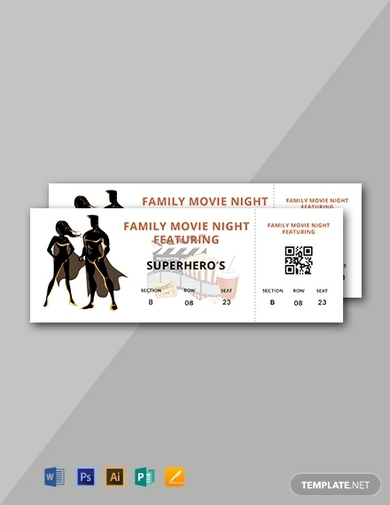 Hosting a movie night for members of your community is all the more fun with an event ticket to promote and manage your event. It can be designed like any other ticket, even if you don't plan to sell it for a particular price.
27. College Movie Ticket
Shown above is an example of a movie ticket designed by university students to promote their film. Although the ticket clearly states that admission is free, using a ticket will help assess the number of attendees present during the screening.
28. Movie Screening Ticket
Some institutions like to hold film showing events as a recreational activity for students. The film may depict morals, values, and other learnings that are essential to a student's growth and development. To invite people to these events, you can use a movie ticket as promotional material, similar to the example above.