If a potential customer asks, "How much are your goods?" what would you do? Would you ask him or her to specify the goods that he or she is looking for? Would you enumerate all your available goods as well as the prices? Or would you rather give him or her a complete and detailed list of your goods? In this case, it is better to choose the latter. Providing a list of the goods you are selling through a catalog can be very convenient for you as well as for the one inquiring. You do not need to verbally enumerate all the details regarding your products as the catalog will do it for you. On the part of the customer, it would give him the time to scrutinize the details, compare the goods with the others, as well as take a look over and over again to check and finalize whether he or she will purchase or not. Hence, in every business company, a catalog is a must, whether you are selling large or small volume of goods.
What are you waiting for? Create your business catalog now, and choose from the designs and examples displayed below.
Multipurpose Pro Business Catalog Template Example
Corporate Pro Business Catalog Brochure Example
Digital Product Pro Business Catalog Example
Pro Business Project Proposal Catalog Example
Fashion Photography Pro Business Catalog Example
Top Tips in Creating an Effective Catalog for Marketing
Catalogs are widely used by entities not just to keep a list of the products and services offered by the entity but also to market the products and services available through the incorporation of branding, building awareness to people for the brand of the company.
However, not all catalogs are effective. Certainly, there are those catalogs that do not really appeal to the people. What went wrong? What might be the edge of the successful catalogs over those catalogs that are easily put down by people even without thorough reading?
Through the tips explained below, you will know and understand how to market your catalogs for it to be an effective marketing material. These are as follows:
Keep Your Branding
The first thing that you must do is to keep your branding not only in your catalog but also in all your marketing materials. It is important that you incorporate consistent branding throughout your marketing tools. This is in order to build brand awareness to people and to help them be familiarized with your products and services.
Familiarity is important in boosting your brand because people will tend to trust more on those brands that they are familiar with over those that did not ring a bell. Hence, if you want people to trust in your company, make sure that you let them know who you are through your consistent branding. In effect, when people see your logo, the color associated with your company, your mascot, and any other branding, they can immediately recognize you.
RW Pro Business Catalog Example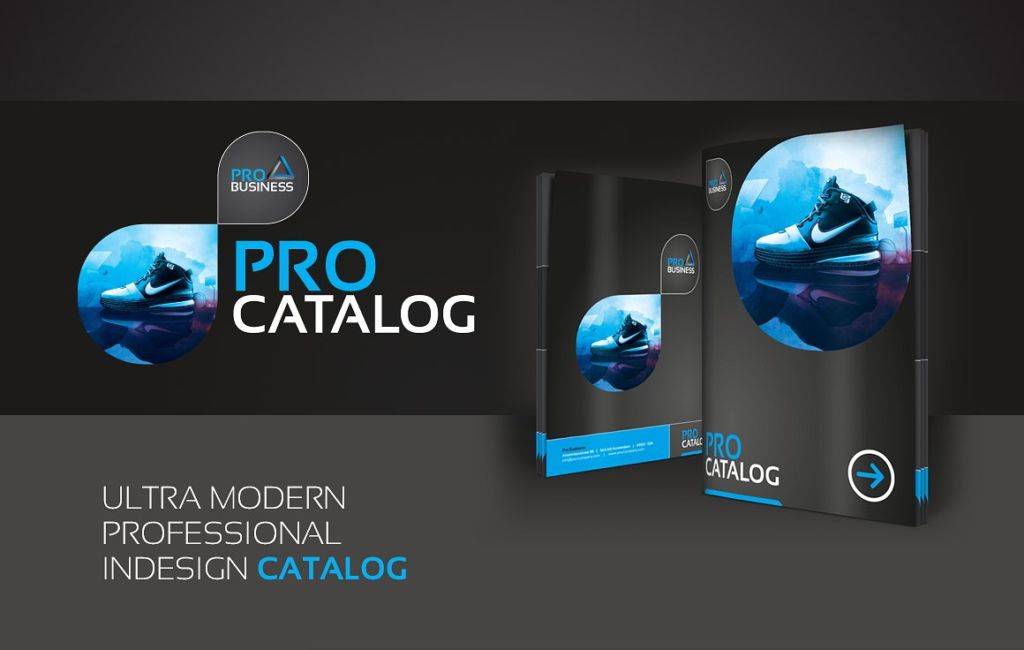 Multipurpose Modern Pro Business Catalog Example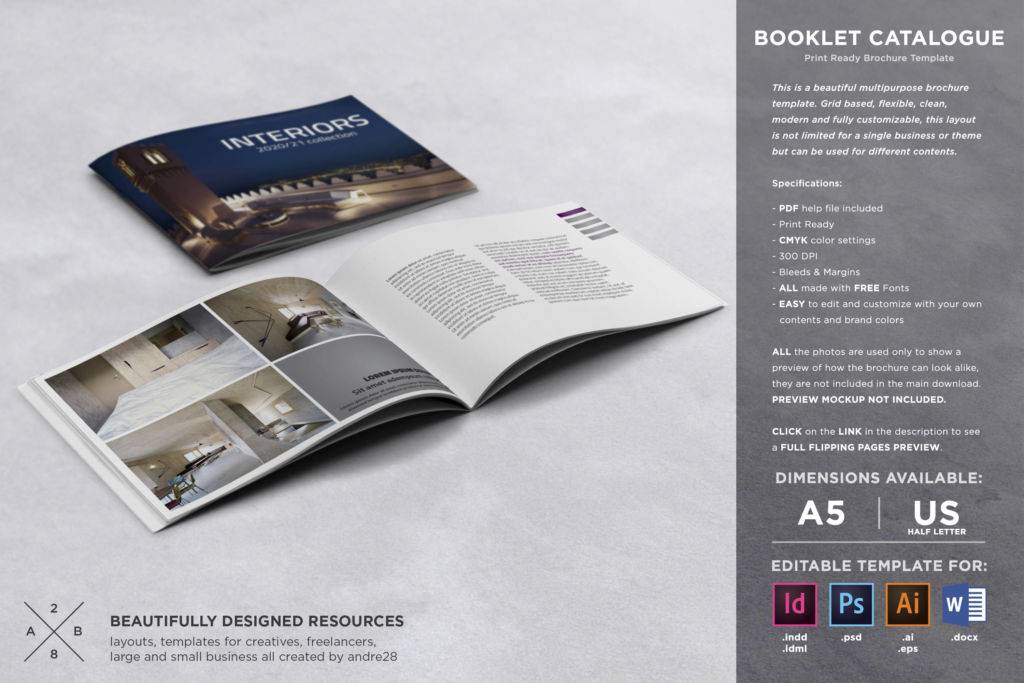 Interior Design Pro Business Catalog Example
Work on Your Design
Another thing that you must not take for granted is your design. Although you might be thinking that content is more important, set your mind to also work on the design of your catalog. Designs are among the important factors to make appeal to your audience.
It has been said that they create a first impression of your catalog. The audience's decision to open and read your catalog is driven and highly depends on the design of your catalog, especially the cover. Hence, work on the cover and make it something that is aesthetically appealing and also conveying its contents.
Lastly, no matter how large the information that you want to include in your catalog is, make sure to have a white space, a negative space where you leave blank so that your catalog will not appear cluttered and overstuffed.
Make Your Catalog Educational and Entertaining
While the main purpose of your catalog is to list all the available goods and services that your company is offering, including only those information can be boring for the readers, and they might end up not turning another page of your catalog. In order to break the monotony, make your catalog not only educational but also entertaining.
The use of the catalog must be able to find all the necessary relevant information that he or she is seeking along with the fun facts and other perks that you keep your catalog easy to read.
Choose High-Quality Photos
Photos are another thing that would appeal to the readers. Choosing the right and relevant photography is crucial for the design of your catalog. The best catalogs in the world are highly visual which allows the reader to breeze through the pages with minimal effort. Although text is necessary, do not overstuff your page with a text as people do not really want to read long lines of stumbling texts when they just want to scan through your items for sale.
Depending on the type of industry that you are into, include photos that are related to that industry. It can be your actual products and services offered, and it can be any other photos that have a great connection to your products and services.
Lastly, make sure that you photos are high quality and are not pixelated to have the maximum appeal to your audience.
Product Business Catalog Example
Minimalist Pro Business Catalog Example
Editable Product Pro Business Catalog Example
Make Ordering Easy
If you want to increase the chance of people to make an order, make the process and way of your ordering easy. If you are providing your telephone number, it is ideal that your number is memorable and can be easily memorized, for example 888-8888. On the other hand, if you are providing your email, make sure that the email is active in responding to inquiries, concerns, feedback, and of course, orders. You must also include order forms when you are handing out catalogs because, most of the time, people prefer to fill out the order form while they are looking through and searching items in your catalogs so they can keep track of things. Do not forget to list and highlight ordering options on every page or spread.
Refresh Mail List
Most of the companies have compiled a list of the emails of their past, current, and potential clients as these are their target recipient for their mails regarding updates, sales, discounts, and other promotions. However, as time goes by, many of those email addresses have already been disregarded, deleted, or inactive. It might be an extra burden for you if you still send updates to those emails that are already not being used. Hence, make sure that you refresh your mail list from time to time, communicating only with those people who are still using their emails and who might be your loyal customers in the future. Sending updates is also letting the recipient know that you are still into business and that they can contact the company anytime when they need to buy something.
Include Promotions
A list of the products and services along with their prices can be monotonous and boring for your catalog. You need to include something that would spice up your offers and would engage people into buying your products and services. Commonly, company would include promotions in their catalogs to let the people know of the discounts and promos that they are offering. For example, you may offer free shipping, buy one get one, and certain percentage discounts.
So that people will take an immediate action in your promotions, you must create a sense of urgency, nudging them to act fast. Continuing the example above, you may offer free shipping for the first order or for only a day, buy one get one that would last for only a week, and 10% discount on the first 100 customers. These would surely alarm the customers which would prompt to move fast before it is too late.
X-Pro Business Catalog Example
Downloadable Portfolio Pro Business Catalog Example
Consider Niche Catalogs
You must also consider niche marketing for your catalogs as niche-targeted catalogs can help you reach and convert more customers. In order to get a grasp of your target market, you must segment your customers by type and buyer behavior to identify niches and verticals. Researching for underserved niches and test market can also help you know and understand more on your potential clients and their needs. Lastly, you may also consider identifying the list options for niches.
Consider Cross-Channel Marketing
Print a catalog, but make sure that you have a soft and online copy of that catalog. Why? Because people love both! The traditional printed catalog are preferred by some customers as they can easily be browsed, requiring no internet connection. On the other hand, many would prefer to have an online access on your catalog because it is convenient for them and they can easily search the items that they are looking for by typing the keywords. The internet is also considered as the preferred ordering mechanism since people can easily add their desired items to cart and proceed to payment section. The payment usually involves debit or credit card transaction, which is less hassle as they do not have to be physically paying for what they are purchasing. All they have to do now is to wait for their order to arrive.
Measure and Track Results
Lastly, catalog marketing is commonly utilized by many marketers and companies because one of its key benefits is the ability to measure results. You can easily track telephone, mail, and online orders the catalog mailing using simple codes. You can also easily measure the sales conversions and identify the catalog type, mail date, lists, and other relevant information. Furthermore, since we are now living in the digital era, there are many marketing automation software that can support measurement and reporting for the catalogs.
Pro Bifold Business Catalog Example
Technology Pro Business Catalog Example
Catalogs in Today's Society
Keep your branding, work on your design, make your catalog educational and entertaining, choose high-quality photos, make ordering easy, refresh mail list, include promotions, consider niche catalogs, consider cross-channel marketing, and measure and track results—these are the top tips when you want to have a successful marketing for your catalog.
It is undeniable that catalogs have been present in our marketing since ages ago, and it is indeed helpful not only in giving information to customers for the products and services offered by a certain entity but also in marketing and promoting the name of the company offering such goods and services.
As the trend in our digital market is constantly upgrading, catalogs, too, have consistently improved through time. The traditional paper and traditional catalogs have been replaced by digital catalogs which is easily more accessible and convenient for the customers. Through the different channels and sites on the internet, catalogs can easily be disseminated to the proper market. Hence, marketing nowadays has become more effective, efficient, and focused on its target clients. By properly utilizing the internet sites as well as the social media, marketers can immediately send their sales pitch without physical meet-up.
However, there are still many other people who prefer the traditional, tangible catalogs. Hence, in order to reach a wide range of market, it is recommended that you will launch online and offline catalogs for the benefit of those people wherever they may be and whatever their preferences are.
The next time you create a catalog, make sure that a hard and soft copy is ready for a variety of customers. Lastly, whether it may be online or offline, make sure that you did your best in creating your catalog, and the above examples can surely be of great help.