An employee memo is an example of a business memo which can be intended for a single employee, a specific company department or the entire workforce of a business. Employee memos are used to provide information from the management to the entities to whom the specified memorandums, like meeting memos, are created for.
Compared to a legal memorandum, an employee memo also presents facts and analysis necessary for the development of operations. We have curated employee memo examples and templates in this post so you can have references in making an employee memo suitable for the needs of the company where you are currently employed.
Simple Business Memo to Employees Template

Get It Now
Memo Word Template

Get It Now
Confidential Memo Template

Get It Now
Official Professional Memo

Get It Now
Business Memo Example Template

Get It Now
Printable Company Memo Template

Get It Now
Editable Professional Memo Template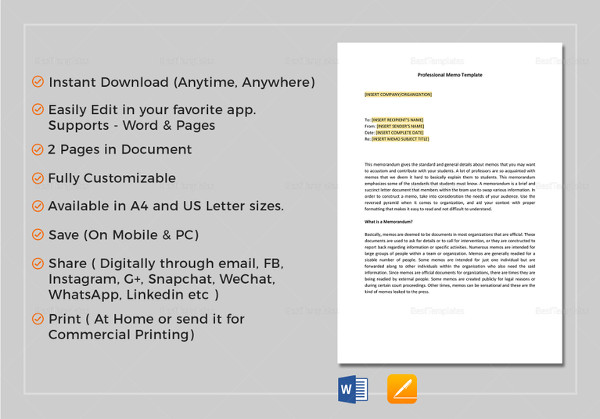 Get It Now
Meeting Memo Template in Google Docs

Get It Now
Staff Meeting Memo Template in iPages

Get It Now
Interoffice Memo Template

Get It Now
New Employee Memo
Employee Counselling Memo Example
Disciplinary Memo for Employee
Employee Meeting Memo Sample
What Is an Employee Memo?
There are different kinds of employee memos and a few of them are as follows:
A new employee memo is given to a new member of the organization to assure that he  / she is well aware of the regulations that he / she needs to follow. This memo examples used for the benefits of employees usually have predetermined training program and other scheduled activities.
An employee counseling memo is created to provide support to the workforce of the business in terms of their needs for emotional advice from the company's counselor.
A disciplinary memo for employee contains information about the disciplinary programs that an employee will be subjected into because of previous actions that is not aligned or forbidden with the rules and regulations of the business.
An employee meeting memo can be in a form of employee performance memo or office memo for employee. More so, it can also involve other discussions where specific employees are needed to be present.
How to Write an Employee Memo
Making an employee memo will be a lot easier by following these steps:
Use a readily made header that the company may use in every document to create the employee memo more professional.
Identify the purpose of the employee memo and place it as the subject or title of the document. May it be holiday memo examples or performance memo templates that you will make, it is essential that the employees know what the document is for.
List down the important information which should always be present in office memo examples which include:

The date that the memo has been created
The employees to whom the memo is for
The reason for the creation of the memo
The guidelines in implementing the memo content

Precisely list down the content of  the employee memo and compare the structure or format to other memo examples in Word to better assess the document that you will create.
Employee Performance Memo Sample
Promotion Memo for Employee
Employee Transfer Memo
What Is the Purpose of an Employee Memo?
An employee memo is created for the following purposes:
To announce a meeting date
To provide information about the operations or specific condition of the business
To share a printable checklist of the process that should be executed by a particular department
To make the employees aware of the activities or agendas in PDF of the company
To list down details which can also be found in HR memo examples like issues on performance, customer relations, and productivity
Guidelines in Writing an Employee Memo
A few guidelines that you may follow in writing an employee memo include the following:
In creating work memo examples, make sure that you are fully aware of how it can affect the operations of the business and the functionality of the workforce.
Browse through different memo examples in PDF to serve as your references in formatting your own employee memo.
Use a sample memo format and content structure that are relevant to the reason why you have created the memo for information specifications.
Always remember that an employee memo is a simple means of communication between the employer and its employees. Follow these guidelines to create an employee memo that truly works.