As an electrician, you'll need a system in place for charging your clients. After a hard day at work, you must be well compensated. Sending invoices and being paid for the job has never been simpler than with the electrician invoice template. You can build professional invoices for your services with only a few simple measures. Therefore, make use of the given templates and guide below to create an effective one:
10+ Electrical Invoice Examples
1. Electrical Contractor Invoice Template
2. Electrical Work Order Invoice Template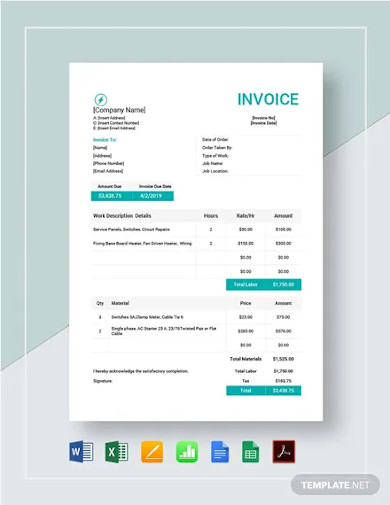 3. Electrical Service Order Invoice
4. Electrical Parts Order Invoice
5. Electrical Service Contract Invoice
6. Electrical Service Invoice Template
7. Electrical Equipment Invoice
8. Electrical Service Order Invoice in PDF
9. Electrical Invoice Example
10. Sample Electrical Invoice
11. Electrical Service Invoice Format
What's an Invoice?
An invoice is a bill sent from a company to a buyer, requesting payment for products or services. Invoices often provide a rundown of the goods you're paying for, as well as payment conditions and other information. Businesses tend to retain records on revenue and profits for tax and accounting purposes. Therefore, it is a vital aspect of record keeping. However, always remember that invoices are not the same as receipts.
How To Create Your Electrical Invoice?
What is the total number of invoices you send out every month? These numbers vary widely depending on the market in which your business exists, and they aren't always a reliable indicator of the company's growth. But if you are referring to an electrical invoice, here are steps to guarantee that your invoices are up to date and going in no time:
Step 1: Mark Your Invoice Clearly 
The first thing in creating your invoice is to put everything together. Use a word processor or Excel to make it easy. There are several sample templates on your word processor, depending on the program you are using. Also, use professional font and style that suit your brand. After that, insert your logo. 
Step 2: Indicate Company Name and Information 
When talking about name and info, it's about your company's information and the details of the company you're invoicing. For your basis, take note of the following:
Your company's name, contact info, and address. 

Your client's name, contact info of the right person, and address. 
Step 3: Describe the Goods and Services You're Charging 
Your description of the goods and services you are charging doesn't need to be too long. However, make it more detailed enough to let your customers understand what they are paying for in your company. After adding a clear description, it's time to identify the quality of each and the price.
Step 4: Don't Forget the Dates 
In adding some dates to your invoice, there are two factors to keep in mind. The supply date and the date you created the invoice. You can insert the supply date into the description of your goods, while the invoice date at the top of your name, contact info, and address. 
Step 5: Mention the Terms of Payment 
While you could have settled on payment conditions with the client ahead of time, it's a wise idea to include them on the invoice as well. As such, if you want to get paid within a given amount of time, let the customer know by putting it on the invoice.
FAQs:
Is there a time limit on electrical invoicing?
The general rule is that you must pay your invoice within 30 days of receiving it. However, you can always talk to your customer, either make it shorter or longer than the days given. The payment conditions and the due date must be explicitly specified on the invoice, regardless of your agreement.
How to send invoices?
The easiest and quickest way to send an invoice is through email. Attach your invoice in an un-editable pdf format. Make sure to include a brief and accurate description of your business. Also, invoice the topic line and body of the email.
What's the invoice software?
To avoid stressing yourself out in creating your invoice from scratch, you can download electrical invoice templates and edit them alone. However, don't forget to take note of the steps given above. Or else, look at the list of the best invoice apps for more electrical invoice template options.
To focus on what matters most in your business, you need an invoicing solution that is simplified. Feel free to grab the electrical invoice templates from this article. They're all set to go. So get started and create your business invoice today!