You need to provide accurate details about an event you are going to hold in order for people to show up. The audience turnout for your event is directly affected by the effectiveness of your event invitation.
An invitation should contain the name of the event, exact venue or location, the date and time, dress code, and other essential information. In this article, editable invitation templates and examples are freely given along with informative descriptions to help you decide which is more appropriate to use for your purpose or goal.
Invitation Templates and Examples
Kitty Party Invitation Template
Kitty Party Invitation Card Template
Event Email Invitation Template
Business Event Email Invitation Template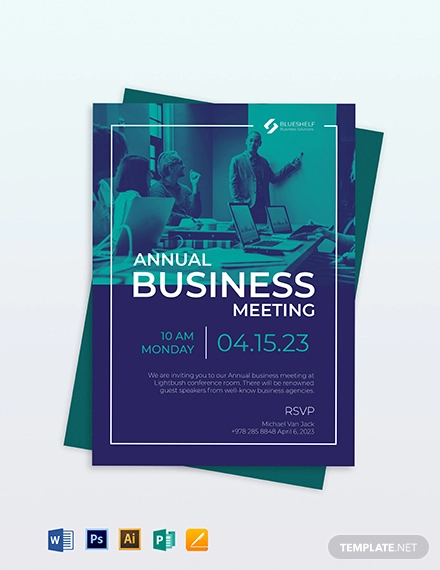 Formal Party Invitation
A formal party needs a formal invitation. With that said, you can download and edit this template to incorporate the theme of your event, provide all the relevant information, and ensure that your brand is still represented. The design of this template settles for a minimalist, sleek style with the aim to emphasize the texts more than intricate designs and illustrations.
Investment Seminar Invitation Template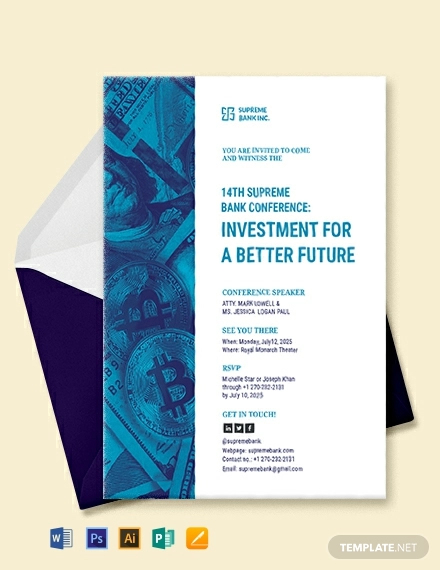 Acceptation of Invitation to Seminar Template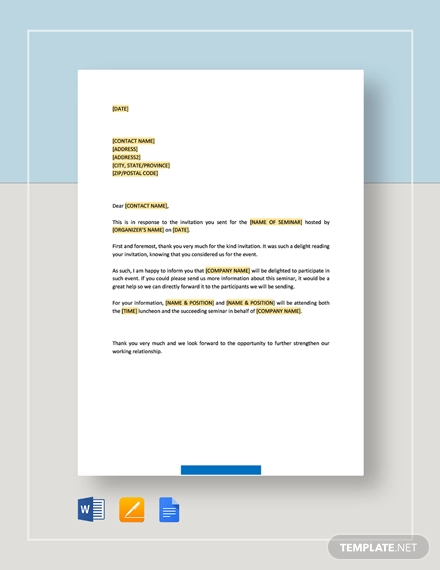 Financial Seminar Invitation Template
Business Seminar Invitation Template
Holiday Dinner Invitation
It's always a good way to spend the holidays with your loved ones, but with the number of gathering during the season, it's quite hard to have everyone in one room at the same time. To make sure that your guests can set your event into their schedules, you should use this holiday dinner invitation template. This template will allow you to customize it to fit your preferences and design ideas. Edit this through Adobe Illustrator, Photoshop, MS Word, Publisher, and Apple Pages.
Team Lunch Invitation
It is always good to hit two birds with one stone, right? A team lunch is a good activity to strengthen the connection as well as discussing topics that can help the team to improve. Although you can easily email an invitation to the team members, sending actual team lunch invitations is still a good option. Use this template to easily provide essential information regarding your gathering.
Country Wedding Invitation
Country weddings are all about earthy tones; as you can see in this country wedding invitation template, the main color used for the background is brown, which belongs to the earthy colors. Intricate stencil patterns are also used to exude a chic vibe. This template is downloadable and editable to help you get a head start with your wedding planning process.
Graduation Party Invitation
This graduation party invitation template uses the color black as the main color since it is the most common colors for a graduation toga. The lines also imitate the symmetry of a graduation cap. This template is simple and direct to the point; there are no unnecessary illustration and designs, which makes it easier to emphasize important details regarding the party.
Beach Party Invitation
A beach party invitation should use designs and illustrations that relate to the beach like a beach towel, beach ball, palm trees, and so on. As you can see in this template, it uses some of the mentioned illustrations while maintaining a minimalistic feel with only three prominent design elements. If you are satisfied with the design, you can just edit the texts to indicate the information for your own beach party.
Digital Marketing Seminar Invitation
Seminars can also be conducted on an invitation-only basis; if that is how you want it to be, you can use this digital marketing seminar invitation template to serve as your guide. Although this template is specifically tailored for a digital marketing seminar, it is still a good starting template for any seminar you conduct. Just make sure to edit the heading or title, use a relevant photo, and add the needed information.
Hello Kitty Party Invitation
Are you a Hello Kitty fan? This is the perfect invitation template for your Hello Kitty themed party. It shows Hello Kitty's classic silhouette, whiskers, and iconic pink bow. Once downloaded, you can edit this template through Adobe Illustration, InDesign and Photoshop, MS Word and Publisher, and Apple Pages. You can even add more Hello Kitty-related designs or illustrations as you please.
Summer Party Invitation
Nothing better than partying up with your close friends during the summer. Use this summer party invitation template to let your guests feel the summer vibes. You can even add other summer-related designs and illustrations like a beach umbrella, sunglasses, a silhouette of the sun, and so on. You can also edit the background and use other summer colors like sky blue, orange, green, etc.
Business Dinner Invitation
Using formal colors like black, gray, and white are the best color options when making invitations for business-related events. In this business dinner invitation template, the design sticks with a business professional aesthetics with the use of the color black and minimal diamond-shaped illustrations. The design does not take the emphasis away from the information regarding the event.
Birthday Event Invitation Template
Boy Birthday Invitation Template
Black And White Birthday Party Invitation Template
Black and White Party Invitation Template
Business Email Invitation Template
Alumni Awarding Invitation
This example is a basic layout for the alumni awarding invitation. As you can see, the school logo is used as a big watermark behind the texts, no unnecessary illustrations and designs are used. This ensures that important details about the event are emphasized.
Invitation to Faculty Seminar
This example uses a ticket invitation that is a cost-effective option you can use. This ensures that less paper is used while still being able to provide the necessary information. A ticket design is also best used for invitations that need to have a stub removed to account for the attendance during an event.
Audrain Automobile Museum Gala Invitation
Since this example is for a museum gala invitation, it exudes elegance and luxury. The black and gold details ensure that it appears to be keen and neat regardless of having too many details in the design. Gala, charity, and fundraiser invitations should always embody how formal the event will be; hence, the simple but elegant black and gold designs of the example.
Laureate Awards Invitation
This Laureate Award invitation uses a basic frame or border with the university logo shown at the center on the top. It is a simple invitation that emphasizes the details rather than the design. This design technique is best used for formal or corporate events.
Spring Fling Gala Invitation
No fuss, no frills—this is must have been the mantra of the designer of this spring fling gala invitation. As you can see, the details about the event are emphasized by using various sizes of the font style. It utilizes a basic invitation style that will surely allow the guests to immediately comprehend what the event is along with the other necessary information.
Anniversary Charity Dinner Invitation
Colorful prism design is the main attention-grabbing detail in this anniversary charity invitation. Since the background is already colorful, the font color sticks to the basic black and blue colors to ensure readability is not sacrificed. You can take inspiration from the risk-taking nature of this example, but make sure your details are still readable to your invited guests.
The templates provided in this article are free for download and are all editable. We hope we have provided you with relevant and insightful information regarding each type of invitation. May you take some inspiration from all of them to help you create an amazing and effective invitation for your event.