When it comes to making invitations, there's always a point where you need to know just what kind you will have to make. While you can always take a look at the many Examples of Invitation Designs that you can use as a reference, you do not want to solely rely on them as you want to be able to make invitations that have your own personal touch to them.
Also, you have to think about just what kind of invitations you should make to match the event that you plan on throwing. For example, if you wanted to throw a fiesta in your own home, then you'll want to make and send Fiesta Invitations to the people you want to invite. So let's say that you want to make invitations, but you want the option to place whatever information can be placed in them regarding the event you're throwing. Which is the reason why you would want to make use of blank invitations and this article is going to teach you how to utilize them
Surprise Birthday Party Invitation Template
Seminar Invitation Card Template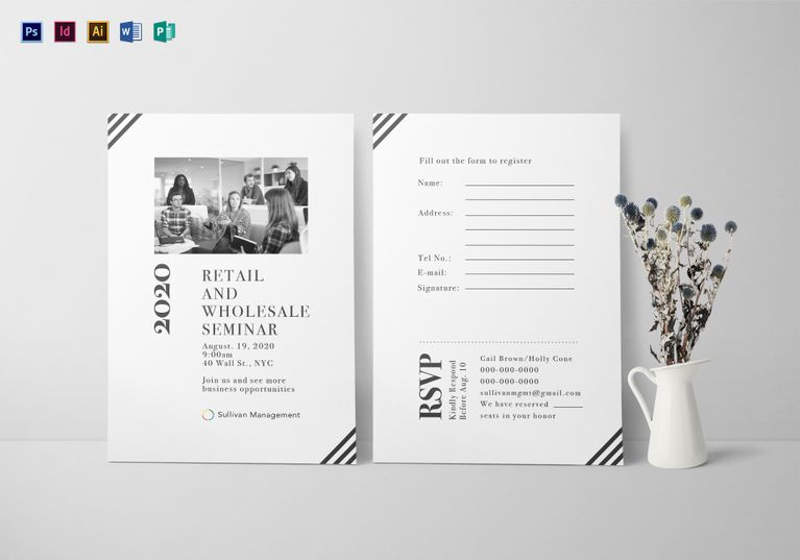 Cocktail Party Invitation Card in Landscape and Portrait Style
Elegant Black and Gold 50th Birthday Invitation Template
How to Place Information in Your Blank Invitations
When the time comes that you have to create invitations that will help tell your friends and family about the upcoming event you plan on throwing, then you should definitely consider using blank invitations as they give you more flexibility in terms of telling your invitees the type of event, as well as its "who", "what", "when", and "where" aspects. And the only way you're going to be able to do that is if you provide your invitees with all the information they need via the invitation. You may also see Event Invitation Examples
So here are the steps you should follow to ensure that you are able to fully utilize your blank invitations:
1. Point Out the Type of Event
This is going to be the first thing that you will need to do as you want your invitees to know right from the start as to the type of event that they are invited to. The kind of blank invitation you will use will obviously depend entirely on the event. So if you plan on inviting a number of people to your wedding, then you would obviously want to make use of Blank Wedding Invitations.
There are a couple of blank invitations where you still need to manually input the type of event into it, meaning that you will be the one to have to write it down instead of the invitation already describing the event to the invitee. So when you have to do this, be sure that the description of the event is straight to the point. Using the previous example as a reference, if you were to hold a wedding party then put in "wedding party" into the invitation. Just be sure that it's clear and that you put it in the invitation as to avoid confusion. You may also see Holiday Party Invitations
2. Name the Celebrants or Hosts
If you're going to be using Personalized Invitations where you still have to fill out the missing information, then you must take note just how important it is that you point out the names of the people that are either going to celebrate or host the event. The reason as to why you would even want to place this information is because the people being invited are going to want to know who's either holding or celebrating the event as that information can help them decide as to whether or not they should even go.
So when writing it down, the only thing that you have to do is write down the complete name or names of the celebrants or hosts into the invitation along with the appropriate title ("Mr." or "Ms."). You may also see Picnic Invitation Designs
Blank Halloween Party Invitation
Pastel Flower Blank Invitation
Modern Wedding RSVP Blank Invitation Card
Showered With Love Blank Invitation
3. Write Down the Location of the Event
If you're going to plan an event, then one of the first things that would immediately come to your mind during preparation would be the location of where you're going to have it. So before you can write down the address of the event venue, you'll first need to decide where it's going to be first. When you're coming up with the perfect event venue, you should immediately take into account the different factors that would affect your event (examples of which are atmosphere, activities, and even food) and use them to figure out which is the best location. For example, if you wanted to throw a kids party meant for boys only, then the children's party invitation should have an address where young boys would typically enjoy like an arcade or even a pizzeria.
And once you're done choosing the event venue, then all you have to do is write down the complete address details into the invitation so that your invitees won't have a difficult time in trying to find it.
4. Put in the Time and Date of the Party into the Invitation
Let's say that you plan on throwing a retirement party for a co-worker and you want his or her friends to know when it's going to take place. You send out the retirement party invitations, but you have forgotten to place crucial details regarding when the party is going to be. That is a kind of mistake you should never make no matter what kind of invitations you end up making.
So while you're customizing your blank invitation, it will be your responsibility to provide information regarding when the event is going to take place to your invitees. When you're doing this, you have to clearly point both the date and time to the invitee so that he or she will know exactly when it's going to take place. So be sure to put in the month, day, and year so that they'll know ahead of time as to when it will happen, and then put in the exact hour and minutes so that your guests won't be late.You may also see Chalkboard Invitations
Elegant Blank Invitation
Custom Wedding RSVP Blank Invitation Card
Watercolor Roses Blank Invitation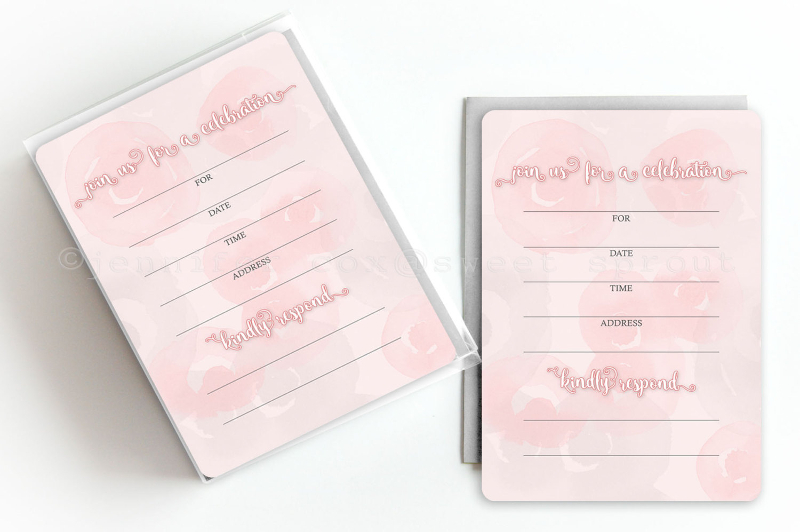 Wild Flowers Blank Invitation
5. Tips for Making Your Blank Invitations
In the event that you plan on using ones that you can customize to your heart's content, then you should definitely consider making it looking more appealing to your invitees; the better the invitations look, then the more that your invitees will see how much effort you've put into them and that can definitely help decide as to whether or not they should attend your event.You may also see Rustic Invitations
So here are the things that you will need to do in order to make blank invitations that will impress the people you're going to invite.
6. Go With a Design that Best Suits Your Invitations
The best way to improve the looks of your invitations is if you decide on what kind of decide would best suit it first. You want to think about what kind of design would match best with whatever event you plan on holding as this along can help give your invitees an idea as to what type of event it's going to be.You may also se
So the first thing you have to do is to choose images and a background color that will match the type of event you plan on throwing. So let's say that your RSVP Invitations are ones that are meant for  wedding ceremony, this means that you'll want to keep it simple by having a white background and images such as that of bouquets or anything that would represent a wedding.
7. Proofread  Your Invitations
Before you even think about sending it to the people you want to invite, your blank invitations will need to be checked for any grammar, spelling, or even information errors. You want to show your invitees that you took the time to polish your blank invitations and that won't help if you can't even show them that you took the time to spellcheck whatever it is that you have written.You may also see Baby Shower Invitation
So to prevent that from happening, you'll want to go over your invitations at least twice just so you can check what you may have missed. Once you spot any errors, the be sure to fix them immediately. After you've done all of that, then you may proceed to create the necessary copies and send them to the people that you want to invite. You may also see Luncheon Invitations
If you would like to learn how to create other types of invitations (Elegant Invitations, baby shower invitations, beach party invitations, etc.), then it's best that you go through our site. It has all the articles that you need to help you with whatever situation you need them for. Just be sure to read the articles thoroughly so that you can fully utilize whatever you need to use.